Kokopelli, the Colorado-based manufacturer of lightweight and packable inflatable packrafts, will launch bikepacking bags in Spring 2023, its first step into the biking category.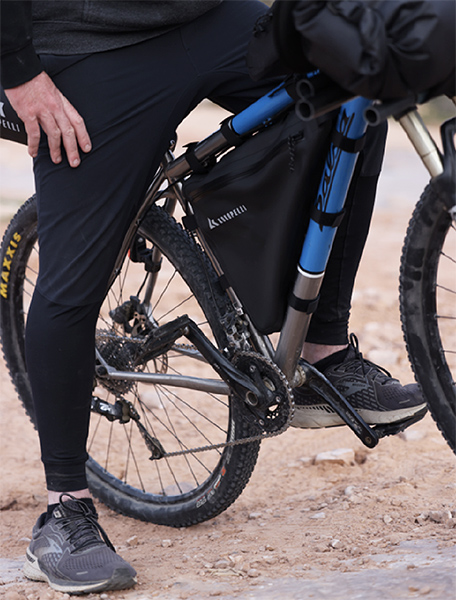 Kokopelli created the Durango Bike Bag Collection to help adventurers get their camping and paddling gear into the backcountry quickly while fending off and protecting the equipment from harsh conditions.
The Durango Frame Bag introduces the TruZip that creates a waterproof and airtight main compartment welded Hypalon daisy chains for an adjustable fit to any bike and is constructed with 420d double-sided TPU nylon. The collection features a handlebar bag and harness, frame bag, top tube bag, and seat post bag.
"Over the past ten years, we've learned a lot about how people adventure. As packrafting and bikepacking have grown significantly, our customers have naturally combined their favorite outdoor pursuits into the multi-sport activity of bike rafting. Combining mountain biking and packrafting in a single trip allows people to mix up their approach and access areas previously very difficult to get to," said Kokopelli General Manager and Product Director Jeff Popp. "Until now, there hasn't been the right bag system that allows users to transition off the trail to the water and back to the trail again. Our Durango bikepacking bag line solves this problem and is a great solution for those wanting to paddle and pedal."
Each piece in the collection offers high-end features while being at a mid-tier price point, including adjustable attachment points, waterproof coated materials, innovative zippers, and welded airtight construction.
"The Durango bikepacking bags allow users to efficiently pack their paddle and camping gear on their bike and venture further into areas where most can't go," Popp said. "Even if you're not paddling, we saw an opportunity to make bikepacking bags with more premium, durable materials in a truly waterproof and airtight construction with clean lines that will look great on any bike. The combination of features, aesthetics and purpose-built organization make these bags one of the best values and unique offerings in the bikepacking market. "
For more product information, go here. 
Photo courtesy Kokopelli