Oakland, CA, June 25, 2020 – HydraPak, an award-winning leader in performance hydration, is excited to announce the launch of its RECON Series™ outdoor bottles. Engineered for both outdoor and everyday adventures, the collection features 50% certified recycled content in both the cap and bottle. Vividly clear, and virtually indestructible, the RECON bottle is topped with a new patented twist cap that provides the perfect flow rate for a glasslike drinking experience.
"We're excited to unveil the RECON bottle as the latest reusable hydration solution for our active, sustainably minded, outdoor consumers," said HydraPak President Matt Lyon. "Aiming to not only provide the highest performing and longest lasting hydration solutions on the market, but to also be an industry leader in sustainability and combating single-use plastic."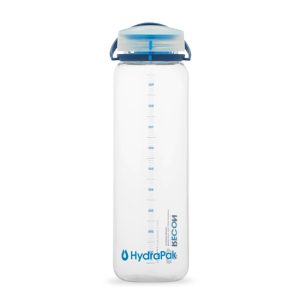 The bottle is designed to slide easily in and out of backpacks and has an indented flat finger groove for a better grip. Built for extended use on the trail, RECON is impact, stain, and odor resistant, as well as 100% BPA, BPS and BPF free with no residual taste. The wide-mouth design includes an integrated bail handle for comfortable carrying. Additionally, the patented twist cap provides a smooth flow for a glasslike drinking experience, without the splash, and securely closes for leakproof transport. Minimally designed with only 2-parts, the cap and inner gasket separate for easy cleaning, and along with the bottle, are all dishwasher safe.
Born out of the collective belief that outdoor gear can and should have a lower impact on the environment, Tritan™ Renew technology uses recycled plastic as a raw material, while reducing the consumption of fossil fuels and lowering greenhouse gas footprints. The RECON bottle is unique in that both the bottle and the cap are crafted out of 50% certified recycled content.
The new HydraPak RECON Series outdoor bottles are available in two convenient sizes, 750ml and 1L. Available exclusively through HydraPak's specialty retail partners and online at hydrapak.com beginning October 2020.