Crowley, TX, December 17, 2019 — Hustle Bike Labs officially launched its website yesterday evening, highlighting its first product, the Hustle REM Pedal System, a magnetic clipless-platform-hybrid design which should be available to consumers by early Spring 2020. Yet even with the final product still weeks away, the system is already generating major buzz in the industry and has even been selected as a Finalist by judges at the illustrious 2020 Outdoor Retailer Innovation Awards at January's Winter Market.
While hanging – literally! – from a cliff on the Portal Trail in Moab, Founder Craig Payne knew he had to design a new type of MTB pedal. Years later that idea is now a reality: Enter the REM Pedal System which combines the best of traditional clipless and platform pedals, while eliminating the inherent flaws of both.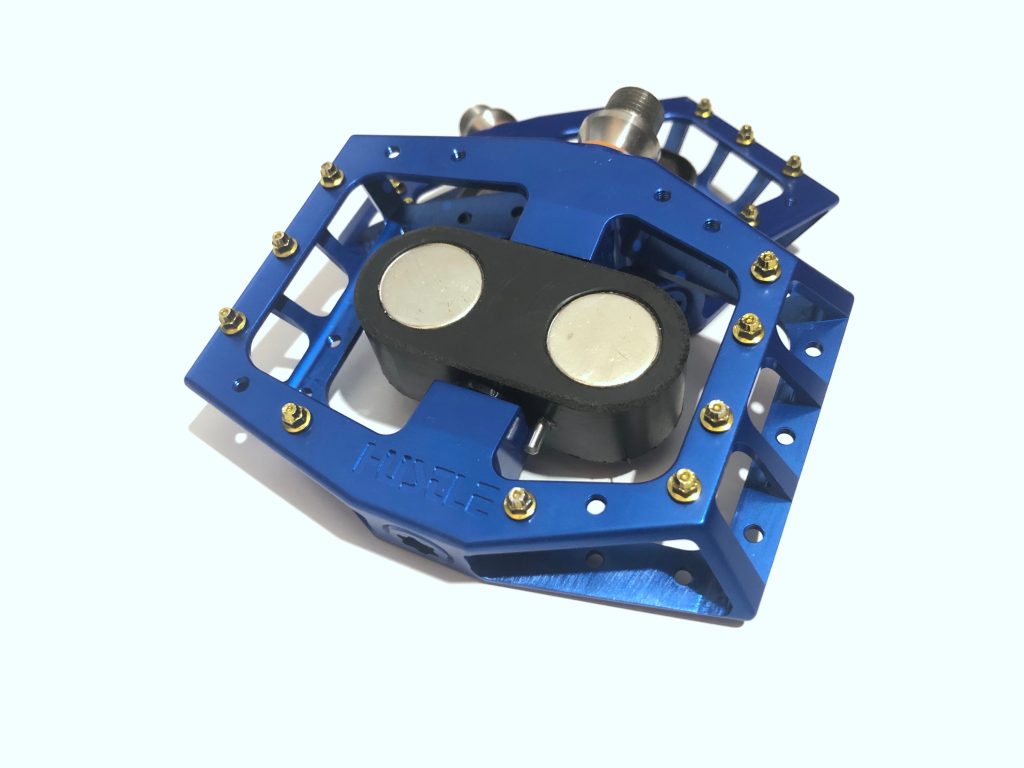 The wide alloy base offers the stability and easy-exit of platforms. Two powerful, cylindrical Rare Earth Magnets (REM) sit in the middle of the pedal body, securely held in place by housing that wraps around the axle. These connect with the REMplates, which replace traditional cleats on the bottom of the shoe, to provide the extra security and up-stroke pedaling efficiency of clipless.
Payne says they solve very common problems for a wide range of riders: "Riders won't slip off as with platform pedals, or get 'trapped' in clipless pedals in precarious situations or during a fall; nor will they suffer any other issues common to both traditional styles. REM pedals are ideal for any riders from hardcore gravity hounds to newbies nervous about going clipless, and they work across disciplines from XC to Downhill."
Features/Benefits:
Platform/Clipless Hybrid Design: Stability, easy in/out of platform; Security, efficiency of clipless;
Truly "Clipless" Operation: Just step on and go; effortless engagement, easier/safer for newbies;
Fully Sealed Construction, No Springs: Fewer moving parts/open spaces decreases wear and tear, improves mud/dirt shedding;
Virtually Infinite Float: Full rotation with full holding power minimizes joint strain, improves performance in varying terrain; and
Chromoly Axle with Sealed Cartridge Bearings: Highly durable, lightweight, weather-resistant and minimal maintenance.
While consumers can not yet purchase the pedals, the website provides all the information on the system and brand, and the brand will begin taking pre-orders soon. They can also sign up now to be on a newsletter list and/or to ask questions/make comments that will go directly to the founder and staff.
Meantime, industry insiders can see them first-hand at the OR Show in Denver, January 20-31, at their booth (21250-SL) or in the Innovation Awards Gallery. For more information visit their website: hustlebikelabs.com
About Hustle Bike Labs: Born from a near-death MTB experience, with the founder literally hanging from a cliff in Moab, Hustle Bike Labs has reinvented the mountain bike pedal using Rare Earth Magnets on a flat pedal body to create the perfect hybrid of traditional clipless and platform pedals. The resulting REM Pedal System offers the best of both systems and eliminates their inherent flaws. They plan to continue identifying needs in cycling products and addressing them with the same keen eye on safety, efficiency and user-friendliness.