Stockholm, Sweden – January 26, 2020 – Swedish sustainable apparel pioneer Houdini has received an ISPO Gold Winner for its new anti-shedding fleece jacket, the Mono Air Houdi. Developed in collaboration with Polartec®, the premium provider of innovative and sustainable textile solutions, the Mono Air Houdi is made from Polartec® Power AirTM, which sheds five times fewer fibers than other high-quality fleece jackets on the market, thereby limiting microfibers released into the environment. Drawing inspiration from the classic Houdini Power Houdi, the Mono Air Houdi pairs timeless looks with a new, 25% lighter version of Polartec® Power AirTM fabric, composed of 73% recycled fibers, utilizing a mono-material composition making it completely recyclable and an ideal addition to Houdini's circular ecosystem, with Bluesign® certification.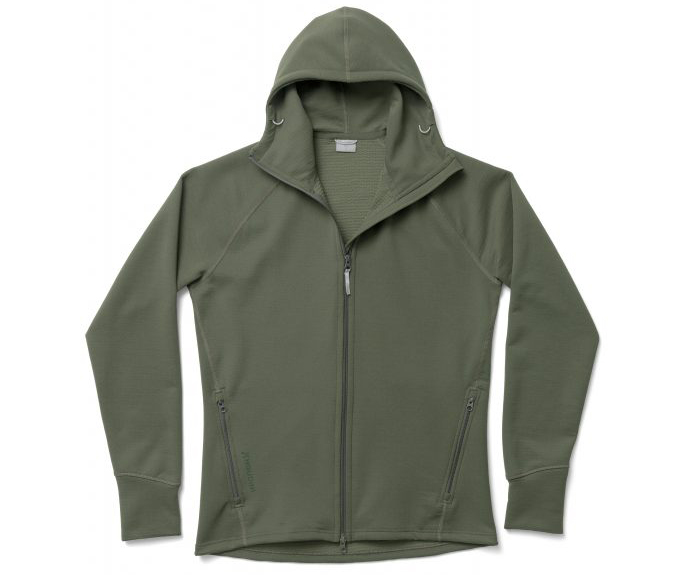 "The Mono Air Houdi perfectly embodies what we aim to do here at Houdini: Create products that work with nature rather than at the expense of it," says Houdini CEO Eva Karlsson. "To receive an ISPO award makes us even more excited to push the boundaries of sustainable design into the new decade!"
The Mono Air is a result of an ongoing collaboration between Houdini and Polartec® to create the fabrics for the future. Houdini is the Swedish sustainability expert committed to pushing boundaries for how sustainable outdoor clothing is made. With a goal of 100% circularity, 72% of the styles in the new 2020 collection features circular fabrics. Polartec® invented the process of knitting technical fleece from post-consumer plastic bottles in 1993, upcycling over one and a half billion bottles to date, and continues to lead the industry in offering durable fabric technologies made of recycled and recyclable content. Fully recyclable Polartec® Power AirTM is the latest product of the Polartec® Eco-EngineeringTM mission to create fabrics that further reduce environmental impact and has received numerous awards around the world for its breakthrough future fabric construction technology.
"Houdini and Polartec are natural partners and we share a deep commitment to sustainability," says Polartec President Steve Layton. "With this updated version of Polartec® Power AirTM fabric, Houdini and Polartec have achieved a mutual goal of a durable, long-lasting and ultimately circular product."
Houdini Mono Air Houdi launches for FW2020 and is available in both Women's and Men's
Colors: Sandstorm, Willow Green, Dulcet Pink, Storm Blue, Blue Illusion, True Black.
About Houdini: Houdini is a Swedish outdoor brand at the forefront of sustainable performance design. Together with an odd band of designers, scientists, artists and adventurers, they are changing the way outdoor clothing is made and used. All fabrics in the collection are either recycled, recyclable, renewable, biodegradable or Bluesign® certified. Visit houdinisportswear.com and follow @houdinisportswear of Facebook and Instagram.