Helinox, the manufacturer of lightweight, portable furniture, introduces the Off-White Equipment c/o Helinox collection, the brainchild of Off-White founder and creative director Virgil Abloh, who passed away on November 28, 2021.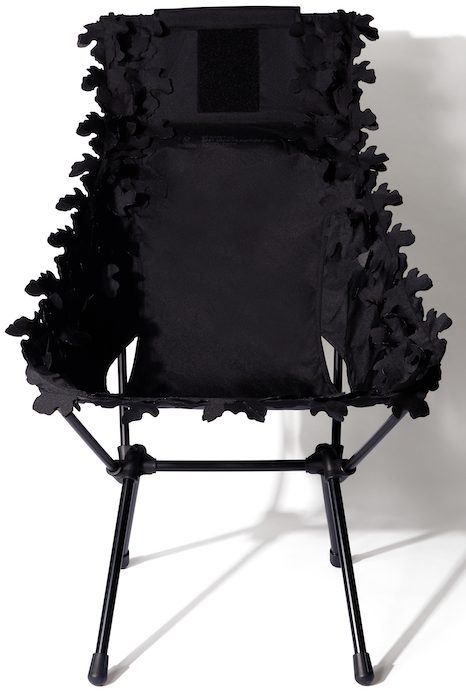 The partnership began in 2020 when Abloh asked Post Archive Faction (PAF) to "imagine a performance wear collection at the intersection of design and utility made to navigate our terrain today."
The Korean collective proposed "creating multidimensional safe zones for human survival, spanning garments, tools, and spaces."
Over two years, Off-White and PAF realized the project in collaboration with Helinox and the Swiss Army knife manufacturer Victorinox. The resulting collection offers 12 functional and conceptual designs.
Black fig leaves adorn the Helinox furniture—the Sunset Chair and Table One Hard Top Large in tonal black fabric over metal frames that are packable and lightweight.
"This incredible project with Off-White has been an exploration that's meaningful to us and demonstrates the breadth in how humans experience art, fashion, utility, and the outdoors," said Young Lah, Global CEO of Helinox. "The Helinox brand comes through as a canvas, both in terms of expressing style and how people use our products for enjoyment in so many different environments. We are honored to collaborate with this group of people and brands and bring this project to life."
For more product information, go here.
Photo courtesy Helinox