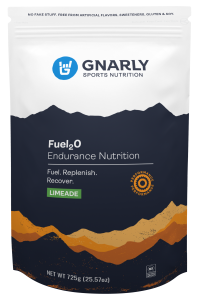 Gnarly Sports Nutrition announced the launch of its Fuel2O, a high-calorie, electrolyte-rich, easy-to-digest, powdered drink mix designed for long endurance activities.
Mixed with water and available in three flavors (Limeade, Tropical, and Cherry Cola – caffeinated), Fuel2O delivers 100 calories of carbohydrates and 250 mg of sodium per 12 oz serving. 
Fuel2O delivers quick calories through an easy-to-digest combination of sucrose and dextrose. It contains HMB, or Hydroxymethylbutyrate, a natural metabolite produced when the body breaks down leucine. Leucine is a branched-chain amino acid, a critical building block of protein. 
Gnarly CEO Eli Kerr said, "Fuel2O fills a need in our product line that customers and athletes have been requesting for years."
All Gnarly products are non-GMO, gluten-free, soy-free, NSF certified, and use only natural sweeteners and coloring. Fuel2O is NSF Certified for Sport, meaning that in addition to independent testing for label claims and contaminants (e-coli, pesticides, etc.), every production lot s tested for 300+ substances recognized on global anti-doping lists. 
For more product information, go here.
Photo courtesy Gnarly