Gerber launched its Gerber Reserve program featuring a new line of small-batch knives produced and built in Portland, OR.
Each release in the Reserve program will feature a single product that will be available as is or can be customized in the Gerber Custom Shop giving collectors and knife enthusiasts the opportunity to create a personal design on the product.
The Reserve program's first knife, the Terracraft, is currently available and will be followed by the Sedulo, dropping on November 12, 2020.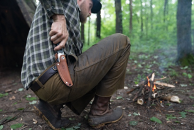 The Terracraft, shown right, is a full-sized fixed blade built to handle safety, security and survival situations. With full tang construction and S30V blade, the knife will take abuse while maintaining its edge. Completing the Terracraft are G-10 handle scales, a 90-degree fire striking edge and an American-made leather sheath.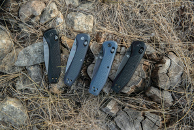 The Sedulo is a new pocket folding knife for everyday utility and features an S30V steel blade with a plain edge and full panel grind.
"The new products coming out in the Gerber Reserve program sets themselves apart with American made craftsmanship, premium materials and top-quality construction," said Gerber Industrial Design Manager Seth Jaramus. "These knives will blur the lines between utility-use and the gentleman collector looking for the best everyday carry option."
For more product information, go here.
Photos courtesy Gerber