Fox Racing, the global leader in mountain bike apparel and protection technology, and LOGE, the foremost adventure hotel centers, are teaming up to empower people to get outside and explore together. 
Fox Racing and LOGE will focus on connecting people to the outdoors through great mountain bike experiences in two amazing recreational areas – Bend, Oregon and Mount Shasta, California. Riders will be treated to fully equipped shops, quality products available to demo, custom gear, and opportunities to explore two of the most welcoming outdoor-focused communities.
"LOGE truly feels like an extension of the Fox mission, which is to equip and inspire riders. We are stoked to become a part of the communities they've built in Bend and Shasta. We're all looking forward to this partnership kicking off and getting out on the trails soon!" said, Fox Racing Global Brand Director Kevin Franks.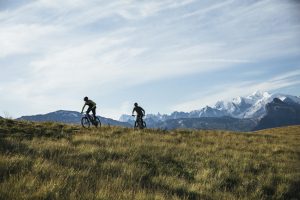 LOGE, which stands for Live Outside, Go Explore, is built around the soul of adventure. "We are thrilled to be partnering with Fox Racing in the creation of experience centers located at our Bend and Mount Shasta LOGE locations," said Johannes Ariens, LOGE CEO + Co-Founder. "These centers are the first of their kind for LOGE and Fox, and as such a direct testament to each of the company's innovative approaches and commitment to creating exceptional customer experiences in a rapidly changing world." 
Both Bend and Mount Shasta are outdoor meccas offering exceptional recreational opportunities. Fox and LOGE hope to not only get more people outside to enjoy these areas, but also help instill values to recreate responsibly and work to protect these wild places.
About Fox Racing: For over four decades, Fox Racing has been the global leader in motocross and mountain biking gear and apparel. Fox outfits the world's best competitive action sport athletes and enthusiasts with products that combine innovation and style, rooted in the brand's original competitive motocross spirit. The company is based in Irvine, California, with offices, retail stores, and an international roster of sponsored athletes, located around the world. 
About LOGE: Founded in 2016, LOGE is a community-oriented hospitality and development concept centered around recreation, accessible wellness, exploration, and social & environmental stewardship. Inspired by the surf, climbing and camping culture of the 70s and the relaxed energy of a road trip with friends, LOGE brings new life to forgotten mid-century motels near towns and trails, with five unique properties in Bend (OR), Westport (WA), Leavenworth (WA), Mt Shasta (CA), and Breckenridge (CO). LOGE offers a variety of ways to stay from hotel rooms to hostel bunks and campsites, whilst on-site gear rentals, fire pits and live music see LOGE deliver welcoming outdoor-adventure-focused experience. In the process, LOGE provides valuable experiences in previously underutilized spaces, while also creating jobs, supporting local nonprofits, and building community. With a passion for the outdoors, LOGE is committed to protecting the environment, not only by renovating existing hotels but by connecting people to the outdoors. LOGE fosters connections and adventures that engage people in the outdoors making them better stewards of the environment and supports this by donating 2% of top-line revenue to local nonprofits engaged in the responsible use and access to the outdoors, in all of the locations they operate in.