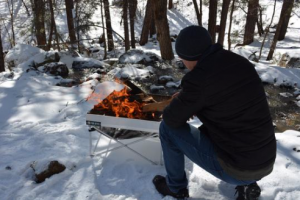 Fireside is dedicated to a simple purpose: engineering products that make managing outdoor fires easier and safer. The company launched in 2016 with the Campfire Defender, a weather-resistant cover designed to be placed over a live fire to prevent it from spreading. The brand's newest product is the Pop-Up Pit, a lightweight, portable, leave no trace fire pit. Compliant with both Bureau of Land Management and US Forest Service regulations, the Pop-Up Pit is ideal for overnight river trips, beach outings, overlanding, hunting trips and camping.  A proprietary steel mesh maximizes airflow and allows fires to burn hotter and more efficiently, and afterwards, allows the pit to cool down in just minutes. An accessory grill also adds options for backyard barbeques and tailgating.
"I discovered Fireside when a friend pulled out a Pop-Up Pit on a five-day river trip this spring," said Ian Anderson, partner and PR director at Backbone Media. "After using heavy, bulky, expensive steel firepans for the past 20 years, it was awesome to see that someone built a better mousetrap. We met with Fireside at Outdoor Retailer, heard their plans for the future, saw their potential for growth, and are excited to join their team."
"We're looking forward to having Backbone help guide us through the highly competitive outdoor space," said Mark Wolf, founder and president at Fireside Outdoor. "Between our innovative designs and their knowledge of the industry, I believe we're poised for a bright future."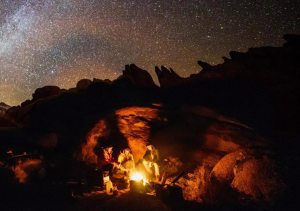 About Fireside Outdoor: Founded in Phoenix, Fireside Outdoor engineers products that make managing outdoor fires easier and safer. The brand's Campfire Defender controls campfires and keeps them from spreading. The new Pop-Up Pit is a lightweight, portable fire pit that burns more efficiently. For more information, visit firesideoutdoor.com

About Backbone Media: Backbone Media targets, engages and inspires the active lifestyle market through public relations, media planning and buying, and social media. For more than 20 years, Backbone has worked with leading outdoor gear, apparel, technology, food and beverage brands, as well as tourism destinations around the world. Backbone has offices in Carbondale and Denver, Colorado, and has consistently been named one of Outside magazine's "Best Places to Work." For more about Backbone Media, visit backbonemedia.net.