Buena Park, CA, March 2020 – Evolv, the southern California-based leader in creating high-performance climbing shoes, announced today that its new Phantom ultra performance shoe is now available at select retailers, climbing gyms and at evolvsports.com.
The Phantom first became available via retail outlets earlier this month and has drawn rave reviews from outdoor and urban climbers alike, thanks in large part to the design input from celebrated rock climbers Daniel Woods and Paul Robinson.  
Each athlete weighed in heavily on the development of the show and the Evolv team worked its way through more than 10 prototypes before finalizing the Phantom, which Climbing.com called "an elite-level, specialist's shoe" that "excelled at its intended use: steep-climbing for advanced climbers."
"The Phantom is one of my top favorite shoes that I have worn," said Woods, who has won the American Bouldering Series National Championship nine times. "I use the shoe for all terrains. They can foot jam, smear, toe into small edges, toe hook—kind of the ultimate shoe to have. Another amazing thing about the shoe is that it is comfortable to wear. You can perform well without having your feet feel like they are going to break."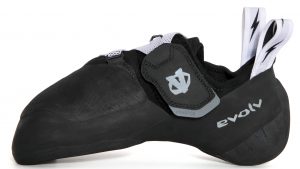 The Phantom offers a fully adjustable, six-point velcro pull closure system as well as the company's Neo Flex technology in the toe box that maintains compression fit regardless of the position of the climber's feet, even on the steepest terrain. The Phantom also offers a combination of two midsoles – the abridged various thickness midsole and the Tension Power System Plus midsole – to ensure climbers have sensitivity in the toes and support throughout the arch of the foot.
The Phantom also features the darkspine heel midsole, which offers slightly more sensitivity than some of the other celebrated Evolv shoes on the market, including the Oracle and the Agro.
"Over the past few years Daniel and I have experienced multiple samples of the Phantom – different fits, different feels, different thickness of rubber – and we came away with a final design that both Daniel and I absolutely love," said Robinson, a frequent medal winner at the American Bouldering Series National Championship and the winner in 2008. "We think it's a shoe that is really going to help any climber – outdoor or in the gym – perform at their very best."