Durango, CO, October 2, 2019 – Every year at the Outdoor Behavioral Healthcare Council's Wilderness Therapy Symposium, a Jumping Mouse Ceremony is held to recognize an exceptional field guide from each participating wilderness therapy program around the U.S. The Jumping Mouse Award honors outstanding guides for their excellence and grit, showcasing his or her commitment to wilderness t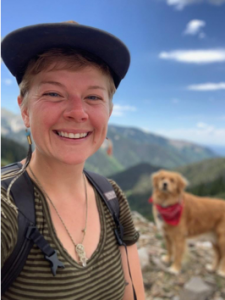 herapy and guiding. This year, Senior Field Guide, Emily "Jonesie" Jones was selected as this year's Jumping Mouse award recipient.
Open Sky Wilderness Therapy, a wilderness therapy program nestled in the mountains of southwest Colorado and the Canyonlands of southeast Utah, nominated Jonesie for her outstanding commitment to guiding and her ability to represent Open Sky's values of courage, community, and excellence.
"The Jumping Mouse award is based on the Native American folk story of Jumping Mouse, a story that has long been part of the history and lore of wilderness therapy and Open Sky," explained Danny Frazer, Program Director at Open Sky. "Jumping Mouse hears a calling—one that is both unusual and challenging—to journey to the Sacred Mountains. He heeds the calling and leaves his comfort zone to do something exceptional. It's a story of spirit and determination; a story of trust in, and of service to others. Jonesie has showcased her spirit of determination as a field guide at Open Sky for the past two years, bringing with her years of experience, a true calling for wilderness therapy, and the mindfulness and intentionality that comes with being a guide."
Jonesie recalls the moment she felt her journey truly resonate with the story of Jumping Mouse. It was during a rainy, gray and muddy guide training week back in the winter of 2017 when she first came to work at Open Sky. On top of the challenging conditions, she was sick, unable to sleep due to a terrible cough and had packed her summer camping gear, even though it was the middle of January. To make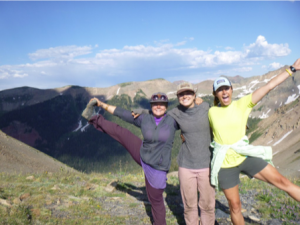 matters worse, she was not used to the high elevation, as she hails from Indiana. She recalled the hike out of Squaw Canyon and her being the slowest member in the group. She felt a sense of dread and weakness due to her inability to accurately display her strengths. Jonesie stated, "This was the beginning of my Jumping Mouse journey."
Now, two years later, as a Senior Field Guide and Jumping Mouse Award recipient, Jonesie takes her past experiences, and some of her greatest strengths – her creativity and her humor – to create deep connections and meaningful spaces for each individual she works with. "I value having the opportunity to see a person come into the program fairly lost and disconnected and witnessing their transformation over many weeks discovering more of who they really are. The connection with the students is a big part of why I enjoy being a guide," she said.
For a list of all of the Open Sky field guides who have been recipients of the Jumping Mouse Award, click here openskywilderness.com/jumping-mouse-award-recipients/
About Open Sky Wilderness: Nestled in the mountains of southwest Colorado and the Canyonlands of southeast Utah, Open Sky transcends traditional wilderness therapy with an approach that emphasizes treatment for the whole family. When a family partners with Open Sky, they embark on a rewarding adventure of self-discovery and learn a range of strategies that promote lasting success. The Open Sky clinical approach utilizes the latest in evidence-based clinical modalities integrated with innovative, well-researched mindfulness and holistic healing practices. Therapists develop treatment plans, provide individual and group psychotherapy, and update families each week via teleconference. Students participate in daily process groups and a wide range of experiential activities designed to increase awareness and facilitate healing.