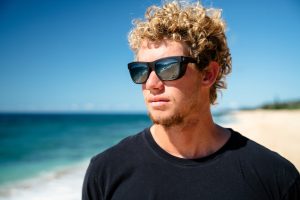 San Clemente, CA, October 15th, 2019 — Electric, the San Clemente, California based eyewear brand, announces the release of its newest sunglasses, the JJF12. Working closely with the world's most celebrated surfer, John John Florence, Electric utilized decades of eyewear experience to create the most technically advanced, style-focused, and eco-friendly sunglasses in the brand's history.
The JJF12 is purpose-built to weather the elements, provide superior protection, and elevate style. The frame features removable articulating eyecups for reduced exposure to light, dust, and liquid elements. Blue light blocking Melanin-Infused Polarized Pro lenses offer anti-reflection, hydrophobic, and oleophobic performance coatings in addition to providing crisp vision reduced eye fatigue and all-around healthier eyes.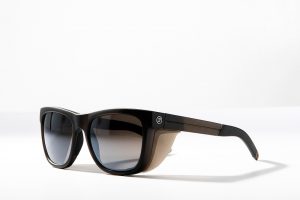 "We designed the JJF12 using the knowledge we have amassed over the last 20 years in the development of forward eyewear technology, superior fit, and wearable style. This collaboration with John John Florence has provided a platform to create the most impressive sunglass we've ever made." – Eric Crane, Creative Director, CEO
"The JJF12 was inspired by the shape of the Knoxville, which I really like, but we tuned the fit, frame shape, added the performance features and light-blocking cups to make my ideal sunglass for beach days, sailing, and paddling." – John John Florence, 2X WSL World Champion Surfer
John was focused on making the 12 the most environmentally friendly product Electric has ever produced. The sunglass is manufactured with injected Rilsan® bioplastic that is created from castor beans reducing the pre and post environmental impact from the manufacturing process. The microfiber cleaning bag is made from Repreve® recycled performance fiber and the sunglass box is made from recycled cardboard, printed with vegetable-based ink.
About John John Florence: John Florence became the youngest competitor ever to surf in the historic Triple Crown of Surfing. Just a decade later and he holds a number of surfing's most prestigious global titles including 3 Triple Crowns, the 2016 Eddie Aikau, and the 2016 & 2017 WSL World Championships.
About Electric: California Design, Made in Italy. Electric is rooted in and inspired by Southern California's rich music, art, surfing, snowboarding and active-lifestyle cultures. For more information on Electric please visit: electriccalifornia.com