X-Pac RX 3-layer laminates are made with 100 percent post-consumer polyester face fabric and X-Ply reinforcement. The recycled polyester fiber is made from discarded PET bottles sourced in the USA. As with all X-Pac materials, the RX laminates are made in Dimension-Polyant's Putnam, CT facility, which is 100 percent climate neutral.
RX15: Lightweight 150 denier face fabric for rapid ascent packs, pouches or as liner for a technical pack.
RX30: A 300 denier face fabric that features balanced construction for performance outdoor or urban applications.
RX36: A technical face fabric blending 300 denier fiber with 600 denier fabric. Suited for day packs, frame bags and travel bags.
Dimension-Polyant's Putnam, CT and Kempen, Germany production facilities have been 100 percent climate-neutral since early 2021. Carbon emissions have been recorded within the DIN ISO 50001 framework and reduced through the use of green electricity, green gas and other measures. All remaining emissions are being reduced by its climate offset program in cooperation with ClimatePartner and its Plastic Free Oceans climate protection project.
Dimension-Polyant minimizes its environmental impact by producing materials to help keep products out of the landfill. To help consumers identify its eco-friendly materials, Dimension-Polyant developed its cleenTEC seal. Materials carrying the c seal are guaranteed climate-neutral and include recycled or bio-based components.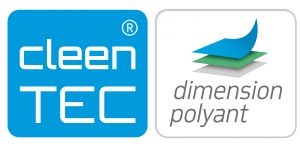 Photo/Logo courtesy  Dimension-Polyant