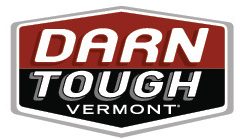 Northfield, VT., December 9, 2019 – To celebrate Giving Tuesday Darn Tough Vermont, the fastest-growing American manufacturer of premium performance outdoor and lifestyle socks,
supercharged their fans' purchases by donating 100% of profits collected on December 3rd to the Vermont Foodbank. While shopping for the perfect pair of socks for someone on their gift list, shoppers were also helping to feed someone in need. Proving that even a small action can have a major impact.
"This is our third year partnering with the Vermont Foodbank and it's an honor to provide support to the community that has been so incredibly supportive of us throughout the years," explains Ric Cabot, CEO and President of Darn Tough. "Community is more than just a word, these are our friends and family, people that we work alongside every day at the mill. We're thankful to our consumers for letting us provide this help."
Giving Tuesday is a collective effort to change how people participate in the giving season and takes place after both Black Friday and Cyber Monday. For the third year, Darn Tough teamed up with the Vermont Foodbank to supply meals to those who are either going hungry or dealing with food scarcity. This year Darn Tough, with the help of holiday shoppers across the country, was able to provide over 51,000 meals.
"With generous help through partnerships like the one we have with Darn Tough, we're able to ensure the character of Vermont continues to be as vibrant as ever. It is this shared sense of responsibility to help our neighbors in need that's the true Vermont spirit," states Mica Seely, Vermont Foodbank Corporate and Community Philanthropy Manager.
About Darn Tough Vermont: Darn Tough Vermont is an American manufacturer of premium, all-weather outdoor and lifestyle socks backed up by the industry's only lifetime guarantee. The company offers both Specialty and Tactical product lines. Darn Tough Vermont's Specialty line of socks includes
Snow, Athletic, Run, Lifestyle, Hike, Bike, Hunt, Work, and Juniors' styles.
Darn Tough's product is distinguished from industry competitors by 100 percent USA manufacturing; exceptional comfort, durability and fit; True-Seamless™ technology; and an exclusive blend of either ultra-fine, premium Merino wool or Coolmax®/Thermolite®.  Founded by Ric Cabot in 2004, a third-generation sock maker, Darn Tough Vermont operates out of Cabot Hosiery Mills. For more information about Darn Tough Vermont socks, please visit www.DarnTough.com.