For over 40 years, Cordura Advanced Fabrics and Bach Equipment have worked together to develop products. In November 2022, at ISPO Munich, the brands introduced a limited-edition tote bag with Cordura re/corRN66. Now, the tote bag is available in Europe.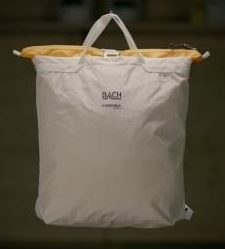 "We make it a priority to continually bring new ideas and products to our brand and retail partners, as innovation is at the core of what Cordura truly is. Working with the talented teams at Bach Equipment to develop the durable, reliable and recycled next generation of a bag together has been an amazing opportunity to bring together the rich heritage we all share. This limited-edition tote bag is a great way to honor our longstanding history with Bach Equipment," said Malayka Erpen, global consumer segment leader of Cordura Brand.
The tote bag with Cordura re/cor RN66 is made from 100 percent pre-consumer fiber material that is 100 percent GRS (Global Recycled Standard) certified. The production of Cordura re/cor RN66 "creates 83 percent fewer greenhouse gas emissions, uses 82 percent less energy and uses 57 percent less water than the production of N66."
"Since the beginning, we used Cordura fabrics and never had regret about it. When we heard about the new Cordura re/cor, we were very excited about this new fabric development as it gives the option to ensure durability by decreasing the resources that are needed to create the fabrics. There is a need for more environmentally friendly products, and we are partnering with Cordura to answer the demands of the market without compromising on our values", explained Nadia Zoller, product designer at Bach Equipment.
Backpacks and bags from Bach Equipment with Cordura re/cor RN66 will be commercially available in its 2024 collection.
Photo courtesy Cordura x Bach Equipment