Fueled by the active, outdoor lifestyle in Western North Carolina (WNC) and wild entrepreneurial spirit, Mountain BizWorks, the Outdoor Gear Builders, and several other strategic partners are stoked to introduce the Waypoint Accelerator. Focused on growing the next, best, and most rad outdoor brands in WNC, the program will welcome applications from businesses within the region and those looking to locate to the area.
The Waypoint Accelerator joins other outdoor accelerators, such as Catapult Outdoor Accelerator in Colorado and Bend Outdoor Worx in Oregon, but is the first of its kind on the East Coast. It is set to officially launch at the Outdoor Retailer Summer Market on June 19th in the NCEDP, Booth #24219-UL, and will seek applications up until August 11, 2019.
"Waypoint is a powerful opportunity that combines deep industry expertise, a proven entrepreneurial development program, and Western North Carolina's exceptional outdoor recreation assets," states Matt Raker, director of community investments at Mountain BizWorks. "We're so excited to launch this targeted program to grow the outdoor industry and all of its positive impacts."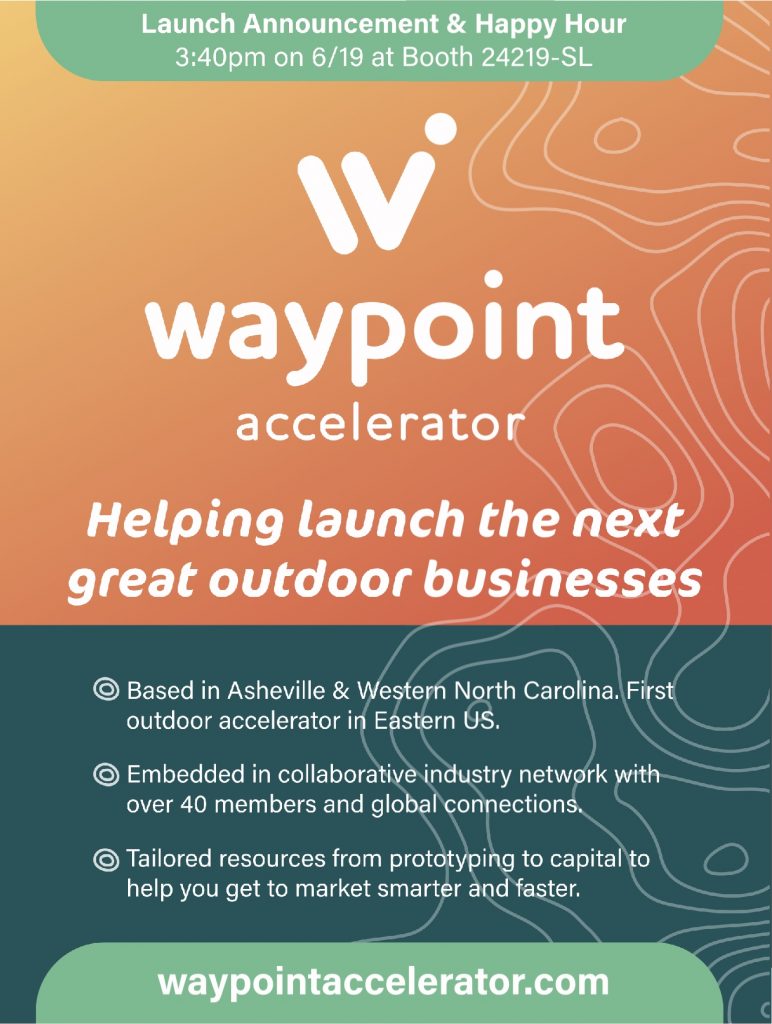 Based in Asheville, NC, the Waypoint Accelerator is searching for 8 early-stage, outdoor-focused companies to join their annual program. Once selected, these companies will begin a 10 session intensive curriculum and mentorship program designed to leverage the area's unique industry network – including tapping into the 40 member strong Outdoor Gear Builders- and exceptional training and support resources. On top of one-on-one coaching with seasoned advisors and connections to suppliers, participants will also have the opportunity to show at the annual Get In Gear Fest.
"The timing couldn't be better for the Waypoint Accelerator in WNC," Matt Godfrey, Chief Instigator of Periscope Solutions in North Carolina. "Not only have we experienced a tremendous amount of growth in our outdoor sector, but the level of collaboration and support between the companies is something I've never experienced. We look forward to welcoming more innovative brands into our family of outdoor gear builders and experiential companies."
After the official launch at Outdoor Retailer, the selected companies will be announced at the Outdoor Economy Conference on October 10, 2019. The sessions – covering topics like startup business management, product development, growth, and financial strategy, access-to-capital, and effective marketing – begin in late October. They will be spread between 'checkpoints' to balance learning and application and will conclude at Get in Gear Fest in March 2020.
Are you located in the WNC region and pumped to be stoked about the opportunity to take your outdoor brand to the next level? Find out more apply at waypointaccelerator.com.