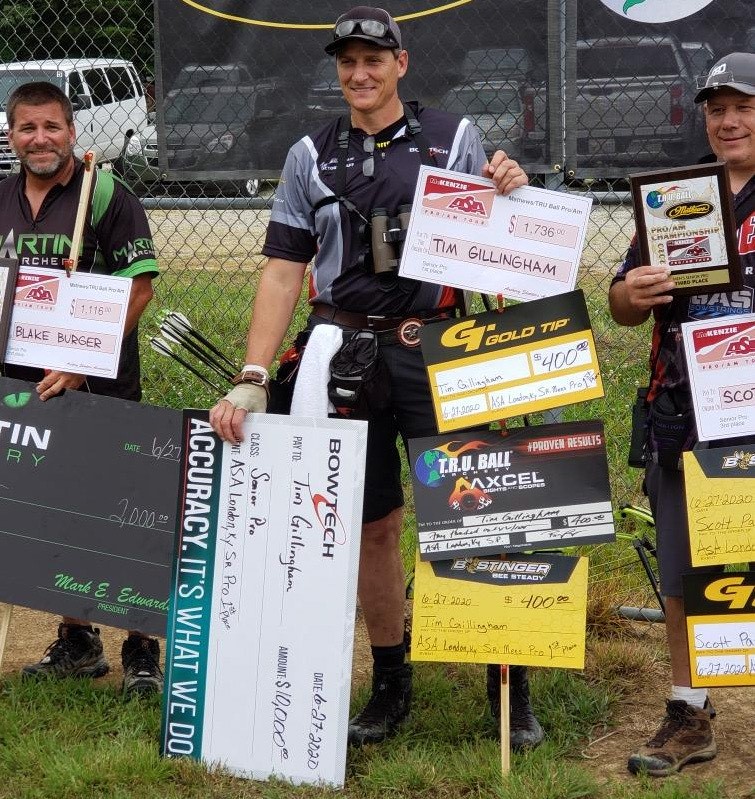 June 26, 2020 — The 2020 ASA 3D season was back in action. London, KY has long been known for its difficulty with dark hidden targets. Tim Gillingham was able to overcome those obstacles and bring home the top step of the podium once again with his Reckoning 38, fresh off his win at the 1st leg of the IBO National Triple Crown.
Day 1 started out great and Tim was putting up great scores but unfortunately a bumped trigger on his release sent one sailing for a zero. Tim dug back out and finished tied 2 points from the lead. Day 2, Tim fought back from an early 5 point shot, finishing 5 points ahead of the pack. During the shoot-off Tim and the Bowtech Reckoning 38 were pounding the 12 ring and he never looked back, taking home the win once again.
When asked about his performance, Tim shared: "It was an up and down weekend going from absolutely shooting lights out the first 10 on Friday, accidentally shooting a zero, to getting back in the top 3 by the end of the round.  Saturday started a little rough, but I shot twelves on my last two targets to take the lead and had a solid performance, exactly as I scripted it in the shoot off to bring home another win for Team Bowtech! I represent the best equipment money can buy and trust it will put me on the podium."
Next up, Tim heads to the 2nd leg of the IBO National Triple Crown July 10th in Franklin, PA.
If you are ready to up your game with Deadlock, check out the Reckoning and Reckoning 38 with DeadLock Technology.
Not into target archery? No problem, you can also find the tack driving accuracy of DeadLock on the Revolt, and Revolt X. The most accurate hunting bows ever built. DeadLock. Tune It, Lock It, Trust It.
Learn more at bowtecharchery.com/deadlock