Denver, CO, February 4, 2020 – Boa launches its latest innovation in the snowboard category with the advancement of the proven H-SERIES Boa Fit System and the introduction of the H4 dial platform – a high performance, precision-built fit system for the most demanding rider. Boa brand partners, including Burton, K2, Ride, Vans, DC, and more, will offer boots equipped with the new H4 dial platform and TX3 lace, Boa's first high power snowboard-specific textile lace, at retail for the 20/21 winter season.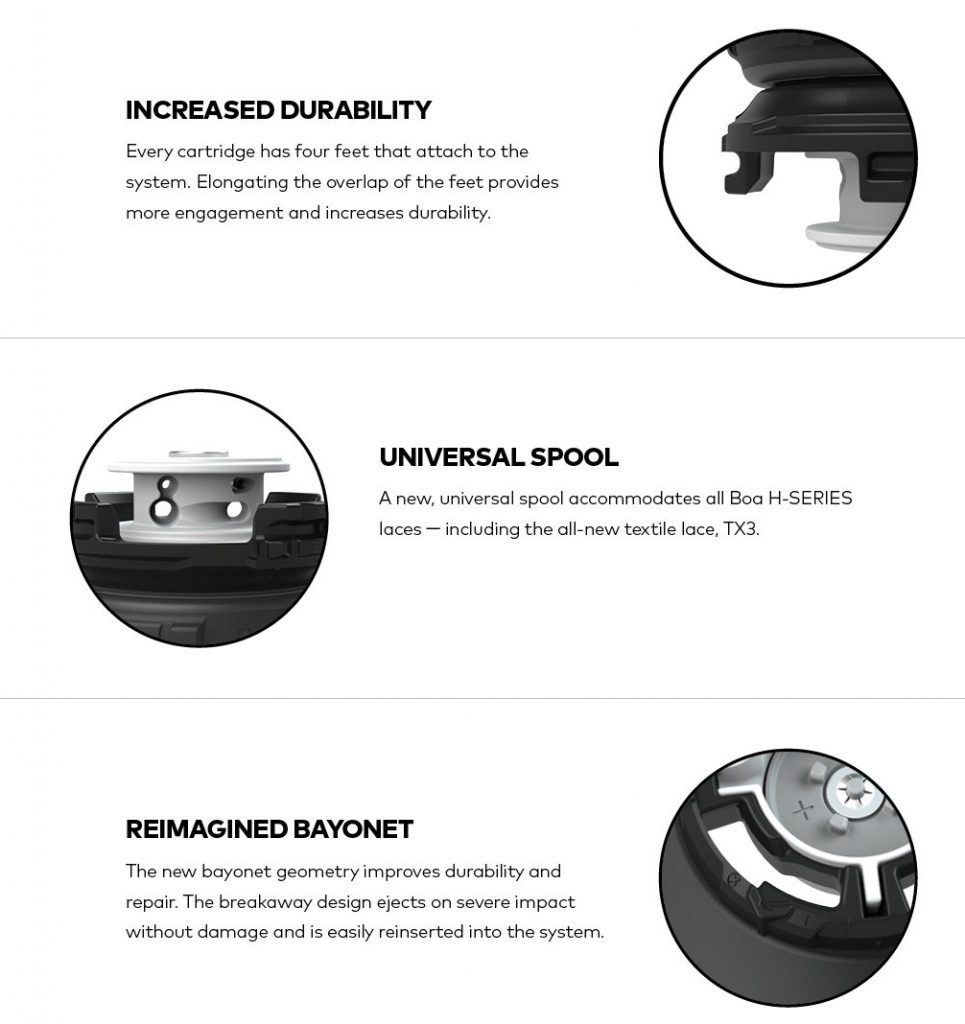 H4 brings the proven precision and performance that Boa is known for to the most durable high-power dial platform in the market. The internal workings of H4 feature an updated cartridge assembly for unprecedented durability, with a new breakaway design that is engineered to defy failure. The cartridge ejects on severe impact without damage and is easily reinserted into the system – anytime, anywhere.
"Boa has always offered the ability to fine-tune fit, which is key for all the different styles of riding I do," says professional snowboarder and Boa Pioneer Travis Rice. "With the evolution of Boa's newest H4 Platform, I know my boots are secure. In the off-chance something major happens, I can simply reinsert the dial, which is brilliant engineering… Boom."
The combination of the new H4 dial platform and Boa's first textile lace in snowboard, TX3, allows for a variety of fit configurations and is engineered for maximum shell adjustment and control. Featuring flexibility and style, the new lace meets the design and aesthetic requirements of the snowboard industry, similar to the characteristics of traditional boot lace. However, unlike standard laces or speed-lace, Boa has designed TX3 to be much smaller in diameter to work within the Boa Fit System while still exceeding the necessary strength requirements for snowboard boots.
Tested extensively in the field and in Boa's Test Lab, the development of the H4 and TX3 has pushed performance and durability to the next level. "The H4 dial platform is built to withstand major impact, the harshest of elements, and maintain performance when it matters," says Woody Woodard, Boa's Global Snowboard Lead, Senior Account Manager. "We have over 9,000 hours of combined field and lab testing that shows that H4 and TX3 will stand up to the toughest conditions, and has resulted in our most durable system yet."
Boa's H4 platform and TX3 lace debuted at the recent Outdoor Retailer + Snow Show and is featured on snowboard boots from Burton, K2, Ride, Vans, DC, Rome, ThirtyTwo, Salomon, Nidecker, Nitro, Flux, Head, and Deeluxe for the 20/21 winter season.