Black Diamond Equipment®, a global innovator in climbing, skiing, mountain sports equipment and apparel, today announced it will be adding the world's largest Camalot, the #21 Camalot C4, to its Spring 2020 climbing collection targeted for early release this summer.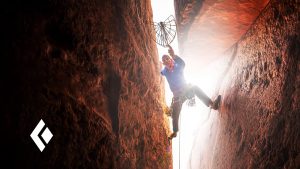 "Many of the most classic routes in the world, like the Freerider (VI 5.13a) on El Cap or great desert towers, have heinous wide pitches guarding the summit," says Black Diamond athlete Alex Honnold. "I wanted to find a way to make chimneys and wide cracks a little more mellow. Luckily I knew just the folks to talk to."
In a move to address off-width climbing, one of the fastest-growing segments of the sport, Black Diamond expects the #21 Camalot C4 to accelerate its current market opportunity. The product will appeal to all climbers who want to transition into the style of off-width climbing but desire an added safety margin.
"When Honnold has a problem, we solve it," says Kolin Powick, climbing category director for Black Diamond.
By re-engineering the traditional lobes of a Camalot, Black Diamond's engineering team was able to create a cam that not only could protect a chimney pitch but would also be light enough to carry on a rack.
"The spacing and the diameter of the axles was a challenge, as well as ensuring the stem tube was stiff enough to withstand the increased head weight of the monster cam," explains Powick. "This was accomplished via FEA (finite element analysis) 3D printing samples, and iterative field testing."
By re-engineering the lobes of a traditional Camalot, Black Diamond was able to expand the range exponentially to create the ultimate wide-sending machine. The #21 Camalot C4 combines its enormous size with a manageable weight, giving one the confidence needed to rack this bad boy no matter how long the approach. Plus, the final touch is the #21's innovative trigger keeper technology, which holds the cam in a retracted position when racked. And when the cracks get wide, simply whip it out, squeeze the trigger and BOOM … it's time to tame the monster.
The #21 Camalot C4's features include:
Innovative trigger keeper for compact racking
Sling is updated visually for easier differentiation when racking
Double-axle design offers the widest range ever invented
C-Loop continuous cable stem design is strong and durable
Color-coded for easy identification
LiteWire Rackpack available for easy racking
Now, armed with a gold #21 Camalot C4, there's nothing BD athlete Alex Honnold can't protect. For product information and details on purchasing a Black Diamond #21 Camalot C4 in advance of its scheduled Spring 2020 release, please visit blackdiamondequipment.com/en_US/21-camalot.html
In addition to launching the #21 Camalot C4, Black Diamond is offering a limited-edition comfy cotton tee built to TAME THE MONSTER and pay homage to the biggest Camalot ever made. Black Diamond will donate its net proceeds from April sales of its giant cams and tees in support of the Access Fund.
About Black Diamond Equipment: Black Diamond Equipment is a manufacturer of equipment and clothing for climbing, skiing and mountain sports. By consistently building innovative, standard-setting products and actively preserving the mountain/canyon environment, Black Diamond Equipment has assumed a leadership role in the international outdoor community. For more information on Black Diamond Equipment, visit blackdiamondequipment.com