Asics released its first women's-specific wrestling shoe, the Matblazer designed to work with the female athlete to elevate performance on the wrestling mat.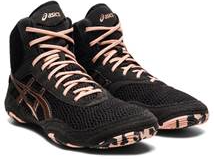 The designers at Asics created the Matblazer to address the anatomical differences between male and female feet. The more tailored fit incorporates an asymmetrical lacing system for a compression-like feel allowing the shoe to move with the wrestler, generating less friction and rubbing and offers greater traction for dynamic movement.
Inspiration for the shoe's construction came from Asics' JB Elite shoe. Using the split sole found in the JB Elite optimizes flexibility without minimizing grip properties and reduces weight for the female athlete to feel grounded to the mat and light on their feet.
The shoe comes in two colors—White/Mist with an iridescent application for color-shifting visual effects and Black/Rose Gold with a subtle shimmer effect. Each shoe has a marbled outsole and both colors offer a secondary lace option for personalization.
For more product information, go here.
Photos courtesy Asics