Polartec and Oiselle, a women's running apparel company, joined forces to field the first female team to take on the 340-mile Speed Project relay race.
The Speed Project is an unsanctioned, sans rule book ultra-relay race. It starts at Santa Monica Pier in Los Angeles and ends 344 miles later at the "Welcome to Las Vegas" sign on the strip. Teams of six runners cross the foothills of the San Gabriel Mountains, skim the top of Mojave National Preserve, and traverse Death Valley on their way to Sin City.
Polartec and Oiselle saw an opportunity to make history on the course. No all-women's team had ever toed the line. It was time to change that, and do it with speed. Team Bird Strike was determined to be the first to arrive in Las Vegas.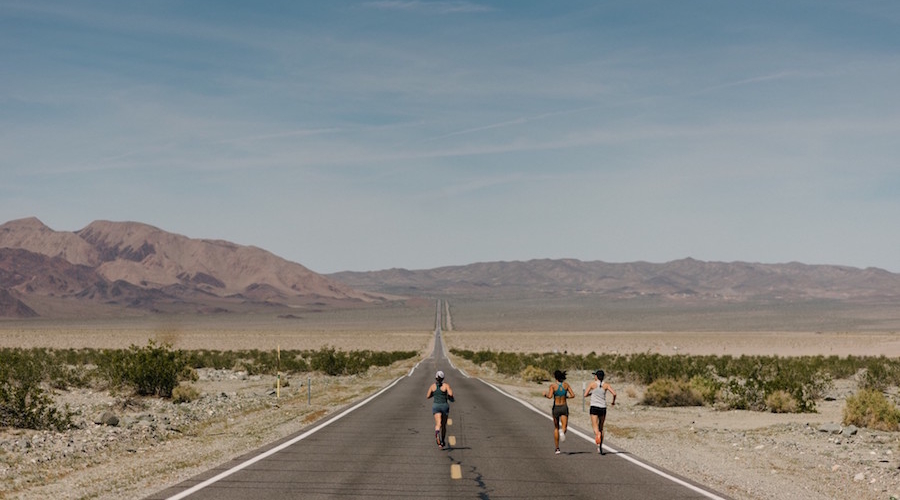 The Bird Strike team and support crew tapped the knowledge of Polartec Product Managers Karen Beattie and Karen Whitter for the best fabrics to wear on the course. Beattie invented Polartec Delta, Polartec's innovative cooling fabric that Oiselle chose for their Flyout styles. Whitter is the champion of Polartec Alpha, a breathable insulation that was invented for the U.S. Special Forces.
Runner Cathleen Knutson noted, "The fabric withstood the sweat and grit of this race. Even after two hot six mile runs it still felt soft. It was lightweight, yet durable and never felt clingy on my skin." Collier Lawrence wore the Flyout Long Sleeve on the last climb to Vegas. "It was getting pretty windy and cold but didn't warrant a jacket or wind shell. I put the Flyout long sleeve under my reflective vest thinking I'd get too hot. Stayed warm without feel like I was overheating."
44 hours, 27 minutes, and 11 seconds after leaving Santa Monica Pier, Team Bird Strike sprinted together to the finish line.
Photos courtesy Joe Haeberle