The Maine-based rope manufacturer celebrates a quarter century of business this year.
Writer: Travis Poulin
In the growing sport of rock climbing, there are many companies producing high quality goods, but many of them are based in countries other than the U.S. Some companies, however, take U.S. manufacturing very seriously.
Sterling climbing ropes is one of these companies. Carolyn Brodsky started Sterling in her kitchen and garage, and her passion for rope and producing a quality product has not changed. Brodsky turned Sterling into one of the premier climbing and rescue rope manufacturers in the world.
Based in Biddeford, ME, Sterling will celebrate its 25th year of manufacturing in 2017. Sterling produces ropes for everyone from arborists to climbers. They have a wide variety of ropes, including search and rescue specific ropes and fire escape lines. They also manufacture pulleys, escape hooks, descent controls, rigging devices and carabiners.
Sterling ropes are often referred to as "workhorse ropes" by climbers because they tend to be very tough and can withstand the harsh conditions that climbers and mountaineers face year after year.
Liz McLellan, director of marketing for Sterling, said the company takes U.S. manufacturing very seriously. "We are up against many international players," McLellan said. "And we pride ourselves on being made in the U.S."
Sterling is also proud to be made in Maine, McLellan said. Maine tends to struggle economically with many suffering mill towns, and a loss of manufacturing jobs.  "We are proud to be keeping jobs in Maine," she said.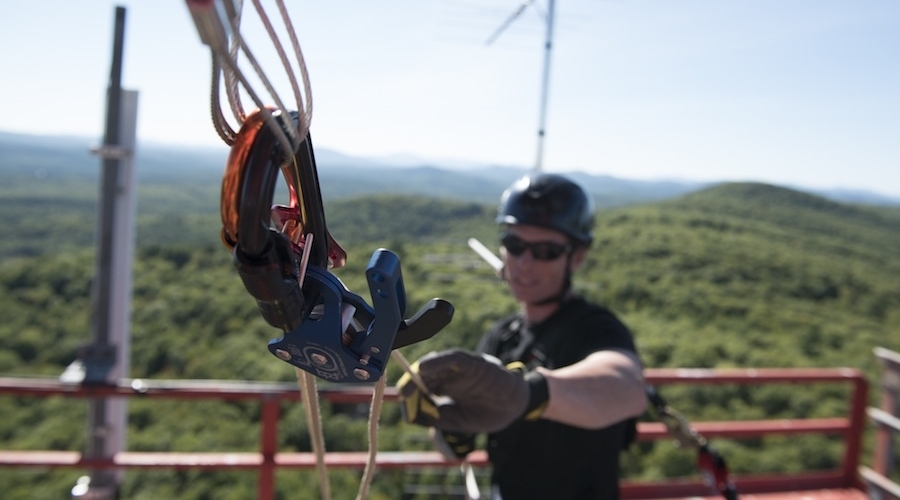 With many world renowned climbers on its team including Chris Sharma, Kevin Jorgeson and Whitney Boland, rock climbing is a huge portion of Sterling's business. But there are other professionals that rely on their products. "People trust our products during the riskiest times," McLellan said. "We have arborists, firefighters, and other rescue personnel trusting that our products will keep them safe. Our focus does not just include rock climbing. We also have to produce products for people climbing cell phone towers and wind turbines."
McLellan said Sterling does their best to use local or U.S. made materials. "We want to understand where each piece of each product came from." Sterling, and climbing gear in general, has a tough inspection process, and Sterling's gear that does not pass the rigorous testing system is used for other purposes. "One way we are lessening waste is by donating extra rope to schools for art projects," she said. "It is very important to us that we do not throw anything away – we want to maintain the life of all of our products, even if we cannot sell them."
Sterling's logo, which recently changed, is symbolic of the company, McLellan said. The new logo is simple, and consists of two triangles – one pointed up and one pointed down. She said the intent of this logo is to represent the place where humanity and gravity meet. "Gravity can be a friend or a foe," she said. "At the end of any rope there is a person finding the balance between gravity and humanity."
Photos courtesy Sterling