Speaking at the 2020 Jefferies Virtual Consumer Conference, Christopher Rondeau, CEO, Planet Fitness, said gym visits continue to improve with member workouts at almost 80 percent to 85 percent year-ago levels, but he sees ongoing challenges continuing and expects pressures will create sizeable market share opportunities for Planet Fitness.
"I think it's almost taken a five or 10-year horizon for us and probably brought that into the next six months, as far as where we are going to be on the competitive landscape," said Rondeau.
He noted that while speculation has arrived on gym closures as a result of the bankruptcies of Gold's Gym and 24 Hour Fitness as well as the potential bankruptcy at Town Sports, the parent of New York Sports Club and Boston Sports Club, the bigger opportunity to reduce price competition in the marketplace are the exit of the minions of mom & pop fitness centers.
He noted that the U.S. has about 33,000 mom & pop fitness locations versus 3,000 to 4,000 locations if all the national chains such as LA Fitness and 24 Hour Fitness were combined.
"I think what the silver lining of the pandemic maybe is that it cleans out the industry and moves out weaker operators in the system or the bad operators in the system. There's definitely some market share gains to be had."
He noted that since going public in 2015, Planet Fitness has grown from about 1,000 locations to a little more than 2,000 as it's opened about 200 clubs a year on average. Many larger competitors, by comparison, have opened "very few" in recent years. The chain typically moves into markets as the third club in the city and five to ten years later is often the "last guy standing." A challenging period will accelerate that consolidation process. Said Rondeau, "I really believe that coming out of this we will be much stronger than how we went into it."
Asked about the opportunity should a significant consolidation reach the boutique space such as Orangetheory, Soulcycle and F45, Rondeau saw less of a benefit. He believes that if a boutique closed, Planet Fitness "almost wouldn't feel it" because they cater to different consumers.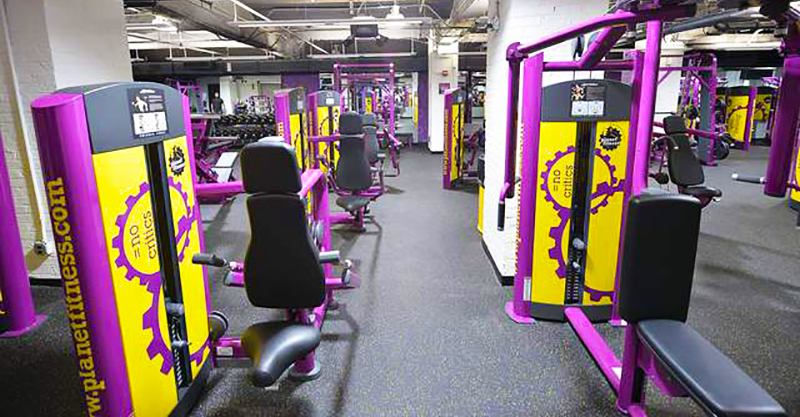 While some may join a Planet Fitness due to cost reasons, they'll probably join another premium boutique experience.
"It's about the fit getting fitter," said Rondeau of the typical boutique customer. "They'll keep swapping the same customer back and forth that gets bored with that workout, that wants to change, wants the next new drug to try…So they're going from an Orangetheory to F45, back to CrossFit and maybe even to LA Fitness."
By comparison, Planet Fitness is largely aimed at "getting people off the couch," a much larger target market. A boutique, for instance, may have 400 members versus 2,000 or 3,000 for a Planet Fitness.
Rondeau noted that almost 40 percent of Planet Fitness' members have never belonged to a gym and that's remained that same as gyms reopen with the pandemic.
Rondeau said that although the chain has slowed expansion this year due to efforts to focus on cash preservation due to uncertainties created by the pandemic, it expects to return to opening "200-plus" stores a year as the development cycle normalizes. He still sees the opportunity to double its store count to 4,000 locations in the U.S.
As far as real estate becoming available, Rondeau said gym leaving opens up a market opportunity but not necessarily a real estate one. Planet Fitness' concept runs about 20,000 square feet and he believes the overall disruption in the retail marketplace will create opportunities. For example, a closed Office Depot may make an ideal space for Planet Fitness. Should a 24 Hour Fitness become available, the company may "gut it and make it a true PF."
Expansion is expected to be helped by a heightened awareness of the importance of health & wellness tied to the pandemic. While the benefits of being in good health were already widely known, those with pre-existing conditions are found to be more susceptible to the virus. Said Rondeau, "We got to believe that more people are just going to be thinking about taking care of themselves and improving their health and that should play into us with our value proposition of $10 bucks a month. And you get the same equipment you get in a Lifetime or some of these other more-higher-price clubs."
He noted that Planet Fitness is still finding that the majority of new members, about 60 percent, are choosing the Black Card membership, at $22.99 a month, that includes a number of additional perks, including being able to bring guests to work out with for free.
New membership is also continually being driven by Planet Fitness' commitment to 9 percent of sales on marketing.
"We're putting over $200 million a year in member marketing and member acquisition marketing that no one can touch, and so we just think that's going to continue to widen our moat," said Rondeau.
He noted that Planet Fitness now has over 7,500 members per store, up from about 5,500 a decade years ago, and another member-growth opportunity is helping members understand the busiest times of the day.
The busiest times at Planet Fitness are after work, about five to seven at night. The second-largest peak is in the morning, at around 7 a.m. Amid the pandemic, more volume is being seen 9 to 11 in the morning, as well as to 2 to 4 in the afternoon, "which is great because it's helping to lessen our peak hours, which is great," said Rondeau.
However, a recent survey shows the members incorrectly assume the busiest times are weekends. An average Monday may feature 1,200 to 1,500 workouts versus 700 on a Friday night and 400 to 500 over the weekend days.  Planet Fitness will soon be launching an app feature that will tell members how crowded their club is at any time to encourage visits to slow times. Rondeau said, "You could serve more members per sore without ever changing the size of the box or adding more equipment, which would be unbelievable the bottom line.
Rondeau said currently about 1,400 out of Planet Fitness' approximately 2,040 locations are currently open. Membership volumes are up despite no "meaningful acquisition marketing for a couple of months" since clubs have been closed. Rondeaux said, "Joined-up volume and pent-up demand have been great."
Local marketing is just starting to come back in some markets that have been reopened seven or eight weeks. Cancellations have been steady across the system where a small spike is seen the first couple days the club initially reopens and then moderates back to normal levels.
Particularly encouraging has been member workouts, which initially were in the range of 25 percent to 30 percent but has steadily improved to a nearly 80 percent to 85 percent for normal member workouts versus a year ago. Clubs that have reopened more recently are witnessing "higher level of workouts right out of the gate" as far as regular club visits. Said Rondeau, "So, I think, the angst out there is slowly subsiding, and people are excited to get back into the gyms."
Photos courtesy Planet Fitness