At the ICR Conference 2022, Chris Rondeau, Planet Fitness CEO, talked about the benefits of acquiring one of its largest franchisees and the drivers of its strong membership growth in 2021. And, at least through the fourth quarter, the Omicron variant had not impacted the fitness chain.
"Through the fourth quarter, even though Omicron was in the news a lot with increasing cases, we did not see negative sentiment or negative reaction to member workouts, member joins or cancellations," said Rondeau.
He also noted that the chain had not seen much of an impact from the Delta variant earlier in 2021.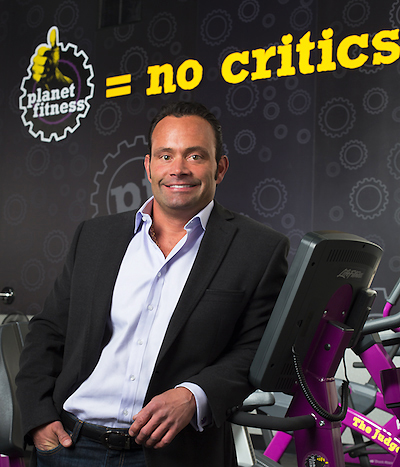 Rondeau, shown right, believes people are heading back to physical gyms partly due to "COVID fatigue" and because they're feeling safer as the vaccine has been broadly distributed. He added on Omnicron, "Thankfully, this, even though it's more transmittable, is less dangerous than the original COVID. I think that also gives some people peace of mind."
On Tuesday, Planet Fitness announced it had agreed to acquire Sunshine Fitness Growth Holdings, LLC, a franchisor operating 114 locations in the Southeast, in a cash and stock transaction valued at $800 million. The company also provided preliminary key year-end metrics showing healthy growth in 2021.
Among the 2021 figures:
Planet Fitness ended fiscal year 2021 with 15.2 million members, an increase of 1.7 million members over the past 12 months. The growth was on par with pre-pandemic years, ahead of expectations, and came despite slower than normal growth in the first quarter as the vaccine had just rolled out.

Planet Fitness opened 132 new locations for the full year, exceeding expectations. As of December 31, 2021, Planet Fitness had 15.2 million members and 2,254 stores in 50 states, including the District of Columbia, Puerto Rico, Canada, Panama, Mexico, and Australia.

Currently, 98 percent of Planet Fitness stores are open, including 100 percent domestic locations.
Rondeau believes a major reason for the strength in its membership joins is an increased emphasis on the importance of fitness and overall health due to the pandemic.
"When we look at whom this has affected most and the most extreme cases, it's mostly people that had pre-existing conditions and in most cases were overweight or obese. Eighty percent of all hospitalizations in the U.S. involve people that are overweight or obese. So, one big thing people realized is that fitness is essential, and I think that's a tailwind. You can't imagine people being less healthy coming out of COVID, right?"
From a competitive standpoint, Rondeau noted that approximately 22 percent of U.S. gyms permanently closed from the impact of COVID-19. He said Planet Fitness did not lose one store due to the virus, but the widespread closures reduced pressures in the deal-driven fitness sector.
"There's less competition out there, so the silver lining is that there are fewer places to go and less marketing out there besides us," said Rondeau. "We can capitalize mostly on that. Forty percent of our members are first-timers. Thirty percent of our joins are rejoining; that's typically 20 percent. People are coming back faster than ever and aren't choosing home fitness. It's positive news, which drove our joins and cancellations to be in a good spot. That allowed us to achieve that 15.2 million for the end of the year. Our height was 15.5 million when we closed 2020, so we're almost back to where we started."
Rondeau also believes that membership growth is driven mainly by first-timers or returnees rather than individuals joining from closed gyms.
Its member survey data shows only about 2 percent of joins come from closed gyms, and he added that about 27 percent of the closures are fitness boutique studios, which tend to have a smaller membership base than a typical gym. He also believes the larger gyms that closed were underperforming.
"It's not like you have 5,000 member gyms that are closing out there. The average gym in the industry will have about 1,200 or 1,500 members, and that's the average. So when you think about the gyms that are closing, they're probably not a high-performing gym either, so probably 800 members or whatever they had. But again, I think the long-term benefit is that you essentially wiped out eight years of club growth in the industry, and we didn't lose a single store. So you have fewer places to shop and less marketing to think about."
On the Sunshine Fitness transaction, Rondeau noted that the company was Planet Fitness' first franchisee that started 19 years ago and is "one of our best-performing franchisees in our system." 
Based in Florida, Sunshine Fitness has been backed by TSG Consumer Partners (TSG) since 2017 and operates 114 locations in Alabama, Florida, Georgia, North Carolina, and South Carolina.
Said Rondeau. "There is a tremendous long-term untapped opportunity for our brand to get people off the couch, which is why, as a leader in the fitness industry, we are making this strategic investment for the future."
The franchise was for sale, and Planet Fitness exercised its right of first refusal to match a competing offer and take over the locations. The deal will give Planet Fitness over 200 corporate stores, with Planet Fitness currently operating about 100. With the 114 locations, corporate locations will represent about 10 percent of its overall base.
According to Rondeau, benefits to the deal include increased diversification in its corporate store portfolio. Planet Fitness' corporate stores are mainly in the Northeast, except for a few in Colorado and California and a few in Canada.
Also, as part of the deal, Shane McGuiness, co-founder and CEO of Sunshine Fitness, who has been an owner and operator in the Planet Fitness system for nearly 20 years, will join Planet Fitness and take over management of the company's combined corporate store portfolio. 
Other key Planet Fitness employees include its head of operations and chief marketing officer, joining the company.
Rondeau said Sunshine Fitness is one of "the best-performing franchisees" in Planet Fitness's system, "so hopefully their influence on our corporate fleet will drive more profitability in our existing locations."
Internally, Planet Fitness' corporate office operations can also focus entirely on driving the profitability and performance of franchisees.
"I think it's a great partnership," said Rondeau. "We're looking forward to the future working with Sunshine Fitness as part of our corporate fleet here. It's a great opportunity for us to capitalize on as they were looking for a sale."
No significant further expansion of corporate stores is expected. The company seeks to remain "asset-light," and the ceiling to do so is seen as under 20 percent corporate store ownership.
Under the agreement terms, Planet Fitness is expected to fund the cash portion of the purchase price through the proceeds from a new series of securitized notes issued under their existing securitization financing facility and from available cash on hand. The transaction is expected to close in the first quarter of 2022.
The transaction is also expected to be accretive to Planet Fitness' adjusted EPS in the low double-digit percentage range in 2022. The company expects to contribute the acquired stores and related profitability to its wholly-owned securitization subsidiaries consistent with its existing company-owned stores. 
In connection with the securitization debt financing, Planet Fitness also expects to refinance its Series 2018-1 Class A-2-I Notes, which, as of September 30, 2021, had a principal balance of approximately $558 million. The acquisition and debt financing are expected to result in a slightly lower debt-to-adjusted EBITDA ratio on a proforma-consolidated basis.
Photos courtesy Planet Fitness