Shares of Peloton Interactive were down about 9 percent in mid-day trading Monday after the U.S. Consumer Product Safety Commission (CPSC), in an unusual move, warned people to stop using the company's Tread+ "immediately" if they have children or pets in the home, citing 39 incidents including one death. Peloton called the warning "inaccurate and misleading" but some analysts felt the heightened safety concerns could slow subscriber growth.
The warning comes after Peloton, on March 19, released news of a child's death by a $4,000 Tread+ and CPSC's announcement of an investigation into that incident.
The agency's warning is another blow for the once high-flying company that has also recently seen its staggering growth capped by inventory constraints for its popular connected bikes amid the pandemic. The constraints have led to long wait times for customers. 
Peloton's stock is down about 26 percent for 2021 following a strong 2020, which saw shares soar more than four-fold.
The CPSC's warning prompted the chairman of the Senate's consumer protection subcommittee to call for a recall.
"Peloton must immediately cooperate with the CPSC to recall its dangerous and deadly treadmill," said Senator Richard Blumenthal, United States Senator For Connecticut, in a statement. "Amid dozens of incidents of hurt kids and pets – with broken limbs, brain injuries and death after being pulled underneath the machine – it's clear that the Peloton Tread+ must be recalled."
In issuing the warning, CPSC noted that its investigation turned up dozens of instances of injuries and said the Tread+ poses serious risks to children for abrasions, fractures and death. The warning included a YouTube video of a two-year-old boy from northern Virginia getting sucked under a Peloton Tread+ before he is eventually able to free himself. The boy in the video was not hurt.  
CPSC said, "In light of multiple reports of children becoming entrapped, pinned and pulled under the rear roller of the product, CPSC urges consumers with children at home to stop using the product immediately."
A voluntary recall reportedly wasn't issued by the agency because Peloton has not agreed to corrective action, such as a repair or replacement, nor is it stopping the sale of the Tread+.
In a statement, Consumer Reports, the nonprofit consumer watchdog group, said the warning puts a spotlight on delays by Peloton and broader weaknesses in U.S. product safety laws.
"It's outrageous that Peloton isn't taking stronger action right away. These injuries to children, including a fatality, are every parent's worst nightmare," said William Wallace, manager of safety policy at Consumer Reports. "You'd think that the CPSC could easily order a recall in a case like this, but it can't, thanks to laws on the books that put corporate public relations ahead of children's lives. This warning by the CPSC indicates that Peloton is not putting safety first, and there's little the agency can do about it right now beyond alerting the public."
"Current federal law makes it too easy for companies to stop the CPSC from telling the truth and too hard for the agency to force recalls of hazardous products," said Oriene Shin, policy counsel for product safety at Consumer Reports. "It's vital for Congress to take action and empower the CPSC to fully carry out its mission. The CPSC is the country's main product safety watchdog, and it must be able to take forceful action quickly, completely and publicly when a product in the home puts people at risk."
The CPSC's warning also followed a letter from U.S. Congresswoman Jan Schakowsky, Representing the 9th District of Illinois, to the agency requesting a report on its investigation of the product, including any factors that have slowed or delayed the CPSC's work.
In a response on Saturday to CPSC's statement, Peloton blasted the warning as "inaccurate and misleading" and said there's "no reason" to stop using the machine if safety instructions, such as correctly using its safety key, are followed. It also said that the Tread+ should be kept away from children under 16 years old and pets "at all times."
Specifically, Peloton took issue with the video released by the CPSC. The company said that if the treadmill's safety key had been used properly, that could have avoided the "kind of incident that this video depicts."
"The Tread+ includes safety warnings and instructions in several places, including in the user manual, in a safety card left on top of the Tread+ tray on delivery and on the product itself," Peloton said.
•—•
Download the Peloton TREAD+ Complete User Manual here.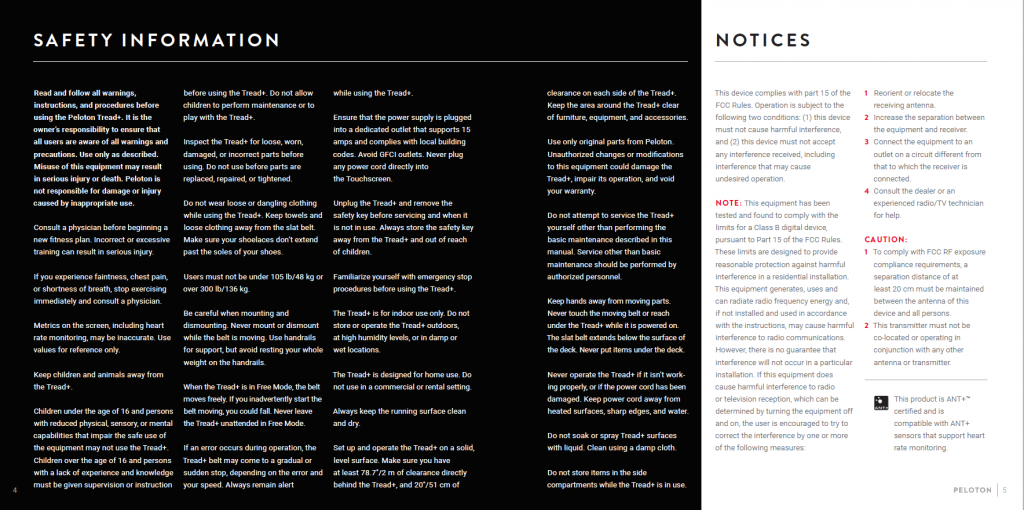 •—•
In a follow-up message to members on Sunday, John Foley, Peloton's CEO, said the company had responded to all requests from the CPSC related to the investigation except for divulging certain members' personal information due to privacy reasons.
He added that Peloton has no plans to recall the item. Foley wrote, "The Tread+ is safe when our warnings and safety instructions (See Tread+ Safety Information In Peloton's Tread+ User Manual, Page 4-5, here and above) are followed, and we know that, every day, thousands of Members enjoy working out safely on their Tread+. But I urge you to stay vigilant. Remember, the Tread+ is not for children under 16, and children, pets and objects need to be kept away from the Tread+ at all times. When the Tread+ is not in use, store the Safety Key away from the Tread+ and out of reach of children. Our Tread instructors remind us at the beginning and end of each class to keep these safety instructions top of mind. In addition, many of you have chimed in on social media in recent weeks to share helpful tips, such as working out during nap time, having someone watch the kids while you work out, or using a baby gate to keep children, pets and objects away. Thank you for sharing those suggestions with our community."
The warning is not expected to impact the rollout of Peloton's new lower-priced Tread, which was introduced in the U.K. on December 26 and is set to fully launch in the U.S. on May 27.
Among analysts, Truist Financial analyst Youssef Squali reiterated his "Buy" rating on the stock at a price target of $160.
"While this news is a PR black eye for Peloton, we don't believe it'll have a material impact on the company's short-term results or on-demand for its treadmills," Squali wrote in a note.
Squali said it's unclear whether the Tread+ is any "more dangerous than an average treadmill." He noted that according to the CPSC, there were 22,500 emergency room visits related to treadmills in the U.S. in 2019 and 17 deaths in 2018 and 2019 combined.
Treadmills have also proved "very popular" with U.S. consumers, even outselling stationary bikes, with 5 million treadmills sold on average in the U.S. in recent years and sales accelerating with the pandemic-driven at-home fitness craze.
Moreover, demand for the Tread+ still appears strong currently as wait times are running five to seven weeks for Tread+ versus one to three weeks for Bike and six to eight weeks for Bike+.
"Peloton seems to have been keenly aware of the dangers around its equipment as we can gauge from the repetitive warnings which come with its bike and tread, and management seems to be committed to taking whatever steps necessary to further inform members of potential risks," wrote Squali. "All that said, again, this is a major PR issue for the company right now, and one that's likely to carry some legal/financial liability."
J.P. Morgan, reiterated his "Overweight" rating and encouraged purchases on any pullback. On February 5, the firm raised its price target from $145 to $200.
In a note, J.P. Morgan's analyst Doug Anmuth noted that since publicly informing its community one month ago about a tragic accident involving a child and the Tread+, Peloton has taken numerous additional steps to ensure the safety of the product.
"In every recent Tread+ class we've taken, instructors have clearly reminded users at beginning and end to keep children, pets and other objects away from the Tread+ and to remove and safely store the Safety Key when not in use," wrote Anmuth.
He also noted that Peloton is also developing a new software-enabled backup access code that will provide an additional layer of protection against unwanted use of the Tread+. He pointed to remarks by Foley on Sunday to members that the product is safe when its warnings and safety instructions are followed.
Overall, J.P. Morgan continues to believe consensus estimates for connected fitness subscription growth are low for Peloton's fiscal second half ended June 30 and the 2022 fiscal year. Factors supporting subscription growth are expected to be Peloton's significant expansion of manufacturing capacity, easing of port congestion and the resumption of normalized marketing campaigns that were pulled back due to inventory constraints. Other factors expected to drive subscription growth include "still strong" Bike/Bike+ demand and the launch of the lower-priced Tread in the U.S.
Among other firms, Bank of America's Justin Post on Monday kept his "Buy" rating on the news but lowered his price target to $150 from $175 as safety concerns about the Tread+ could potentially dampen Peloton's subscriber growth. On January 13, the firm had lifted its price target on Peloton to $175 from $150.
Landon Luxembourg, an analyst at Third Bridge, likewise said in a note that problems with the Tread+ could make future buyers of Peloton's machines hesitant. Luxembourg wrote in a note, "The safety component may now be much more top-of-mind for consumers looking to invest in a treadmill, and this warning may bring consumer scrutiny to the rest of Peloton's product offerings."
Photos and links courtesy, Peloton