Peak Resorts Inc. reported fourth quarter revenue increased 9.3 percent year-over-year to $56.0 million as the company benefited from an 11.4 percent rise in food and beverage revenue, a 9.9 percent increase in ski instruction revenue and a 9.6 percent growth in lift ticket and tubing revenues, as well as 22.4 percent growth in other revenue.
Resort operating expenses in the fiscal 2018 fourth quarter rose 10.7 percent year over year to $32.0 million, with a 14.5 percent increase in labor expenses, driven primarily by increases in the minimum wage and labor shortages in the Northeast resulting in increased overtime expense. Other operating expense growth in the quarter included a 10.4 percent increase in retail and food and beverage cost of sales, which rose in-line with increased revenue from these sources, as well as a 9.6 percent increase in power and utility expense, driven primarily by late season snowmaking in the Northeast and some rate increases. General and administrative expenses of $1.7 million increased by roughly $0.9 million and included the payment of employee incentive bonuses in the fiscal 2018 fourth quarter compared to a reversal of incentives in the prior year when internal targets were not met.
Reported EBITDA for the fourth fiscal quarter of 2018 was $21.5 million, compared to $20.7 million in the year-ago quarter, representing a gain of 3.9 percent.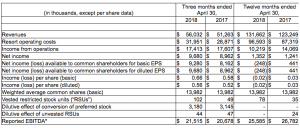 Timothy D. Boyd, president and chief executive officer, commented, "Our strong fiscal fourth quarter results complete what was a record year for Peak Resorts, as we generated revenue growth of 9 percent and a 4 percent increase in Reported EBITDA in the fiscal 2018 fourth quarter. Although the winter brought significant weather-related challenges, our results from the 2017/2018 ski season, which spanned 145 operating days from its beginning in November to its end in April, demonstrate the value of our Peak Pass in adding stability to our financial performance. Our results also highlight the attractive returns we are achieving on our ongoing investments in mountain infrastructure which enable us to mitigate the impacts of adverse weather while providing guests with terrific on-mountain experiences.
"For example, Mount Snow had an exceptional year, with record skier visits and increased revenue, as our expanded and improved snowmaking capabilities resonated with guests. Skier visits for the 2017/2018 ski season were up 14 percent year-over-year at Mount Snow, which compares favorably to the roughly 1.2 percent increase seen across the state of Vermont, according to the Vermont Ski Areas Association. As a result, we believe our operating and financial performance at Mount Snow outperformed the industry in both Vermont and across the entire Northeast, demonstrating that our ongoing efforts at Mount Snow are paying off. We believe the opening of the new lodge at Carinthia this fall will drive further increases in visitation and allow us to generate continued strong performance at our flagship resort.
"Across the balance of the Northeast, the strong appeal of our regional Peak Pass, our world-class guest experiences and our sought-after snow and riding terrain, allowed us to outperform the broader industry despite extremely unpredictable and variable weather. Industry-wide, season passes have become an important part of the guest offering. We believe our Peak Pass stands alone in that it is offered at a compelling price point for skiers and riders of all ages, features uncomplicated and unlimited access and serves as the preferred way for Northeast skiers and riders to drive to and explore our diverse mountains and resorts in Vermont, New York, New Hampshire and Pennsylvania.
"Hunter Mountain capped off a very good season in early April and is now a hive of activity as crews work to implement the Hunter North expansion that will result in a 25 percent increase in skiable terrain and add automated snowmaking and a second six passenger high-speed detachable lift. Visitors to the Hunter Mountain website and our social media followers are getting a glimpse of the exciting progress at the resort, and we believe this project will be well received as the 2018/2019 season gets underway later this year.
"We also generated very strong fiscal fourth quarter and full year results across our Midwest mountains as these locations benefited from favorable winter weather after several less than stellar winters and a 19 percent rise in visitation over the prior year. Skiing, riding and tubing remain popular winter pursuits in the Midwest and our guests in Ohio, Missouri and Indiana value the offerings and continued enhancements at our mountains.
"Finally, on the expense side, rising labor costs are a reality in our business, and for the leisure and hospitality industry as a whole, and we are working diligently to efficiently staff our properties and manage expenses. Our fourth fiscal quarter was also impacted by a weather-driven shift in walk-up demand from February to March, which resulted in some increased investments to get guests to return to our mountains and increased power and utility costs as we made additional snow at the end of the season to drive more skiing availability in March."
Balance Sheet Update
As of April 30, 2018, the company had cash and cash equivalents of $23.1 million and total outstanding debt of $180.9 million, including $12.4 million drawn against its revolving line of credit and long-term debt of $165.8 million, net of debt issuance costs and current portion.
Christopher J. Bub, chief financial officer, added, "Peak Resorts' fiscal fourth quarter, which helped drive strong full year financial results, has positioned the company favorably with a stable balance sheet and healthy cash balance as we work throughout the summer to prepare for the upcoming 2018/2019 ski season.
"We invested $4.3 million in capital improvements in the fiscal 2018 fourth quarter and a total of $31.0 million for the full year, including nearly $22.0 million on our West Lake and Carinthia expansions at Mount Snow. Notably, with this spending, the majority of our deferred maintenance projects from fiscal 2017 are now complete. As we look to fiscal 2019, we expect to finish work on the new Carinthia Ski Lodge at Mount Snow and the Hunter North terrain expansion projects in time for the upcoming ski season, which we believe will drive additional growth at both mountains. We also plan to continue to invest in and enhance the guest experience at our resorts to help further improve our financial results and increase shareholder value. Overall, the team at Peak Resorts made great progress throughout fiscal 2018, and we look forward to building on our momentum in fiscal 2019 and beyond."
Photo courtesy Peak Resorts