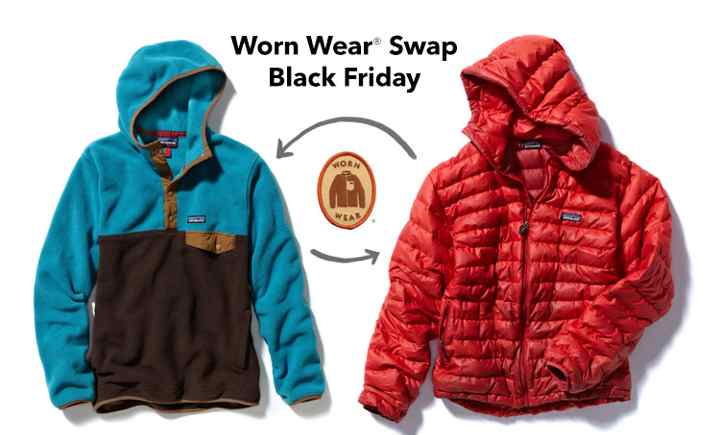 On Black Friday, Patagonia will be encouraging customers "to take a break from
the consumer madness" and drop by eight of its stores for one of its Patagonia Worn Wear Swap
events. Customers will be allowed to bring in their used Patagonia clothing "and swap it with something off the rack." The company also partnered with Yerdle, a webs site where users can use a smartphone app exchange things for free and earn credits to get even more free items.
"If customers dont find something
they like, Yerdle will take the used clothing in exchange for Yerdle
Credit. Patagonia will provide the food, music and refreshments. Pretty
simple!," Patagonia said in its release.
Patagonias $20 Million & Change investment fund recently made a strategic investment in Yerdle.
On Black Friday (Nov. 28), Patagonia Worn Wear Swap events will be held in the following retail stores:
Boston (346 Newbury Street)
Cardiff (2185 San Elijo Avenue)
Chicago-Lincoln Park (1800 N. Clybourn Avenue)
Denver (1431 15th Street)
New York City-Bowery (313 Bowery)
Portland (907 NW Irving Street)
San Francisco (770 North Point)
Santa Monica (1344 4th Street)
To publicize the swaps, Patagonia is again running advertising in regional
newspapers under the headline, Better Than New.
The company also released a video of "some of our favorite things"
Patagonia's press release detailing the swap is here.
In 2012, Patagonia on Black Friday promoted its Common Threads sustainability initiative. Last year, it ran a series of "Worn Wear" parties at its stores with tailors on site to mend clothing. It also released the Worn Wear short film by Keith, Lauren, Chris and Dan Malloy, telling the stories of eight people and the well-loved, well-used pieces of Patagonia clothing that have become part of their lives.