The venerable outdoor brand released its first sleeping bag, which is based on a simple mummy-style bag Yvon Chouinard built for himself 45 years ago.
Writer: Carly Terwilliger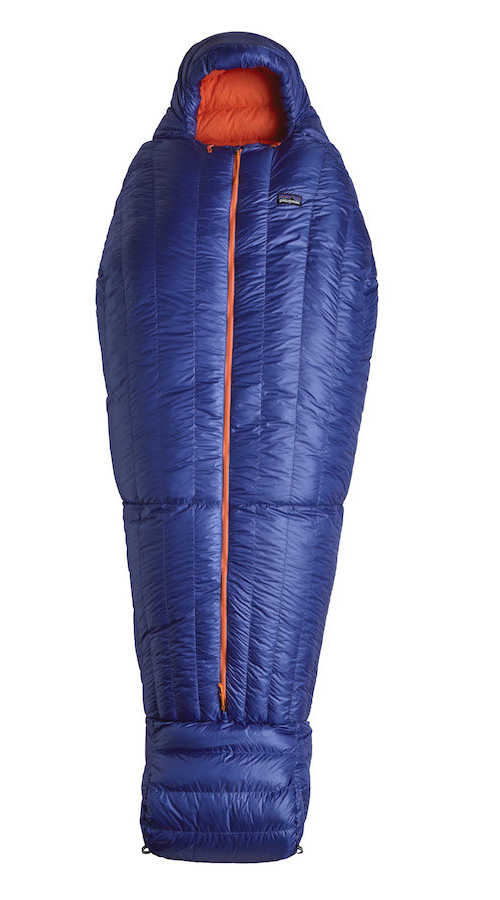 Patagonia's new 850 Down Sleeping Bag – the brand's first – is inspired by Founder Yvon Chouinard's first bag, which he built for himself 45 years ago.
The updated version is "an elegant, real-world bag built with the best available materials and 45 years of down-construction expertise," according to a company representative.
"After years and years of making one-off sleeping bags for ourselves and people heading out on select trips, we wanted to share what we've learned with the greater outdoor community," said Jenna Johnson, Patagonia's senior director, technical outdoor. "Our team built on a deep knowledge of insulation design and thought through every aspect of these sleeping bags, offering our customers a highly crafted, super functional bag option. Sleeping bags are such a crux part of our kit, and they become like a partner as we go out to explore and see new places. I'm very proud of our work and excited to offer these products to our customers."
Available in 19°F/-7°C and 30°F/-1°C models, both of which are EN tested and rated, the Down Sleeping Bag is built for three-season efficiency and comfort for technical outings ranging from casual to progressive.
Both bags feature a differentially cut foot-box pattern designed to eliminate dead space and bulk, maximize warmth and provide ample room for movement. Each bag contains only 850-fill-power Traceable Down, traced from farm to factory to help ensure the birds are not force-fed or live-plucked.
The shell fabric is a light 100-percent nylon ripstop Pertex Quantum fabric, which features 15-denier Y-shaped filament technology that allows maximum down loft, provides durability, and enhances the performance of the DWR (durable water repellent) finish. The liner is made from the same fabric as Patagonia's Houdini styles: a 15-denier 100-percent nylon ripstop that dries quickly and offers next-to-skin comfort.
Unique to the 19° bag is the comprehensive differential baffle construction, which is an innovative method of designing a sleeping bag with no sewn-through areas and a smaller liner circumference to the larger shell. The 30° bag features stitch-through construction.
The Down Sleeping Bag became globally available on March 2, 2017, and comes in short, regular and long sizes. It is available at Patagonia retail stores and at Patagonia.com.
Photos courtesy Jeff Johnson/Patagonia