American parents expect to spend less on their children's extracurricular activities, including sports, in the coming school year as they load up on laptops and smartphones, according to the latest American Express Spending & Saving Tracker.
Moreover, sports appears to be losing market share to other after-school activities. The survey found that 87 percent  of parents, or the same share as last year, expect their child to participate in at least one after-school activity. Overall, parents expect to dish out an average total of $409 on these activities per child (vs. $455 last year), with sports being the most popular (59 percent vs. 60 percent in 2015), followed by band, choir or music lessons (30 percent vs. 27 percent in 2015) and hobby groups (30 percent vs. 27 percent in 2015).
Parents expect to spend an average of $1,642 in total on back-to-school expenses this year, up significantly from $1,239 in 2015, according to the survey. That bullish outlook roughly aligned with survey findings released by the National Retail Federation last month.
The American Express sponsored survey found parents are expected to spend more on all seven categories of products measured in the survey, as shown below: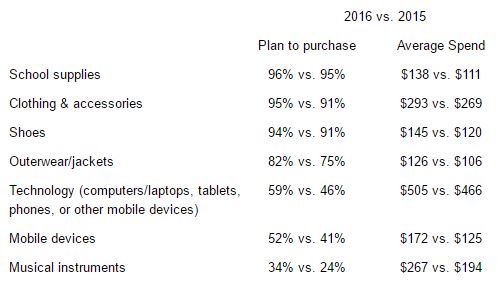 "When looking at trending data on this topic from the past five years, 2016 is showing the largest year-over-year increase for back-to-school shopping," said Jed Scala, senior vice president, consumer lending at American Express. "This may be attributed to an ever-evolving back-to-school shopping list and, perhaps, parents' ability and willingness to spend more when it comes to education and extracurricular activities."
The American Express Spending & Saving Tracker research was completed online among a random sample of 2,050 adults, including the general U.S. population, an affluent demographic defined by a minimum annual household income of $100,000, parents of children of grade school children and parents of college students. Interviewing was conducted by Ebiquity from July 6 – 11, 2016. The results among parents of children in kindergarten through college have an overall margin of error of +/- 2.5 at the 95 percent level of confidence.