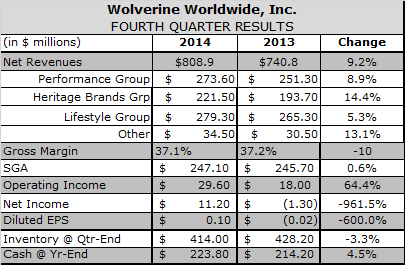 A strengthening U.S. dollar did not prevent Wolverine Worldwide Inc. from posting impressive numbers in the fourth quarter even though its sells 45 percent of its shoes overseas.
The Michigan-based footwear company reported sales reached $808.9 million in the quarter ended Jan. 3, an increase of 9.2 percent, or 10 percent currency-neutral (c-n), from the fourth quarter ended Dec. 28, 2013. Executives said strong overseas demand for Cat, Harley-Davidson and Wolverine work boots and outdoor performance footwear from Chaco, Saucony and Merrell easily offset tepid demand in North America.
"Double-digit revenue growth in Asia Pacific, high-single-digit growth in EMEA and mid-single-digit growth in Latin America – important regions for future growth across our portfolio – were partially offset by flat revenue in the U.S. and a low single-digit decline in Canada, with the latter significantly impacted by foreign currency headwinds," said Chairman, CEO and President Blake Krueger.
Admittedly, the results include $7.5 million in sales from an extra 53rd week of sales compared with fourth quarter ended Dec. 28, 2013. Moreover, WWW executives noted that U.S. sales grew in the low-mid-single-digit range for the full year after excluding sales from 58 stores it closed here last year. Still, strong demand in Asia, and even in Europe, propelled nine of its 16 footwear brands to double-digit sales gains.
Sales grew 8.9 percent at its Performance Group, which includes Merrell, Saucony and Chaco, 14.4 percent at its Heritage Brands Group, and 5.3 percent at its Lifestyle Group, which closed 58 stores during the quarter as part of a major restructuring focused primarily on the Stride Rite retail chain.
WWW reported gross margin declined 10 basis points (bps) to 37.1 percent, due to a higher mix of lower margin international sales, the liquidation of inventory from closed stores and phasing out of Patagonia footwear. SG&A grew just 0.6 percent to 30.5 percent of sales, down 260 bps from the fourth quarter of 2013, due in part to lower pension expense. Net earnings per diluted share reached $10.5 million, or 10 cents per diluted share, compared with a loss of $1.7 million, or 2 cents in 2013. Excluding non-recurring items, adjusted earnings per diluted share increased 36.3 percent to 30 cents in line with Wall Street expectations.
Merrell finds growth at home
At the Performance Group, sales reached $273.6 million, up 8.9 percent from the fourth quarter ended Dec. 28, 2013. Very strong double-digit growth from Chaco, strong double-digit growth from Saucony, and mid-single digit revenue growth from the flagship Merrell brand, drove the increase.
Merrell sales accelerated to a mid-single-digit rate in the quarter thanks to strong wholesale growth in the United States, Canada and Asia-Pacific, that was partially offset by softer results in Latin America and EMEA. The brand's direct-to-consumer (DTC) sales, including e-commerce, were up double digits. Merrell's performance outdoor category achieved its sixth consecutive quarter of double-digit growth. Consumer demand for speed and light hiking product helped drive strong sell-through across global markets. Merrell's active lifestyle product category also grew in the quarter, primarily driven by growth in the men's business.
Saucony's sales grew faster than the overall run specialty channel. The brand posted very strong double-digit growth across EMEA, Latin America and Asia-Pacific. Growth was driven by demand for both technical running product and the Saucony Originals collection. Today, nearly a third of the brand's revenue is generated from outside the US.
Surprising strength at Sperry Top-Sider
WWW's Lifestyle Group posted sales of $279.3 million, up 5.3 percent compared to the fourth quarter of 2013. Mid-teens revenue growth from Keds and high-single digit growth from Sperry and Stride Rite were partially offset by a double-digit revenue decline at Hush Puppies.
Sperry's strong performance during the quarter was well above expectations and driven by exceptionally strong sales of cold and wet weather boots as well as vulcanized sneakers – particularly among women. The growth came primarily through improved sell-through and more shelf space with existing distribution. Comp stores sales were up high-single-digits at Sperry's full-price stores and mid-single digits at Sperry's outlet stores. Outside North America, Sperry's wholesale sales grew 26 percent during the year.
Sperry revenues declined in the low-single digits for the full year, but Krueger described those results as solid given the decision to exit some distribution channels and the fashion trend away from women's boat shoes that has yet to find a bottom.
Krueger expressed high hopes for the Paul Sperry collection, a line being designed for younger consumers that will likely be introduced in the fall ahead of a full Spring 2016 launch. He said the brand is not encountering any resistance to its expansion into adjacent product categories. In fact, Sperry has pushed through price increases for certain collections and is upping its investment in Sperry apparel.
"We've decided to make a major shift in Sperry apparel, away from trying to create a business through our partner in the mid-tier department stores in the USA and focus on Sperry's DTC business," said Krueger. "It's really a shift to focus on the loyal Sperry consumer that's coming to our own e-commerce sites and to our Sperry stores."

Cat, Harley-Davidson and Wolverine brands resonating overseas
Finally, the Heritage Group continued to outperform with very strong double-digit growth from Cat and Harley-Davidson, along with double-digit growth from Wolverine, Bates and Hottest only partially offset by a high-single digit revenue decline from Sebago. Sales grew 14.4 percent to $221.5 million. Cat and Wolverine saw strong sales of lifestyle as well as work product globally.
"Cat is simply firing on all cylinders right now," said Krueger, noting that the brand reported strong growth all year across all geographies with both genders.
Sales of Wolverine branded apparel were up in the double-digits. The brand plans to build on momentum in top-tier accounts through its Made-in-USA strategy both at home and abroad with its 1000 Mile and Wolverine Since 1883 collections.
Refined forecast lowers FY'15 earnings guidance
WWW issued first quarter guidance calling for low-single digit reported revenue growth and mid-single digit c-n revenue growth. The forecasts anticipate the impact of additional store closings, the continued winding down of Patagonia footwear and a modest negative impact on end of quarter shipments from shipping delays at West Coast ports.
WWW also refined guidance for the full fiscal year. It now expects revenues to grow in the mid- to high-single-digit range up from the mid-single-digit range forecast Jan. 12. The forecast assumes another strong year of growth for Saucony and Chaco and mid-single digit growth (high-single digit c-n) at Merrell.
However, WWW expects adjusted diluted earnings per share (adjusted DEPS) to come in $1.53 to $1.60, or slightly below the $1.62 it reported for 2014. That is below preliminary guidance the company provide Jan. 12, which called for adjusted DEPS to come in flat due to exchange rates, higher non-cash pension costs and incremental spending on brand building.
The outlook assumes modest margin expansion thanks to a higher mix of sales from higher gross margin brands, lower material and transportation costs and better management of store closings. It also assumes WWW – and its overseas distributors – will take price increases to offset the strong dollar toward the back half of the year.
New marketing dollars to target four brands
SAP and CFO Don Grimes also provided more details on WWW's plans to boost spending on brand building initiatives by $30 million in 2015. Three quarters of the sum will go toward promoting Sperry, Merrell and – to a lesser extent – Saucony and Keds. The company expects to boost marketing spend by the mid-teens in each of the first two quarters, 30 percent in the third quarter and in the mid-teens in the fourth quarter. The remaining $7.5 million in incremental spending will be invested in omnichannel initiatives and direct-to-consumer operations to drive international growth. WWW, which sells about 45 percent of its pairs outside the United States, expects spending on marketing to reach 5.4 percent in 2015, up about 80 bps from 2014.
"Our consumer-facing media spend for Sperry is going to increase about four-fold in 2015," said Krueger.
That spending will come on top of up to $50 million in capital spending, which will be concentrated on IT, distribution and direct-to-consumer projects aimed at elevating WWW's omnichannel capabilities. Krueger said the benefit from both the brand building and capital spending will come mostly in 2016.