From active insulation to waterproof-breathable membranes that stretch and breathe better, jackets adapt beyond preparing for the worst.
Armed with a smart phone and weather app, today's consumer is ready for what Mother Nature serves up … down to the minute.
That information, in conjunction with real-time traffic reports, restaurant reservations and social schedules, has created a highly flexible consumer who can adapt to get the most out of their on-thego day.
What does that have to do with outerwear, you ask? Everything. Because our lives were much more rigidly scheduled 20 years ago, if you planned to go on a hike on Saturday, by golly, you were going on that hike no matter the weather. That meant you tended to prepare for the worst with full-on insulation and/or bombproof waterproof jackets.
Today it's a different story. If the weather app says your hiking day will be rainy, consumers can quickly put out the call to friends on social media — "change of plans, we're doing CrossFit indoors instead." Or maybe the forecast is calling for just a light drizzle — "no problem, let's properly gear up and do a quick run at city park."
The point being: Today's outerwear — both in insulation and weather protection — has evolved to become more flexible to match modern consumer habits, beyond just being the warmest or most waterproof. In tandem, consumers want stylish pieces that are less techy looking and more adaptable to the full spectrum of their activities.
"Versatility is key when it comes to outerwear," said Mike Joyce, president and CEO of insulation ingredient brand PrimaLoft. "Particularly with the continued growth of athleisure and the fact that the definition of the outdoor experience is becoming more inclusive – meaning consumers need apparel that they can wear hiking or biking up the mountain, then down to the coffee shop or bar later that day."
Granted, there's still room for the warmest, lightest, most waterproof-breathable techy jacket for those who truly spend multiple days in the backcountry, but it's like shopping for an SUV — do I really need the outdoor-pimped Land Rover or Wrangler, or will the Subaru Forester do?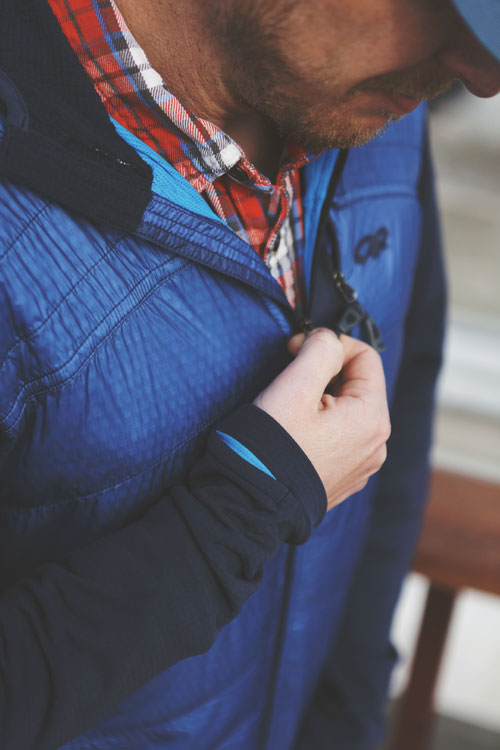 Active Insulation
Perhaps the biggest shift on the winter side has been the rise of the active-insulation category. Armed with those weather forecasts, improved footwear traction and fitness trackers prodding them to get in today's miles, more active athletes are choosing shorter bursts of high-endurance cold-weather activities — be it running or skinning up the ski slope — versus an entire day out in the cold.
Of course, brands could just reduce the amount of insulation and slap the "active" label on it, but the key here, from a true performance point of view, is how the new pieces are managing warmth with breathability. That specifically comes in the form of new synthetic insulations that will maintain loft, breathe better themselves (eg. move moisture) and can stay encapsulated in more breathable outer shells or no shell at all. The latter is a point that synthetic proponents are pushing over natural down insulation, which needs a closed shell to keep the plumes from escaping.
"Jackets today are more about climate control," said FA Design Founder and Chief Design Officer Freddy Ansara. "It's not about a jacket that is extremely warm, but one that breathes really well."
Softer And Stretchier
That extended range of breathability coupled with softer and stretchier fabrics (including air permeable waterproof-breathable membranes) also allows designers to think of outerwear more like they do a hoody or midlayer, said Michael Cattanach, global product director at Polartec. They become pieces that the consumer can keep on throughout the day, he said, rather than being viewed as emergency pieces of gear. "We want to get it to where people don't know they're wearing it."
For rain and snow protection, that's meant moving away from the boardy, crunchy technical looks of yesterday's hardshells, Cattanach said, adding that the hardshell and softshell categories have really merged into one. "Consumers want soft, quiet and comfortable shells," he said. "They're getting away from this idea of bombproof weather protection."
Still, while comfort is key, admits Columbia Outerwear Director Hugo Debrueres, there are consumers who want the old-school, rain-slicker look with hardened protection on the outside and cozy layering on the inside. That's the theory behind the brand's OutDry jackets, which put the waterproof-breathable membrane on the outside versus the inside, preventing wet-outs or the need for durable water repellent chemicals (DWR).
Tracking Sustainability
Speaking of those DWR chemicals, also referred to as PFCs or PFOAs, the worry is that they are spreading throughout the environment with potentially harmful consequences. Most industry brands have now shifted to shorter-chain versions of the chemistry, admittedly only slightly less harmful and with the drawback of less protection. Expect to see more alternative solutions in the coming years, as big players such as Gore-Tex and Patagonia have pledged multi-million-dollar initiatives to address the issue.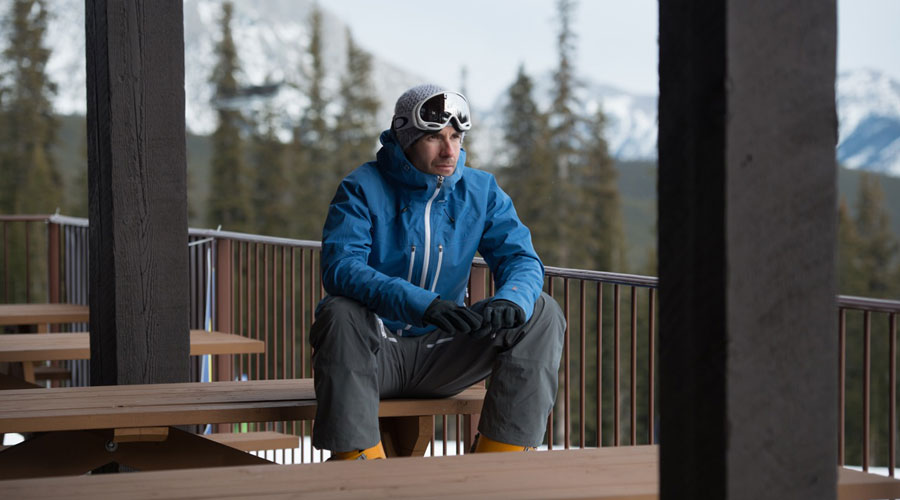 On the insulation front, sustainability is also top of mind, particularly with natural down sources and animal welfare. The solution moving forward has been not only certification, but effective tracking of the down after it leaves the farm and works through the supply chain, said Matthew Betcher, creative director at Allied Feather Co. New technology allows suppliers to optically tag and track down all the way to the end-product on store shelves.
Sustainable down has become the outdoor industry's point of differentiation, Betcher said. "We're re-thinking how down is marketed," he said. "In the past, it was just fill power and the bigger the better. Now, consumers are more engaged. They want to know where that down came from, too."
Synthetic insulation brands will, of course, say they've got the solution to avoid down altogether. And they're ramping up their environmental message, as well, increasing the recycled content in their fills. At PrimaLoft, the company's goal is to have 90 percent of its technologies use at least 35 percent post-consumer recycled materials by 2020, Joyce said. And its top of the line Gold Insulation will switch to 55 percent recycled in 2017. Fellow insulation brand Thermore also introduces its 100-percent recycled fill called EcoDown this year.
If there's one thing we heard time and time again from these ingredient brands, it's that no matter the new insulation or waterproof-breathable technology, they're looking for partnerships with consumer brands to build tailored products for today's modern athletes, versus being just another supplier.
That bodes well for active lifestyle consumers, who are keeping an eye on the latest weather forecast.
Photos courtesy Outdoor Research, Polartec & FA Design