It's a big world to explore out there, and likewise it was a big, wide-ranging industry under the roof of the Salt Palace yesterday at Outdoor Retailer Summer Market. Here are a few snapshots of the vast collection of outdoor-minded conversations that were buzzing around.
Writer: Carly Terwilliger
Mystery Ranch Co-owner Dana Gleason brought his signature bluff charm to a conversation about public lands. The Montana-based pack company is known for applying its expertise designing packs for the military to its outdoor products, and Gleason opined that bringing sportsmen and the outdoor recreation industry might be the only way to assemble a force capable of protecting public lands. "Republican, Democrat, it doesn't matter," he said.
On the product side, the company's new Terraframe Packs feature patented technology and a removable frame that exposes the load shelf, allowing the compression of additional gear for comfortable carry over long distances. As someone who designs packs for the military and wildland fire fighters, there's one trend he wishes would go away. "Ultralight," he said immediately. "Sure, light is good, especially if you're just hiking in for one night. But eventually you have to start cutting corners somewhere else when you keep cutting weight. And that slight weight difference is something you feel when you pick it up – once it's on, you can't tell the difference."
Over at Xero Shoes, another charismatic company head was singing a different tune. CEO Steven Sashen extolled the virtues of the ultralight minimalist footwear brand's Z-Trail Sport Sandal. "It takes pairs of these to make up the weight of one pair of Chacos," said Sashen. Xero was also displaying new trail runners and lifestyle boots, all designed for natural movement. "Recently, whenever we release something new it becomes a bestseller for us right away," Sashen commented. And the main complaint from the athlete testers putting the minimalist hiking and trail running kicks? "They don't want to send them back."
The Kelty booth had a friendly, inviting campground vibe to it, which goes with the brand's messaging for Spring 2018. "We hit a nerve that I think a lot of outdoor companies also are discovering," said general manager Eric Greene, division vice president and general manager, Exxel Outdoors. "Previous generations went deeper into activities and were more extreme, but a lot of the current generation is camping more casually," he said. "They're looking for versatility and simplicity." With a lower price point – its Galactic Pad, for example, will retail for $69 – and an increased focus on sub-collections for women and festival-goers, Kelty wants to be known as the place "where the good gear starts," said Greene. "It's a nice niche to be in."
All this gear has to be made out of something, and many brands turn to Cordura when they need durability. For its 50th anniversary, the brand is highlighting a "Live Durable" message and celebrating with a limited-edition collaboration with The North Face.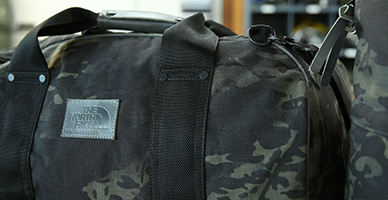 The North Face's latest Made in the USA collection (pictured above) is a callback to the '68 Daypack and the '78 Duffel series re-engineered in urban stealth Artic Multicam printed 1000D Cordura fabric (pictured left). Using Horween leather accents, this collection, like the original 1968 pack and 1978 designs, is made in the historic Chicago Bears USA factory.
As the afternoon wore on and people started congregating at The North Face to make their signs for the public lands march, we caught up with Lifestraw Managing Director Alison Hill, who had another worthy cause on her mind. With a background in public health and infectious diseases, Hill makes sure the retail side of Lifestraw doesn't overshadow the company's original mission – providing safe drinking water for children around the world.
"In this industry, everyone has a cause," Hill said. "But we're a company whose retail business came out of what we were doing on the public health side. Usually it goes the other way," she continued with a smile. Lifestraw's Follow the Liters program is fast approaching its goal of reaching 1 million kids – it's helped 633,777 so far. "We don't just drop off the filters and leave," Hill stressed. "There's staff full-time in the field," and Follow the Liters makes a minimum five-year commitment when it establishes a program in a village.
For its outdoor consumers, Lifestraw is focusing on providing "more versatility, less gear," said Hill. The Lifestraw Flex, for example, is a two-stage filter that exceeds the NSF drinking water standard for reduction of lead while also reducing chemicals and removing bacteria and parasites. It can be used in five different ways – as a personal straw, with the included soft touch bottle, or attached to a plastic water bottle, hydration bladder or as a gravity filter.
Lead photo: Preparing for public lands march at The North Face booth.  Photos courtesy Carly Terwilliger