While the OR Summer Market Open Air Demo has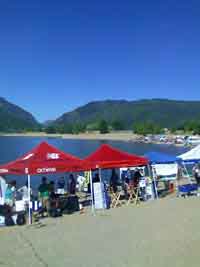 traditionally been a predominantly paddlesports oriented event, more land-based brands are showing up every year. Several GPS companies, like Magellan, and Garmin have been attending the outdoor event for years, but this year, many of the family camping brands and core backpacking companies showed up this year with a larger presence.

The vast majority of the land-based brands were quite happy with attendance at the OAD. Teva hosted their annual trail run in conjunction with Garmin and Injinji. A company spokesperson said that participation was up compared to last year on day two.

Other electronics companies were also seeing some success. Polar chose the OAD to launch their first GPS enabled training system that will work for any sport – hiking, biking, running and even swimming or paddling.
Perhaps the biggest attraction was Sylvan Sport's new translation of the traditional pop-up camper. Built in conjunction with Kelty, the camper is designed to appeal to the human powered outdoor recreation crowd as opposed to the hunt-fish market. The tow-behind camper is also quite appealing to sales reps in the industry – who were all looking for employee purchase forms.

New Balance was also in attendance with their new water/run footwear and Kristin Sullivan, the company's PR manager, said that she was very pleased with the outcome.

Retailers were somewhat late in showing up, partially due to the long ride from downtown Salt Lake City. However, when the buses finally started arriving, the waterfront quickly filled with paddlers, runners, and buyers. Fred Martin, from the Mast General Store, said that he was very impressed with the vendors and the site selection, which was moved at the last minute due to water level issues at Willard Bay.