In non-Fourth of July news, the 25th Anniversary Edition of the original 1992 Lithuanian Tie Dyed Slam-Dunking Skeleton Jerseys have been reissued by their original creator.
Writer: Carly Terwilliger
In one of the most unusual and memorable moments of the 1992 Barcelona Summer Olympics, the Lithuanian Men's Olympic Basketball Team donned tie-dyed Slam Dunking Skeleton uniforms on the podium to receive their bronze medals.
Now, the Slam-Dunking Skullman, created 25 years ago by NYC artist licensor Greg Speirs, is reclaiming its place in Lithuanian folklore – and the hearts of its basketball fans.
The original skeleton design represented the artist's interpretation of a team rising from nothing, "like a Phoenix from the ashes to finally slam-dunk a basketball to bronze victory. It's not a dead skeleton at all, but this skeleton represents rebirth and a new life. It was not only a victory in Olympic sports, but it was as if it were a triumph over communism itself," recalled Speirs. The story was featured in the 2012 basketball documentary movie, "The Other Dream Team", about the Lithuanian Basketball Team's hardships on the road to the '92 Olympics.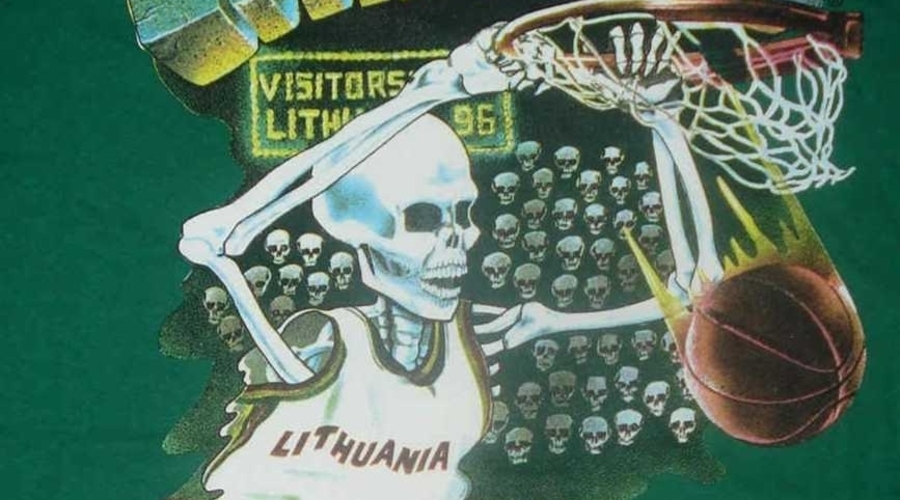 "The major funds sponsoring the 1992 Lithuanian Olympic Men's Basketball Team actually came solely from the artist because the bulk of the financial donations came from his profits, a fact omitted from the original 1992 story," said Mike Thompson of Skullman.com.
By donating 100 percent of his profits to the team, the artist acquired major funder status. Sales continued to fund the team beyond 1992 pushing his donation past millions of dollars more for the team, to Lithuanian children's charities & to help build the famous basketball school in Lithuania.
To add to this  bizarre yet heartwarming legacy, Skullman was even enshrined at the Naismith Basketball Hall of Fame in Springfield, MA on December 7, 1993, becoming the first & only cartoon character to be be so honored in any Hall of Fame.
The 2017 25th Anniversary Edition is an exclusive release of Speirs' Original 1992 Skullman Slam-Dunking Skeleton on the Original Lithuania Tie Dye and on the new solid green jerseys. The back of the shirt denotes the 2017 25th Anniversary Edition year with the trademarked skeletal hands slam dunking a flaming basketball.
The Original 1992 Skullman Lithuanian Tie Dyed Jerseys and the new 2017 Collector's 25th Anniversary Edition are both available at skullman.com.
Photos courtesy Skullman.com