The Pursuit winds through the Greater Yellowstone Ecosystem where riders will face plummeting temps, towering snow banks and 200 miles of epic winter scenery.
Writer: Carly Terwilliger
If you're the kind of athlete who frets that their ultra race isn't quite challenging enough, Jay Petervary's Backyard Fat Pursuit may be for you. It's a 200 km or 200 mile winter fat bike ultra in the Greater Yellowstone Ecosystem that has more climbing than most winter ultras, banks of bike-engulfing snow just off the edge of the trails and temperatures that can (and have) dipped below -40 degrees on race weekend.
But that's not to say you shouldn't head to Island Park, Idaho this winter to check it out. Admit it – some of you are already intrigued by the idea of an extreme challenge in some of America's most unpredictable wilderness.
"I want to push myself in unforgiving conditions," said Jay Petervary, the founder of the event. "There is something about completing a really difficult event that is very rewarding. I like having a goal in order to motivate my training. Having the Fat Pursuit as a goal in January really pushed me to train in November and December, when I normally wouldn't be training much. The Fat Pursuit also works great as a training tool for races later in year."
Petervary is a sponsored rider with Salsa Cycles, which presents the race. He grew up on a bike and discovered mountain biking in college through some motocross friends. And for the past four winters, he's invited fat bike riders to share in the most difficult winter fat bike ultra in the lower eight: JayP's Fat Pursuit.
We caught up with Petervary to chat about "The Pursuit," as it is also known, and what he's learned from the event's intrepid participants.
What inspired you to create the Fat Pursuit? I been traveling to Alaska for many years riding the Iditarod Trail and wanted to offer a similar experience but without the "buy in," so to speak. I wanted to provide a challenge that would require winter expedition skills but also had safety in place. I also wanted it to be a setting to learn in and from, not just for experienced riders.
How has the race changed since its first year? We started with 60 km and 200 km distances. Two years ago we added the 200 mile. Racers treat the 200 km as a single push, 24-hour event, and my original goal was to create a true multi-day so people had to use their winter skills and required equipment. Now people are realizing sleeping out the first night pays dividends to finishing the 200-mile event.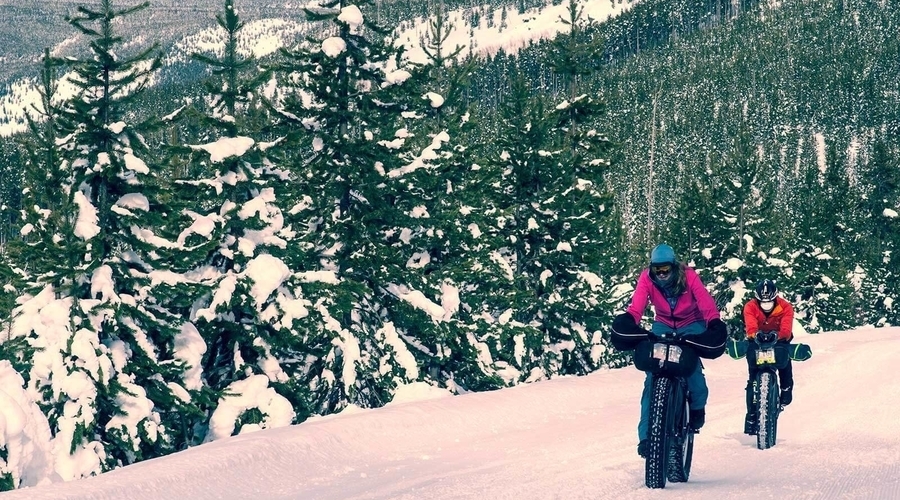 What lessons have you learned from Fat Pursuit participants and their passion? I learned I really enjoy watching others have their own success, whatever that means to them, in a niche discipline that I have a big passion for. Watching people conquer their fears, learn, share stories, talk about what worked and what didn't work, is my reward. It also gives me perspective of a lot of different views that people have on things, which helps me be a better teacher and ambassador of sport.
What can we look forward to during this year's event? I don't have anything special planned yet, but considering last year's -40 degrees Fahrenheit temperatures the unpredictable weather is what will keep a participant from getting a good night's sleep.
The 2017 Fat Pursuit dates are as follows:
60k – December 16, 2017
200k/200 mile – January 5-7, 2018
Winter Camp – January 11-15, 2018. This camp is an immersive winter experience with expert winter fat bikers. Learn the gear, techniques and safety of riding a snow bike and camping on snow trails.
Check out Salsa Cycles' event site to learn more, or head to fatpursuit.com to register for the races or Winter Camp.
Photos and video courtesy Fat Pursuit and Salsa Cycles