Outdoor Retailer (OR) named Melaney Stevens of Oklahoma State University the winner of its sixth cycle of Project OR held at OR Winter Market 2011.
Stevens designed a stretchable, water resistant ice climbing pant to meet the specifications outlined in the Project OR design brief including flexibility, protection and versatility. Stevens' clean, feminine take on the specialized technical garment, combined with a modern look using targeted incorporation of color, won over the panel of industry design gurus judging the entries.
"My focus is in custom bridal wear so coming to Project OR was a new challenge," Stevens said. "I like being exposed to new apparel and new fabrics. It's changed my perception and I'm going to really look in this industry for opportunities in the future."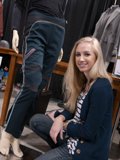 Stevens' climbing pant featured water resistant, stretch fabric from Schoeller, reflective piping from JRC Reflex, padding for knees and shins from Poron, YKK zippers, and buckles and zipper pulls from ITW Nexus.
"Pants were a whole new category we'd never approached before, which was a great change of pace that brought out a lot of creativity from the designers," said Kenji Haroutunian, Outdoor Retailer show director. "I saw really diverse designs that showed a very new way of approaching a highly technical piece of apparel."
Smith was one of six students, including runner-up Silvia Guttmann, selected to participate in the sixth cycle of Project OR, an intense 48-hour concept-to-prototype design competition meant to inspire innovative outdoor fashion.
As the winner of Project OR, Smith receives an all-expenses-paid return trip to Outdoor Retailer Summer Market '11 and a profile in Textile Insight.
"Project OR is a fantastic opportunity to get to know young designers coming out of school and see people excited about products," said Jen Keesey, a trend consultant for fashion forecaster Promostyl and one of the contest judges. "It was refreshing to see fresh faces with some great design skills. I was so impressed with the level of detail and as a female consumer I look for those little touches."
Hyperbola, manufacturer of BOLA-TEX soft shell, and Malakye.com, an online networking and career-building resource for the action sports and outdoor industry, were presenting sponsors for Project OR at Winter Market 2011.
Show attendees followed the students' progress in designated areas throughout the show and via several online episodes on the OR website.
Still to come, the winner of the People's Choice award will be announced in the coming week in a news brief from Outdoor Retailer.
Outdoor Retailer will present the next cycle Project OR at Summer Market, August 4-7, 2011.
About Project OR
For more information about Project OR, visit the Project OR website.