In a seminar presented by the Outdoor Industry Association (OIA), trade experts at KPMG said the U.S./China tariff war may end but the underlying geo-political issues impacting overall trade won't any time soon. As a result, a holistic "intelligent supply chain" approach that encompasses both customs and supply chain planning will be required in the future.
"This is not a trade issue, this is a cross-functional issue," said Steven Davis, value chain management/international tax principal at KPMG, on the webinar that took place last Friday.
Davis said firms may be able to remove or mitigate the impact of a tariff affecting their company's products but "in our experience, in the large majority of the cases, it does bleed" into other areas of the supply chain.
Rich Harper, manager of international trade, OIA, noted that the tariff war arrived because Donald Trump on the campaign trail vowed to be "tough on trade with China" and other trade partners if elected and he has followed through on those promises. He has particularly called out China's alleged theft of U.S. intellectual property and transfer of American technology, as well as the overall trade deficit with China.
Said Harper, "To Trump, trade is a zero-sum game, meaning there are winners and losers with tariffs. The trade deficit is a loss in his mind. China undermining IT property is a loss."
Davis said many vendors may rightly anticipate a short-lived impact from the tariff situation between the U.S. and China and a period in which they have to "live with the pain" for a few years.
But Davis sees the tariff situation becoming both "material and long in duration" in part because of U.S. concerns over China's vision to become a technology powerhouse" that gets to the heart of concerns over technology transfers. Said Davis of China's push, "That's not going to change very quickly."
He also said vendors for years had been "living in world of very liberal and free trade" and became overly-weighted in China to make the country "the world's manufacturer." Because for years there "wasn't a need to change," supply chains have become inflexible. Now, they must adjust to "this new dynamic" in U.S. and China relations to regularly adapt to more volatile changes in trade pacts in the years ahead.
The uncertainty in trade was shown by Canada's detention of a senior Huawei executive in Vancouver that has halted trade negotiations between China and Canada.
Davis said the uncertainty means vendors need to pack in a significantly higher degree of flexibility into their supply chain strategies because the underlying factors represent broader trade complications.
Said Davis, "This is not just a tariff issue. This is an issue of ongoing uncertainty. You need to think about how this impacts your whole supply chain, which should be much more flexible, much more transparent and much more efficient than in the past."
In working with clients on mitigation strategies for the potential tariffs, KMPG first advises companies to seek a "hierarchal or priority approach" with a goal to "impact the business as least as possible," said Amie Ahanchian, managing director with KPMG's Trade and Customs Practice.
Ahanchian said vendors should initially "challenge compliance teams" to revisit assumptions and practices about the way their sourcing network is set up. Some initial steps are making sure tariff classifications are correct as well as country of origin. The classification of products may be out of date with customs regulations. Tweaking the supply chain footprint can alter a product's country of origin.
If sourcing products through a domestic resource, vendors should see how the tariffs may affect them.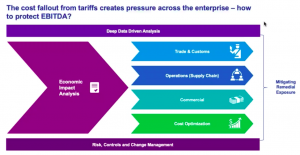 One focus is seeking to lower the value of imported goods being declared. The "first sale for export" customs program, for instance, enables firms to lower the stated value of their imported goods by basing the value on the price by the "middle man" firm paid to the factory. With a "value unbundling" step, removing the cost of some component can reduce the value of the final imported product. Transfer pricing can likewise be restructured so that products are revalued down.
Firms can also re-visit provisions in existing free-trade agreements to see whether they can bypass shipments to the U.S. altogether. In some cases if covered by a foreign-trade zone, the tariff payment can be avoided until the products are sold to a customer and withdrawn from inventory. If the items are then exported overseas, no tariff is necessary.
In line with the goal of being "least disruptive as possible" to the business, Ahanchian said it's essential to access the full economic impact of potential tariffs to explore whether some minor steps such as cost-containment measures can help offset the tariffs or broad supply chain changes are required.
Indeed, Ahanchian said a healthier "holistic" way of dealing with potential tariffs is exploring ways available to reduce "costs in the system" across the supply network rather than specifically looking to offset the tariff costs.
Overall, the mitigation steps will vary significantly depending on the company. Ahanchian said, "It's not a one-size-fits-all solution and you're probably going to take a different approach based on the trade lane or the products."
Davis said that after looking internally at driving efficiencies, reducing costs in the supply chain and estimating the tariff impact, one option is to have the supplier, the factory, bear the cost. He noted, however, that many factories already operate on "pretty thin" margins and losing a supplier as a resource can become "a bigger issue."
Davis stressed the overall need for greater flexibility in being able to work with a wider range of contractors given the likely politically-driven uncertainty with trade issues in the years ahead. Firms have rationalized their supply chain over the years to work with fewer factors to gain scale and efficiencies, but "now it makes more sense to have more choices in vendors to diversify risks."
Alternative countries also likely won't have the infrastructure, workers and logistics set up initially to match China's sophistication. In exploring alternative regions to source product, firms have to think about three impacts: costs, quality and service, according to Davis.
Quickly moving to another country for cost reasons may lead to having to use a lower-quality factory and that's ultimately going to impact service levels. He said that with free trade agreements, that wasn't as much a concern but risk management has become more important with the more uncertain trade environment.
The last step and one firms want to avoid is any commercial implication. Typically, this involves pushing through an increase in product price at retail if the vendor or their factory partner can't absorb the tariff cost. Higher product prices at retail will impact a firm's revenues, market share and brand positioning if a product's price moves out of balance with competitors. Davis noted that "not all supply chains are equal" and some competitors may be less impacted by the tariffs. A price hike on the firm's retail product may also open the open the door to new competitors.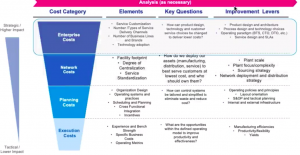 Davis again stressed that using a "more holistic approach" and looking at the broad framework of supply chain components beyond the direct tariff impact can help firms secure efficiencies and reduce costs to avoid the commercial impact.
"Companies that are putting together cross-functional teams with individuals in each one of these categories are coming together and thinking more strategically into how are we are going to respond," said Davis. "And not just respond to tariffs but looking at how are we are going to position ourselves to be successful in light of this uncertainty."
OIA's Harper has heard many of these issues challenging OIA members as they look to respond to the potential tariffs. Some are debating whether to source from another country that may deliver inferior production or stay in China and absorb the tariff expense to maintain quality.
Some are exploring discontinuing certain products or the development of new products that would have supported growth in the outdoor industry because of the tariff situation, according to Harper.
Others looking at alternative countries are already facing increased competition for those factories. For instance, a number of outdoor companies that source backpacks from Vietnam, Indonesia and the Philippines are finding increased competition for production in those countries as the tariffs have hit the backpack category. Harper said, "With China dominating backpack production, the additional countries are not going to be able to absorb all that." He also said that competition for backpack production is coming from outside the outdoor industry in those  regions.
Harper said some smaller to medium-sized firms are facing the prospect of going out of business. Some firms focusing on American production are even facing challenges and exploring shifting overseas because some components are being hit by additional tariffs. Wool yarn, for example, has landed on the list of tariffs and that has negatively impacted wool socks made in the U.S. Steel and aluminum have also landed on the tariff list.
Harper said OIA will continue to engage the administration and members of Congress in an effort to remove the 10 percent tariff on outdoor products in the latest round and he encouraged OIA members to speak out as another step to mitigate existing and potentially new tariffs.
Said Harper, "Share your story with senators and representatives and invite them to your facility to show them first-hand the impact of any additional tariffs on your business. We're happy to work with you on this point."
2018-12-14 10.56 Intelligent Supply Chain Strategies for Navigating the U.S.-China Trade War