Participation increased in 7 of 10 segments in 2019 according to the 2020 National Sporting Goods Association's (NSGA) Sports Participation in the U.S. Report* released today. One segment remained relatively flat and two segments decreased compared to the prior-year the survey noted.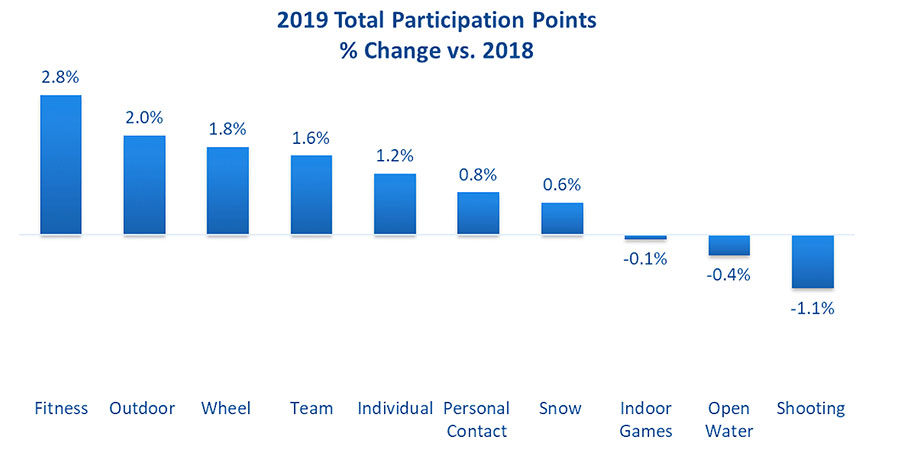 The segments experiencing growth in NSGA's Total Participation Points (TPP)** measure included Fitness Activities (+2.8 percent), Outdoor Activities (+2.0 percent), Wheel Sports (+1.8. percent), Team Sports (+1.6 percent), Individual Sports (+1.2 percent), Personal Contact Sports (+0.8 percent), and Snow Sports (+0.6 percent). The Indoor Games segment remained relatively flat (-0.1 percent), while declining segments included Open Water Sports (-0.4 percent) and Shooting Sports (-1.1 percent).
"This year's positive results break a pattern of inconsistency and lack of growth experienced in recent years. However, it is important to note that one year does not make a trend. Looking over a longer-term among the segments tracked by NSGA, the Fitness, Open Water, Outdoor, and Wheel Sports segments have experienced increases over the last 5 years while the Individual and Team segments have remained relatively flat. The remaining segments (Indoor Games, Shooting, Snow) have experienced slight decreases over the last 5 years but have seemingly flattened out in the most recent years.
"The growth exhibited in the 2019 numbers is very encouraging," said Nick Rigitano, NSGA Director of Insights and Analysis. "However, we realize the need to temper expectations since there is tremendous uncertainty so far in 2020 from the COVID-19 outbreak and the ability of the public to participate in team and individual sports and activities." Overall youth team sports participation (ages 7-to-17) remained relatively flat (-0.3%) from 2018-2019. Decreases in all forms of youth football (flag, tackle, and touch), as well as baseball and softball, were offset by increases in cheerleading, soccer, basketball and lacrosse.
Female participation of all ages saw an increase in 40 of the 57 sports and activities tracked by NSGA, which is up from 29 the year before. Notable sports/activities experiencing an increase in female participation include basketball (+6%), bicycle riding (+4 percent), exercising with equipment (+5 percent), softball (+6 percent) and volleyball (+5 percent).
The individual year-to-year changes for the 57 sports and recreational activities tracked in the report further support positive results as 42 sports/activities increased vs. 2018 and 15 sports/activities decreased.
---
*NSGA's Sports Participation in the U.S. Report is he longest-running study in the U.S. on sports participation. The research publication includes a summary snapshot of segment participation trends from the 1990s through 2019, and an easy-to-understand quick-view snapshot for each sport and activity tracked allowing users to see 10-year participation trends in addition to age, income and U.S. geographic information. NSGA also offers Cross Participation, Lifecycle Demographics and Single Sport Reports that further expand upon participation information for comprehensive views of the sports/activities tracked.
**Total Participation Points (TPP) offers a more complete view of participation because both the number of people participating in each sports segment (reach) and the number of sports each person is participating in (depth) are considered.
Photo courtesy Man of Many