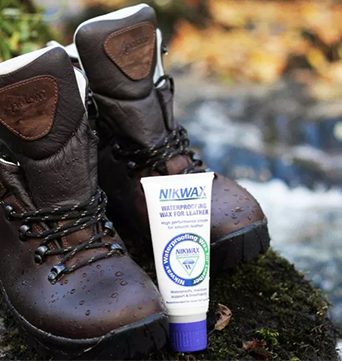 Nikwax has just crossed the 40-year-old threshold as the leader in the after-care | accessory category. Many people have not discovered the brand, but once they do, they're a customer for life.
Born in 1954, Founder Nick Brown was brought up in Kent, and from the age of 10, he trekked with his Dad in the peaks around their home. Every year, he was dissatisfied with the waterproofing products on the market, so he created his own recipe for waterproofing his boots without softening or losing support. Nick's wax — hence the name Nikwax —was the beginning of a remarkable success story.
By 1977 at just 22 years old, Nick was selling his waterproofing wax product in eight countries and set the standard for aftercare products. As an outdoor enthusiast, he turned his attention to apparel which, as with boots, needed to be waterproof and wind resistant. In 1980, the beginning of green thinking, awareness of ozone depletion, and the problems relating to aerosols came to light. Determined to find new, easy and clean ways to waterproof garments, in 1983 Nick's company was the first in the world to produce a range of water-based products for restoring waterproofing clothing in a home washing machine. The range of Nikwax products grew year-over-year from then forward.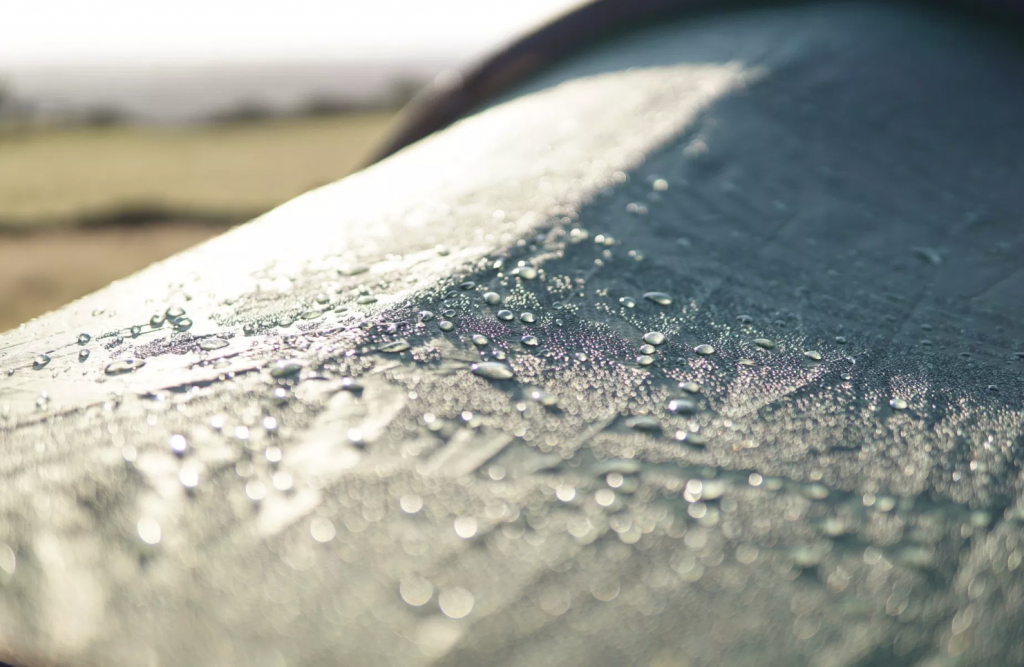 Brian Davidson, President, Nikwax, NA, spoke with us about the brand's humble beginnings, the genius of Founder Nick Brown, and the company's commitment to bring us closer to protecting our environment.
Once you realize you can take a product and re-waterproof it and maintain its performance, it's incredible. Nikwax is the global leader in high performance, low impact, waterproofing, and cleaning technology for clothing, footwear, and gear. It is a joy to educate consumers about Nikwax product and read their unsolicited positive comments when they discover the category they didn't know existed.
We have been a PFC-free product formulation since the company was founded. PFC's are the perfluorinated carbons that have been used on waterproof coatings for decades and what most industries have been using. Nikwax products go into the water system, biodegrade, become neutral. They will not hurt the environment, your kids, your pets, and you. As a collective industry, brands, and retailers must work to find ways to not use PFC's along with other chemicals because of the hazards they pose to humans and the environment.
Nick has been blowing that warning for 40 years before it was popular and before it was mainstream. He is a pioneer speaking all over the world about the process and the things we should be aware of as we continue to use packaging, plastics, and chemicals in the products we consume.
Nick went on a march a few years back to get Nikwax to be carbon balanced. He modified our operations to be carbon neutral for an entire year. After that, he said let's go back in time and not only carbon balance ourselves but catch up for the last five years. So we initiated products that were carbon neutral and we caught up for five years. Then Nick set the benchmark to 10 years. We are the only company in the world, regardless of category or industry, that has carbon balanced itself for the entire 40 years we've been in operation.
What defines carbon balance? Anything that creates a carbon footprint in your operations. You can reduce that by planting trees that generate more oxygen than carbon. Nikwax has performed initiatives like that. We're purchasing large tracks of lands in collaboration with environmental groups that are saving portions of our rain forests, buying and preserving them, planting trees, and reinforcing areas that have already been affected.
We're forward as a company. We post to our website the energy and water consumption for everyone to see and what's happening as a brand year-over-year. Nick believes in being very open and transparent.
How did Nikwax become involved in the development of Hydrophobic Down? Nikwax is known for repellant treatments. We have a Nikwax materials division focused on how to produce PFC-free materials that can support the outdoor industry and beyond.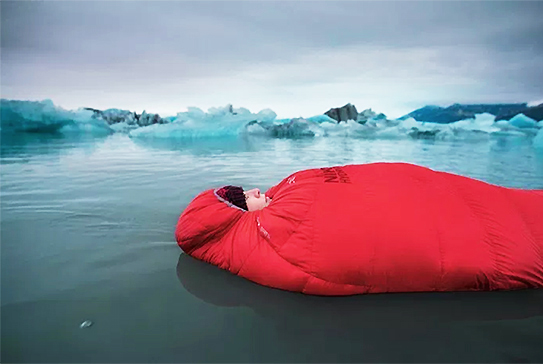 Nick is naturally curious, self-educated, and a problem solver. One of his more recent passions is how down is handled. He wanted to make a waterproof down that demonstrated that the most environmentally friendly option could also be the highest performing.
We already had a downwash which effectively cleans down without drying it out and doesn't remove the product qualities that make it so useful as an insulator.
He looked at the entire supply chain to see how he could make a waterproof down without PFC-based coatings. Working with down processors, he asked questions to understand the process and introduced them to Nikwax Hydrophobic Down chemistry. Before they could use the product, he insisted on a guarantee that the down would be handled and cleaned a certain way to ensure the product would perform at the highest levels, yet be low impact and PFC-free.
The result — Nick created a waterproof down product that married highly effective water-repellency with an environmentally-friendly formulation. It was so effective that it outperformed all the other PFC-Free options available. Rab, Therm-a-Rest, Nemo, and Mountain Hardwear have all used Nikwax Hydrophobic Down.
What's excellent about Hydrophobic Down? It's easy to maintain. While Nikwax was perfecting NHD, we also developed Down Wash Direct. A gentle cleaner, Down Wash Direct maintains loft and revitalizes the waterproof performance of down products. It's an innovative system done in a way where the consumer can do it themselves and maintain their gear at a high level.
What's on the horizon for Nikwax? We're focused on innovation within the product line using less water per washing cycle with secondary benefits. An example, we have a wash and a cleaner called Tent and Gear Solar Proof Wash, designed for duffle bags, backpacks, and tents. Nick was able to not only create effective cleaners and waterproofing products, but he added UV protectants to double the life of a tent when washed which keeps gear out of landfills and us from being a consumption-based society.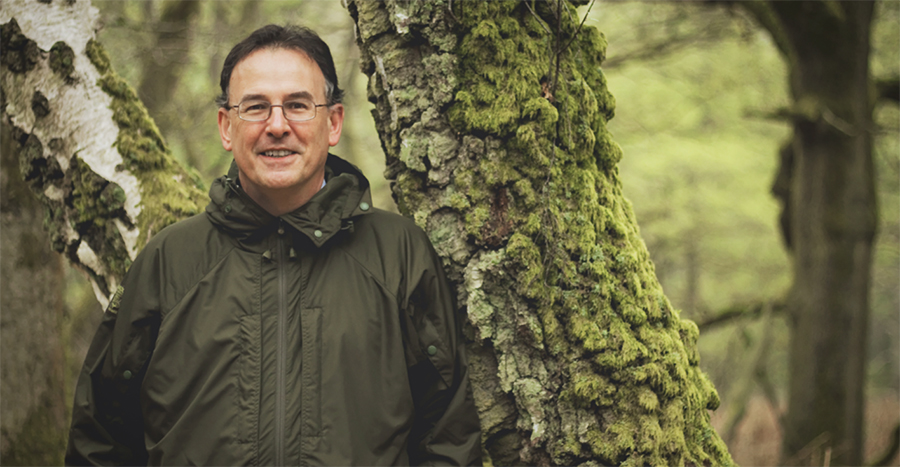 A measure that has always been in place but will improve more is all of our bottles are made from recycled plastics. As of June 2019, 85-percent will come from recycled material. By 2022, we'll be at 100-percent of recycled materials in our plastic bottle packaging.
Sustainable is not just a word for Nikwax. Nick, pictured above, achieved it without the mainstream and way before the word was in favor. He is an environmental leader. Since 1977 he has been committed to making sure the products we make meet his standards and for dedicated reasons.
Our corporate slogan is "Do More." Today we are finding ways to continue to contribute and to publicize information about how we can be more sustainable and more environmentally conscious at home and work. Nicks passion for that side of the business and his investment in best practices, and finding alternative ways for people to be more environmentally friendly, will continue to drive Nikwax.
Photos courtesy Nikwax