Nike ranked second only to Kering, the parent of Gucci, Saint Laurent and other luxury labels, in Business of Fashion's first Sustainability Index. Also achieving relatively high scores among companies in the active lifestyle space were Puma, VF Corp and Adidas.
The report examined 15 of fashion's largest companies and their ambitious environmental and social goals. The study picked five categories in three distinct fashion industry verticals — luxury, high street and sportswear.
The Index incorporates over 5,000 data points, examining each company using 338 metrics across six categories to measure performance against 16 environmental and social targets set by The Business of Fashion in consultation with the Sustainability Council.
Nike had an overall score of 47, just below Kering's score of 49. Puma had an overall score on the Index of 44; VF Corp., 42; Adidas, 40; and Under Armor, 9. Under Armour had the lowest ranking among the 15 companies.
The average score across all categories and companies was 36 out of a possible 100, with substantial disparities in engagement and progress across the 15 brands. Six categories were examined: Transparency, Emissions, Water and Chemicals, Materials, Worker's Rights, and Waste.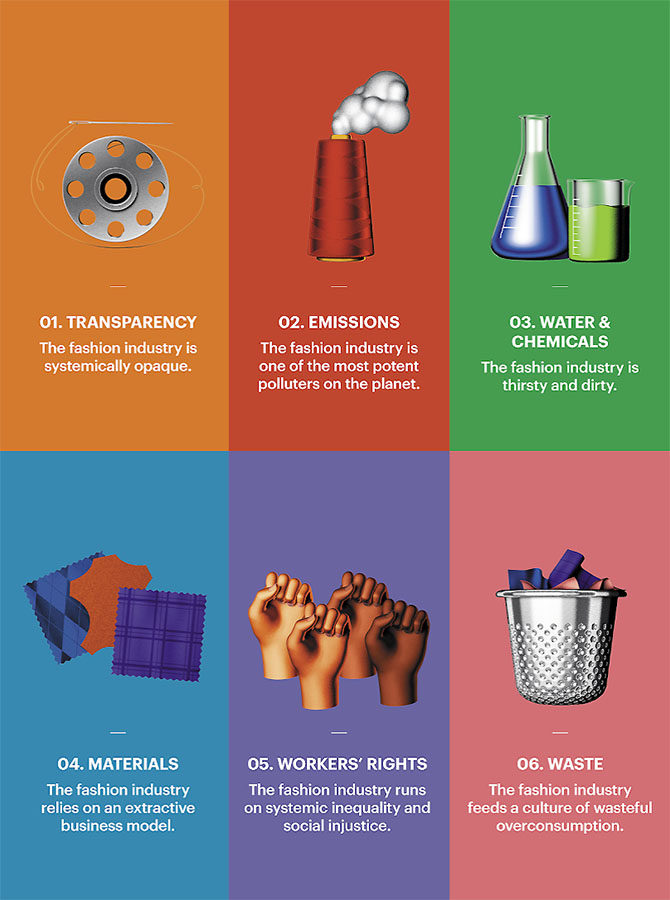 On those issues, Nike ranked first among the 15 companies regarding Transparency, or actively tracing its supply chain and disclosing impact. Nike's Transparency rating score was 71 versus the average of 48.
Nike also led the list in Waste, or minimizing Waste, and establishing a circular business model scoring above the group average in Emissions, or reducing greenhouse gas emissions; and Water & Chemicals, or reducing water use and eliminating harmful pollution. On Worker's Rights, Nike ranked second only to Inditex, the parent of fast-fashion chain Zara.
Nike only scored slightly above average when rated on Water & Chemicals, or its efforts to reduce water use and eliminate harmful pollutants.
Puma ranked comfortably above the Index average across Transparency, Emissions, Water And Chemicals, Materials and Workers' Rights. Waste was the only category where Puma dropped below the average of the 15 companies examined.
VF Corp., the parent of The North Face and Vans, ranked second only to Levi Strauss & Co in its score for Emissions and also scored high for Water And Chemicals and Materials. Its scores for Transparency and Waste were slightly above the group average. VF's underperforming category was Workers' Rights, where it scored a 19 against a group average of 27.
Adidas scored better than average across all categories except Transparency, which was only slightly below the average. Its best scores on a relative basis were in Water And Chemicals and Materials.
Under Armour ranked last in most categories, with Worker's Rights showing the best performance. 
The Index included one underperformer in each sub-category. Richemont also scored low in the luxury category and Fast Retailing, Uniqlo's parent, in the High Street category.
The report noted progress over the last few years, including:
References to sustainability in the annual reports of the companies featured in the Index have doubled in just five years and now feature as frequently as key financial terms;

The total assets in sustainable funds hit a record high at the end of 2020; and

Younger generations place more emphasis on sustainability and have retained this view through the coronavirus pandemic.
However, the report also underscored an urgency to accelerate such initiatives with less than ten years left to meet the 17 Sustainable Development Goals (SDGs) under the United Nations' 2030 Agenda for Sustainable Development. The program, introduced in 2015, seeks to ensure a socially, economically and ecologically sustainable future.
The report noted that some of the most high-profile opportunities, like establishing more circular business models, showed only a gradual uptake, while data to measure tangible progress in areas like emissions and water use remain limited. 
Among the suggestions:
Discourse Outpaces Action:

 Companies need to move past target-setting to demonstrate tangible progress. (Contained in this report. See The Sustainability Gap.)

The Trust Deficit:

 Fashion needs to fix its misinformation problem with transparent supply chains and quality data.

The Finance Gap:

 

Companies are not matching bold ambitions with details of how they plan to pay for them.

The Growth Conundrum

:

 Achieving commitments to reduce the industry's footprint requires companies to disentangle growth from impact.

Collaboration with Clout:

 Impactful and inclusive industry-wide efforts are needed to drive swift progress beyond the current baseline.

A New Social Contract:

 Fashion must finally get to grips with systemic inequalities in its supply chain.

Pushing Boundaries:

Pockets of innovation are emerging in areas like circularity and regenerative agriculture, creating fresh opportunities for positive change
---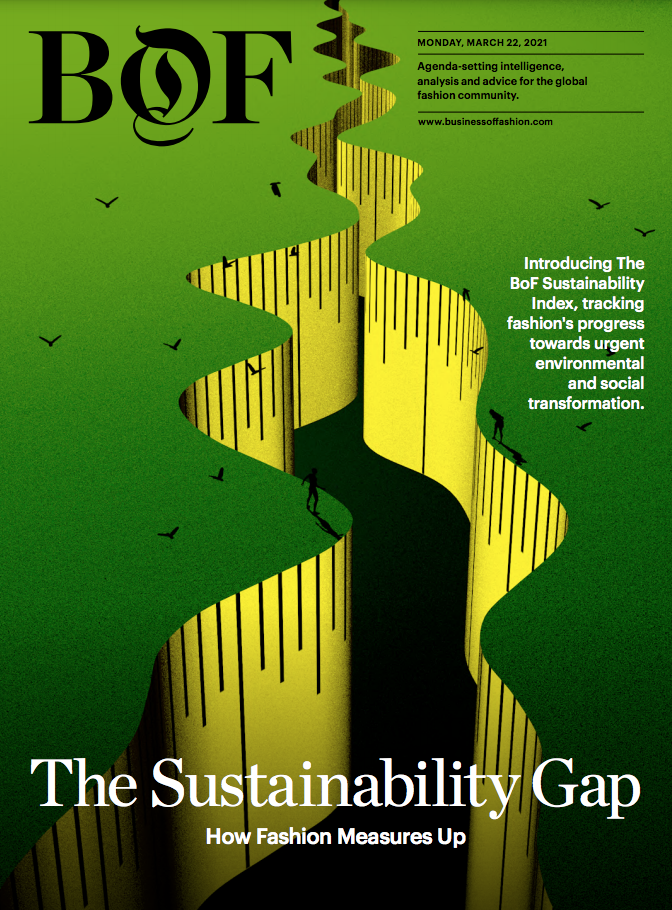 *On April 14, 2021, The Business of Fashion will bring together global experts, thought leaders and activists in sustainability and worker's rights for a four-hour live broadcast of interactive conversations and panel discussions, led by its editors and correspondents. The findings from the BoF Sustainability Index will be discussed and an outline of the steps that need to be taken over the coming decade to align the industry with global climate goals and social imperatives.  To register, go here.  For access to the Business of Fashion's first Sustainability Index, go here.
Photos courtesy Nike, BoF