The launch of Nike's Pro Hijab was designed to encourage more Muslim women to play
and to succeed in their sport of choice.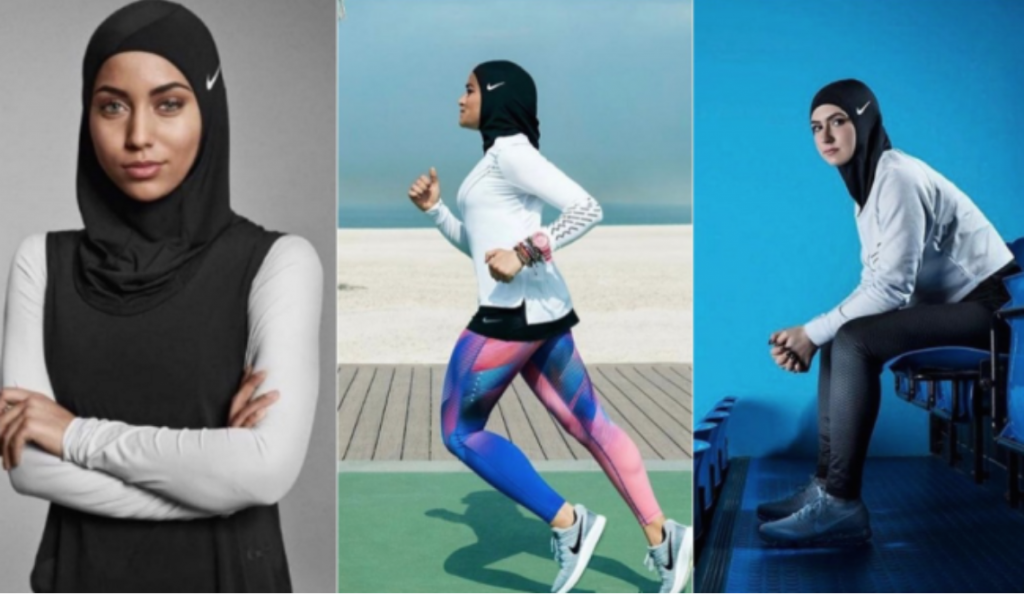 "It's revolutionary and will change the face of sport for Muslim Arab girls. You have no idea how important this is. It's going to inspire girls worldwide to follow their passion for sports."
– Amna Al Haddad, pro wrestler, pictured above
—•—
The hijab, the headscarf worn by Muslim women, symbolizes that a woman has been sanctified to one man and is off-limits to all others. Feminists and the media often portray the hijab as a symbol of oppression of women's subjection to her husband.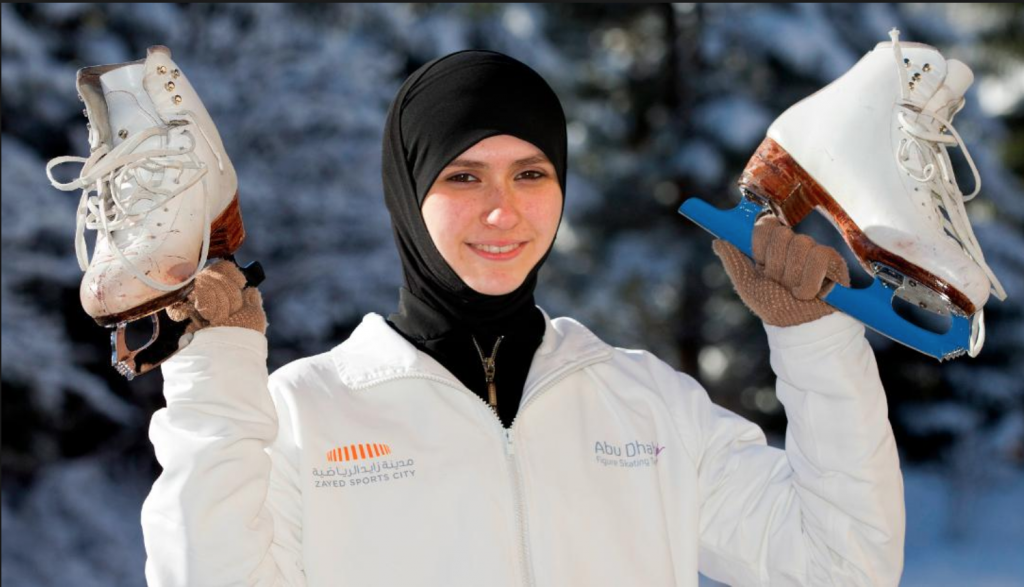 Nike takes a different view. Hijab is not a symbol of oppression. Women are oppressed because of socio-economic reasons. There are a number of people who are cheering the brand's philosophy, and others who expressed their displeasure in the press and on social media when it was introduced last year.
Today, National Women's Day, there's a strong call-to-action to press forward and progress gender equality in sport for all women. There's also a strong call to #PressforProgress, motivating and uniting us all to think, act and be gender-inclusive regardless of custom or conviction.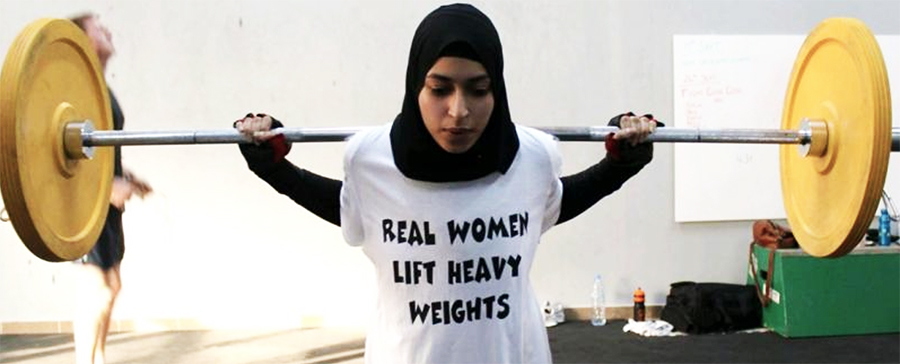 Nike designers, after a year-long collaboration with top female hijab-wearing women athletes like pro wrestler Amna Al Haddad and olympic figure skater Zahra Lari, took their concerns seriously when wearing the headscarf during practice and in competitions.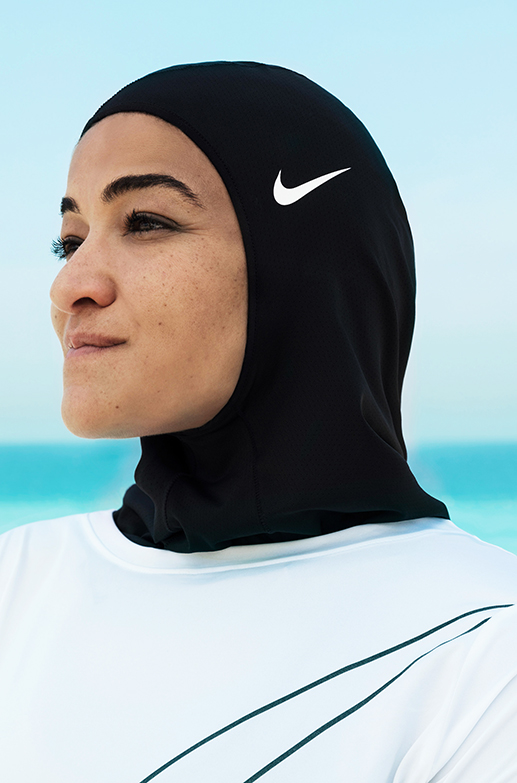 The designers found that weight, movement and breathability all disrupt performance and are distractions for maximum performance. For Muslim women who are serious athletes, having Nike embrace and facilitate the process of ways to function more comfortably and not hinder performance while wearing the hajib, changed everything for Islamic women who wear the headscarft. And with Nike's global reach and iconic popularity, the conversation of inclusion offered a further global reach for the women who take their sport just as seriously as any athlete.
A Second Skin
Nike Pro Team—responsible for creating athlete base layers—listened and used the women athlete's feedback to create a pro product which was inconspicuous and acted as a second skin. The Pro Hijab stretches to adapt to the wearer's head, and is designed to work in unison with the body during movement.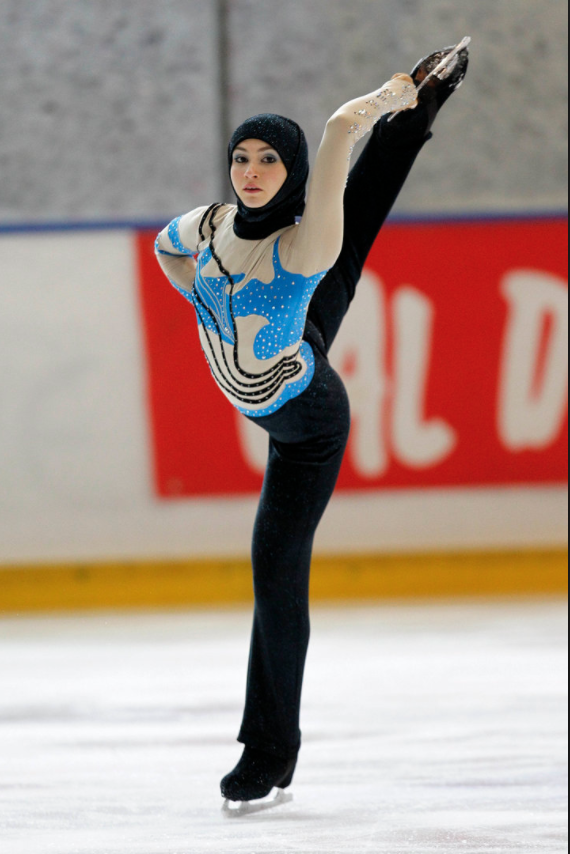 "Ice skating requires a tighter fit for twirling. The back of the hijab is also elongated to ensure
it doesn't come untucked. Fluff threads were used at the neck to eliminate the rubbing
and irritation that can occur when an athlete sweats." — Nike
pictured above, Olympic figure skater Zahra Lari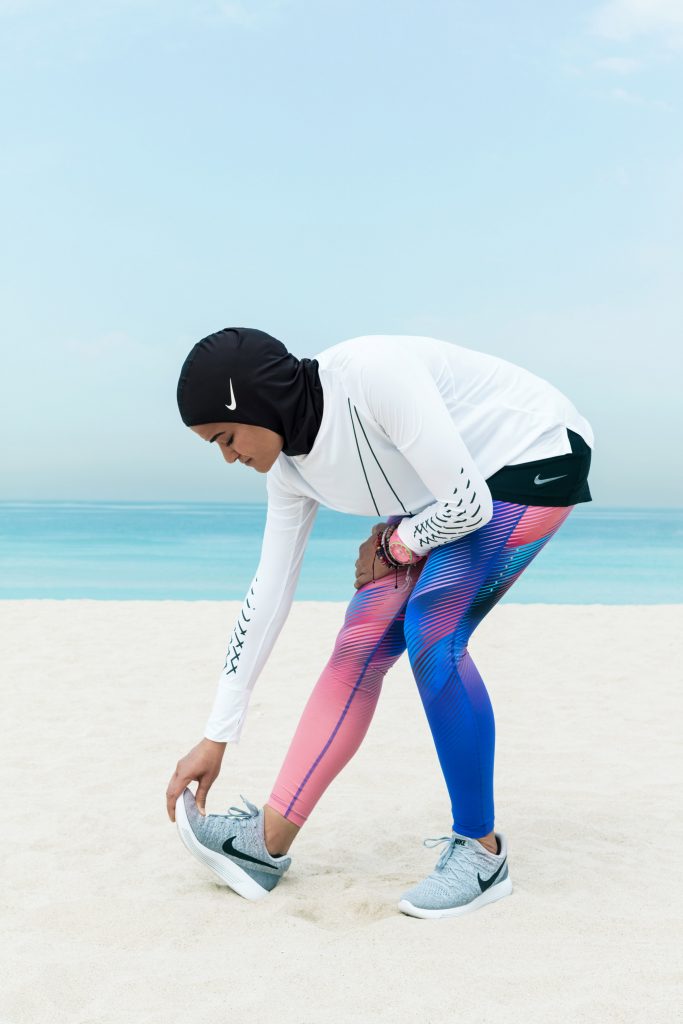 While the hijabs were developed with athletes in mind, the long-term goal is to encourage Muslim women worldwide to take part in sports and physical activity.
Photos courtesy Nike