Nike Inc. has been taking a lot of heat on social media for selling a black balaclava that looks "menacing" and could incite gang violence, according to critics.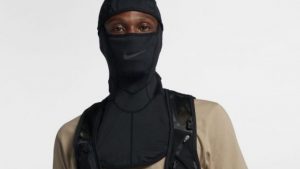 According to an article posted on CNBC, "In one image posted widely on social media, a black model wears the balaclava, which covers his head and lower part of his face and extends to his chest. There are also straps worn on the chest that some on social media likened to a holster."
USA Today wrote in an article about the incident, "The outrage was swift and sharp, particularly among users concerned about a wave of knife attacks that have taken place in the United Kingdom.
"This is a disgrace," the article cited Pete Price tweeting. "#Nike marketing gang culture …  #knifecrime is out of control especially in London. Gang culture is becoming out of control. This is disgusting gang culture fashion for profit. I can't believe this is happening."
Nike's website says the balaclava, which launched last month, "was no longer available."
A Nike spokesperson told CNBC in a report: "These products were part of a wider Nike Training collection, styled on different models and available in multiple markets around the world. We are in no way condoning or encouraging the serious issue of criminal and gang culture."
Photo courtesy Nike