In a new ad from Nike celebrating the 45th anniversary of the Cortez, supermodel Bella Hadid updates the the iconic Farrah Fawcett '70s style riding a skateboard in a pair of red and white Cortez.
Writer: Thomas J. Ryan
Celebrating the 45th anniversary of the introduction of the Cortez sneaker, Nike tapped supermodel Bella Hadid to star in a new campaign where she channels who else but icon Farrah Fawcett.
In 1977, Fawcett famously wore a pair while skateboarding during a photo shoot on the set of "Charlie's Angeles," which led to skyrocketing sales of the shoes among women. For Hadid's shoot, Nike updated the the iconic image. Hadid wears a lace-up sports bra paired with bell-bottoms, with a Nike waistband peeking out. Fawcett's photo featured the actress with her signature feathered hair and a long-sleeve top with bell-bottoms.
Designed by Nike Co-Founder Bill Bowerman, the Cortez was released to coincide with the 1972 Munich Olympics and was Nike's first significant track shoe. A mid-sole cushioning system sandwiches a layer of harder sponge rubber between two layers of soft sponge rubber for advanced shock absorp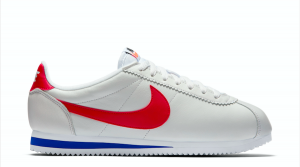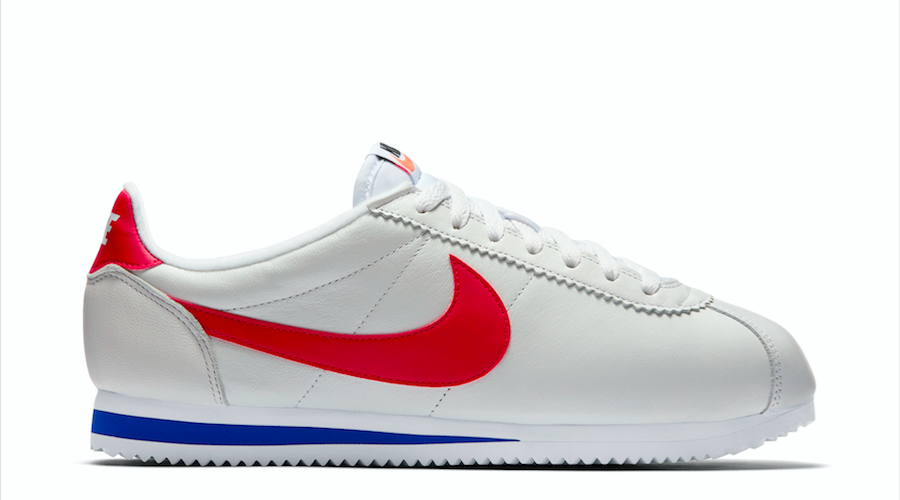 tion at the heel.
The first women's version of the shoe, the Senorita Cortez, was released in 1974. Long a Hollywood and hip-hop style favorite, the Cortez was worn by Tom Hanks in the Oscar best picture winner Forrest Gump, and name-checked by Kendrick Lamar in his verse on Big Sean's track "Control."
Available June 1, Nike will release the OG Cortez in the red, white, and blue, colorway for $90 on nike.com. Throughout the summer new colors and fabrics will also be released.
Nike reached out to a few fashion tastemakers to get their take on the Cortez:
Andrea Lieberman, creative director and founder A.L.C.: "The Cortez is my earliest memory of a sneaker — the classic white with red Swoosh. It all started when I was coming of age in '80s New York, becoming obsessed with music, street style and fashion. The obsession became my work, and the Cortez my stylist go-to. It reps NY hip-hop while being Cali at the core, this speaks to the DNA of ALC and is why I've chosen to style the Cortez season after season with all our collections."
Aleali May, stylist: "My dad got me my first pair of Cortez at the Slauson Swap Meet, around when I was 7 or 8, the all black with a white Swoosh. They were super fire though, because I had to wear uniforms at elementary school back in the day. The only way you got to flex was with your shoes. I was always into sportswear because my family always bought me sneakers. I was so obsessed with '80's and '90's hip-hop culture. In the '90s, I was watching films set in L.A. that brought our culture to the wider world. It was all in my neighborhood, too, so I felt like I had a foundation with it. I'm from South Central L.A., so all I remember is everybody in the hood wearing Cortez. Cortez is just a really L.A. thing for me."
Madeline Poole, nail artist and designer: "I got into wearing Cortez after I moved to LA and went to the swap meet with stylist Camille Garmendia. They were her signature shoes. She broke down the history of them to me, and all the colors she had collected. I wonder, how did I get dressed without them before? My favorite pair is the Nai Ke China theme red, white and blue that I've worn into the ground, completely destroyed, but I still wear them. I love when something classic is remixed in a way that's not immediately apparent but just feels slightly special. My style can sway from classic to very eccentric and the things I wear can span many decades of influence. The Cortez is one of the only shoes that can feel simultaneously '70s, '80s, '90s and current."
Photos courtesy Nike