In a recent webinar presented by The Aspen Institute Project Play, National Federation of State High School Associations (NFHS) Executive Director Karissa Niehoff said she is "very worried" a wide range of high school sports programs will be eliminated as part of the fallout from COVID-19.
NFHS is hearing high schools are facing budget cuts ranging from 20 percent to 50 percent, according to a write-up by The Aspen Institute.
Niehoff said, "If you ask a superintendent about soccer in the fall, you get one of these (hands-on ears). They're very focused on getting kids back to learning."
At the same time, NFHS is hearing high school state athletic associations, which often rely on ticket sales from postseason championships to support local programming efforts, face losses in the range of $150,000 to over $2 million.
Niehoff said it's critical to continue to "remind educational leaders that education-based athletics and performing arts activities, and anything that is co-curricular, is an important part of the second half of the school day."
The panel, led by Tom Farey, leader of the Aspen Institute's Project Play, was reminded that the challenges from COVID-19 represent another stumbling block in Project Play's mission since being formed in 2013 to "build healthy communities through sport".
According to a 2017 report from the U.S. Government Accountability Office (GAO), only 39 percent of high school students participate in sports, with rates the lowest in urban (32 percent), high-poverty (27 percent) and charter (19 percent) schools.
The other panelists on the seminar agreed about the importance of showing how sports support academic performance.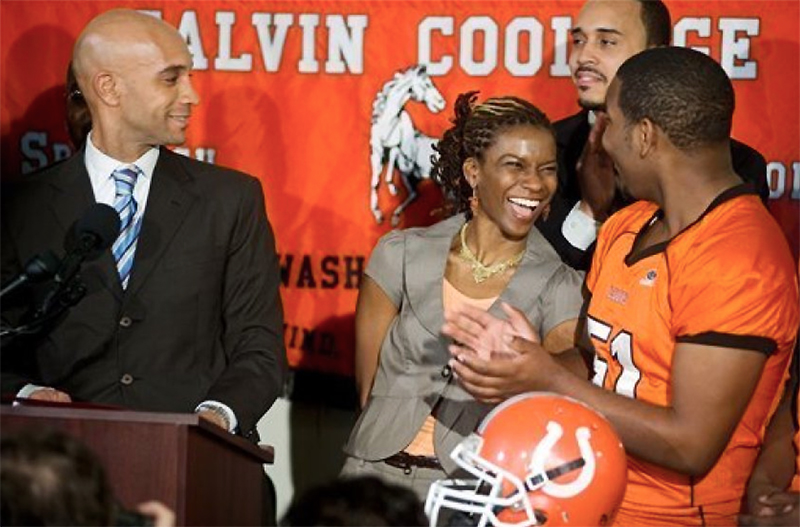 Natalie Randolph, shown above, center, one of the first female head football coaches in the country, at Calvin Coolidge High School and now director of equity, justice & community and Title IX coordinator at Sidwell Friends School, said high school students coming back this fall will be "starved for social interactions" after sheltering in their homes for five months.
"Sports are absolutely imperative in the transition back to normalcy so that they can thrive academically," said Randolph. "All the studies show when you feel isolated, that activates the same part of the brain as physical pain. I think we need to take the mental health aspect very seriously."'
Randolph said making high school sports co-curriculum instead of extracurricular would be one clear path to linking sports to academics. She acknowledged that the cost of hiring full-time staff for athletics would be a hurdle.
Randolph said, "But there definitely needs to be a relationship link between faculty in the academic realm and faculty in the athletic realm. There should be intentional efforts to get teachers in touch with coaches and get coaches in touch with teachers. Have study halls. Have academic help during athletic time when kids are waiting for practice."
Jimmy Lynch, executive director of athletics at the School District of Philadelphia, believes high schools could somehow follow the college model by offering intercollegiate, college club and intramural levels to extend athletics to more students.
"Sports are long proven to have a positive impact on leadership development and student outcomes as well as social and emotional learning," said Lynch. "The thought of not having a scholastic athletic program at any level would be devastating to all students and the school community as a whole."
NFHS' Niehoff agreed, "There needs to be something for all. And there needs to be adult resources to support the message to the community, 'Here are the results we're seeing. This is how these kids are growing and changing.'"
Randolph stated, "I think we can look at where and when we do sports and where it fits into the academic day. I think COVID-19 has shown we can move mountains at the drop of a hat if we want to."
The fast adjustments being made to adjust seasons to enable play was also explored by the panel. Niehoff said of the effort, "Which sports engage the most kids and when can we play them while paying attention to sports medicine guidance?"
Other longer-term challenges brought up at the seminar included the quality of high school sports programs being undermined by significantly fewer teachers becoming coaches, replacing the pay-to-play fee structure supporting play at some schools with fundraising to improve sports access and getting youth in underserved communities involved earlier in sports.
Whether the bubble concept being explored by professional leagues would somehow work for high schools, such as intramural sports teams playing within individual schools versus competing against other schools, was also explored. Lynch said, "I think this is a great way to both mitigate further spread between different school communities and also to increase participation for students at all levels
Other participants in the conference included Taylor Twellman, ESPN soccer analyst and former MLS/U.S. national team player; Mya Burken, three-sport athlete, Rolla High School, Rolla, MO; and Alex Garcia-Delacruz, two-sport athlete, Strive Prep Smart, Denver, CO.
See the full session here.
Lead photo courtesy KXAN, middle photo AP