By Eric Smith
Nexgen Outfitters Inc. officially formed in 2018 and unveiled its website last March, but a couple of more recent milestones should prove just as pivotal in the outdoor gear seller's ongoing journey.
The Sidney, NE-based online startup, founded by six former Cabela's Inc. employees, had been stymied by an injunction that prohibited Nexgen from contacting vendors the founders had worked with during their final 18 months at Cabela's.
But that injunction recently expired, giving Nexgen the chance to target a new crop of suppliers for their e-commerce site, nexgenof.com, and truly begin to see their vision take shape. With the noncompete obstacle removed, Nexgen's employees are now feeling liberated as the company carves a path outside the looming shadow of Cabela's.
"It's been a tremendous hurdle, but we learned a lot about our technical capabilities, our website and how are we going to function once we're able to do all that we set out to do," Jeremy "J." Nesbitt, one of the company's co-founders and its head of marketing, told SGB. "Now that we're past the injunction, past our waiting period, we keep high-fiving and saying, 'Now we can go try what we always intended to do.' It's a good feeling."
That's not the only good feeling for Nexgen's team, which has since grown to 11. They are also feeling more settled, having moved into a new 7,500-square-foot headquarters in their hometown of Sidney, where they had worked for Cabela's before Bass Pro Shops acquired the retailer and consolidated the companies' operations in Missouri.
That deal resulted in a huge loss of jobs in both Sidney, but it was also the catalyst for Nexgen Outfitters, whose founders—Nesbitt, Trent Santero, Mike Riddle, Ryan Wellman, Stacy Schumacher and Alex Mousel (pictured below)—decided they weren't going to uproot their families and seek job opportunities elsewhere.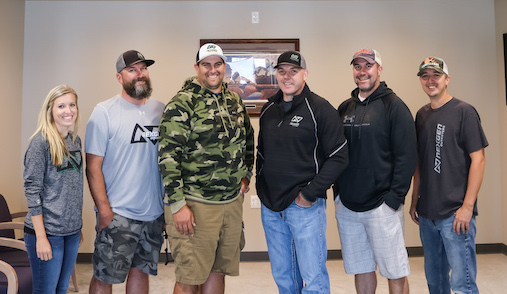 Sidney was home. The outdoors was their passion. So they resolved to find a way, any way, to stay put and pursue the only profession most of them had ever known: Sell hunting and fishing gear to outdoorsmen and outdoorswomen in their own backyard and beyond.
In March, they invested a combined $300,000 to launch Nexgen in hopes of selling outdoor gear and, just as importantly, serving as an information center for all things hunting, fishing and outdoor adventuring.
They strove to be the resource for anyone needing advice on the best rod for catching walleye, the most authentic call for luring pheasant or the highest-quality blind for hunting deer. Plus, they would offer advice on where to pursue such activities.
In other words, they created a business around the things they already were doing in western Nebraska—but with themselves as the boss.
"Nexgen Outfitters was born out of a passion for the outdoors," Santero said in March when the company launched. "We spend countless hours in the field with friends and family every year, demanding the very best from our gear. We believe in equipment that builds tradition and gear that can be handed down to the next generation to ensure the future of our lifestyle."
They did it almost entirely on their own, garnering some help from Sidney and Nebraska officials but not relying on private investors or venture capitalists to fund their startup.
"The state and city have been good to us," Nesbitt said. "We started with a model that didn't require a lot of up-front inventory investment. We haven't had to go out and seek big investments yet, and we're hoping to maintain that."
The past six months have been a whirlwind for Nexgen Outfitters since launching the website. But dealing with the Cabela's injunction, working through a distributor to get vendors, finding new digs and adding talent have paid off. Nesbitt said Nexgen offers around 25,000 SKUs from more than 100 brands, and it has sold gear to about 5,000 customers. But the company measures success in something more than numbers.
"Success looks like happy customers, good ratings, a good social following, people that want to interact with us and spend time on our website," Nesbitt said. "There's a monetary goal, but that's just to be able to make sure we can all stay in the area and take care of our family and be part of the community. We want to be influential in people enjoying the outdoors—making sure there's going to be conservationists, and outdoorsmen out there for a long time. That is the ultimate success."
While Nexgen will offer some retail offerings out of its new space, selling gear and providing information online is the company's bread and butter, Nesbitt said. The six co-founders were influenced by websites in the same space, such as REI, and even different industries, such as electronics seller Crutchfield, when forging their business model.
"We looked around at some of the other websites, from the outdoor space and elsewhere, and felt like there was a real opportunity for somebody to emerge as a content and information leader," Nesbitt said. "From a product curation standpoint, we still feel like there are a lot of people in the private label game looking to knock things off and make the most margin possible. We think there's a real opportunity in the market right down the middle."
Perhaps the biggest debate during Nexgen's formation was its name. In garages and at bars, on hunting and fishing trips, the founders weighed a few different logos and monikers, eventually choosing Nexgen Outfitters over the runner-up, Born Outdoors, Nesbitt said.
"We felt like in the end that 'Nexgen' harnessed a lot of different things," Nesbitt said. "We wanted to be a technical e-commerce provider in the outdoor space—the next generation of outdoor e-commerce. Also, we are the next generation of a company that we all loved and we hope we can develop something similar."
That last part is important for Nexgen's origin story. While the six lost their Cabela's jobs and were entangled in legal proceedings with the company over the past 18 months, they also recognize the role that Cabela's played in their own personal and professional development.
"We cut our teeth at that place, so it's nearly impossible to not take a lot of the experience we have in our professional careers from that place," Nesbitt said. "It's the only place where many of us have worked. The culture there—quality products, taking care of the customer, taking care of the employees, enabling employees to make their own decisions and lead areas of the company, being frugal—has been ingrained in us."
(Another outdoor online retailer, Highby Outdoors, formed in Sidney in the wake of the Cabela's shakeup. Click here to read our feature on Highby.)
Nesbitt recounted some of the ways that Cabela's emphasized frugality, including having to "check out office equipment from [co-founder] Jim Cabela," use both sides of a piece of paper and "put a match to the end of the ballpoint pen" to prolong the ink.
That ethos has carried over to Nexgen, where the company has been laser-focused on keeping costs down to make their business model work. And while Cabela's is part of Nexgen Outfitters' roots, the company is working hard to differentiate from all competitors, especially any of the big-box variety—including Cabela's.
"We want to be different by just being small, having little overhead and being personal with our customers by eliminating any layers between us and the customer," Nesbitt said. "You can be agile when you're a little bit smaller."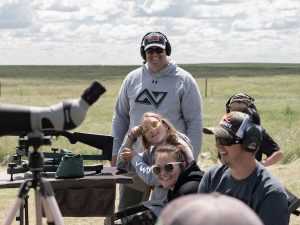 Nexgen's relatively small size and agility have helped the company land some equally small but ambitious startups on the vendor side. Whether it's selling a customer duck call maker or helping a "guy that's making his own seasoning blends," Nexgen is nimble enough to help a nascent company get its product in front of outdoor consumers.
"If you've got one or two SKUs and you don't have a lot of technical capability, it's tough to get picked up by a retailer the size of Cabela's," he said. "We think there are a lot of innovative people out there in small pockets. We hope we can provide an outlet for those guys, help them drive traffic to their products and tell their story."
Nexgen has a shipping and receiving area in its headquarters, but right now the focus is on drop-shipping from the manufacturers. In some ways, the company is serving as a bridge for startup brands to get their product to customers before building their own e-commerce capabilities.
"There's a lot of outdoor brands right now trying to kind of figure out how they can go a little more direct to consumer, and that's kind of a natural first step for them, being able to drop ship like that," Nesbitt said. "We think that we can start driving the traffic, maybe we can help out a lot of those outdoor brands figure it out."
Challenges exist for Nexgen, of course, even as the legal wrangling seems to have been resolved. Any online venture means competing at some level with Amazon and Walmart, not to mention Cabela's, Bass Pro and other established sportsman's retailers. Staying on top of consumer shopping and buying trends is imperative. Even the political landscape of firearms and hunting is fraught with peril.
But Nexgen is hoping to break through the noise of pure-play online sellers with curated outdoor gear and apparel vendors that the employees themselves trust, a deep knowledge of what makes for a successful adventure, and an unwavering commitment to their hometown and their own outdoor pursuits.
In some ways, their journey is just beginning.
"We want to be here for the long haul," Nesbitt said. "This isn't a get-rich-quick scheme. We're not trying to build an online business that we're going to sell off to somebody at some point. We've got extended families in the area. We love the community. We love western Nebraska and we're trying to just put Sidney back on the map as an outdoor mecca."
Photos courtesy Nexgen Outfitters Inc.