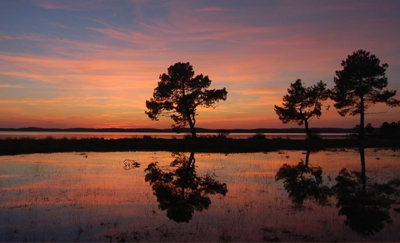 Lac de Lacanau will host the Hobie Fishing European Championship powered by Lowrance and Gofree in September. Photo courtesy of LacdeLacanau.com.
Navico's marine electronics brands Lowrance and GoFree have signed on as sponsors of the second edition of the Hobie Fishing European Championship, which will take place between Sept. 11-13, 2015 in France.
More than 50 anglers from 11 countries across Europe attended the inaugural championship, which Hobie Fishing Europe held last year in De Banaan, Ooltgensplaat, Netherlands.
The Hobie Fishing European Championship powered by Lowrance and Gofree will take place on the waters of Lac de Lacanau, a freshwater fishing lake located 45 minutes west of Bordeaux in Médoc. Lac de Lacanau covers approximately 4,900 acres of freshwater and is rich in all kinds of fish, including Roach, Bleak, Bream and predators such as Pike, Perch and Zander.
The championship will bring together Europe's best kayak fishermen competing over the three day period. The €100 entry fee for the three day event is 100 EUR and the angler with the most aggregated length of fish over the competition days will be crowned the European Champion.
"We are very excited about the partnership with Hobie Kayak Europe and supporting this great event. Fishing is in our blood and dates back to the 1957 when the company developed the first consumer sonar." said Anthony Chmarny, Navico's PR manager for Europe, Middle East and Africa. "Lowrance has become a firm favorite and the natural electronic choice for anglers across the world."
All contestants will fish from their own Hobie Mirage Kayaks in the hunt for Pike, Perch and Zander using a catch, photograph and release fishing format. Together with the European Championship title, the winner also directly qualifies for the 5th Annual Hobie Fishing World Championship being held the Nov. 9-16, 2015 at Shang Lake, China.
"We are delighted the world leaders in fishing electronics Lowrance and GoFree have joined forces and become the leading sponsors for the tournament over the next three years," said Richard Barth, director of Hobie Kayak Europe. "It has really helped to ensure this event becomes an established competition in the fishing calendar."
He noted that Hobie dealer Savagers is provided much needed local knowledge and support critical to organizing the event.
Additional prizes will be rewarded for the biggest fish caught, the best rigged Hobie Kayak and for the 'Lowrance and GoFree distance champion' the longest distance a competitor has traveled to the event.
Navico introduced GoFree at the end of last year to provide mapping, telematics, apps, software and other digital content to boaters and anglers. GoFree works with Lowrance, Simrad and B&G Multifunction Displays (MFDs), as well as mobile devices and gives boaters access to what they want, when and where they want it.