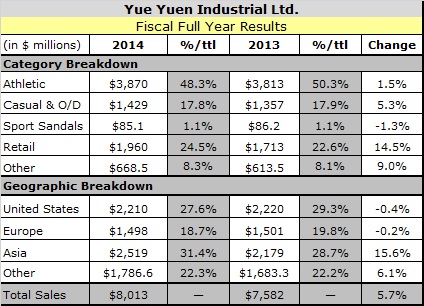 Rebounding retail sales in mainland China easily offset declining OEM sales at Yue Yuen Industrial Holdings Limited in the fourth quarter and enabled the company to post a 2.7 percent sales gain compared with the fourth quarter of 2013.

The Hong Kong listed company reported total revenues increased 2.7 percent to $2.08 billion during the quarter ended Dec. 31, 2014 as $65 million in incremental retail sales easily offset a nearly $20 million decline in Manufacturing sales.
The world's largest manufacturer of athletic and outdoor footwear, reported sales of Athletic footwear reached $1.02 during the period, up 1.7 percent from a year earlier, while sales of Casual and Outdoor footwear fell 8.8 percent to $342.0 million. Sales of Sports Sandals fell 14.8 percent to $23.0 million, while sales of Other products, including soles and components, grew 5.3 percent to $185.3 million compared with the third quarter of 2013. Retail sales grew 14.8 percent to $504.4 million.
For the full fiscal year, Retail revenues grew 14.4 percent to $1.96 billion, or 4.6 times faster that Manufacturing revenues, which are derived primarily from OEM sales to Nike, Adidas, Reebok, Asics, New Balance, Under Armour, Converse, Salomon, Timberland and other U.S. and European brands.
Total Manufacturing revenues increased 3.1 percent to $6.04 billion in 2014 due mainly to an increase in average selling price. Yue Yuen's two largest customers accounted for $1.70 billion and $1.25 billion in sales respectively.
Yue Yuen's Retail revenues are derived from its publicly traded subsidiary Pou Sheng International (Holdings) Limited, which sells footwear and apparel from Nike, Adidas and other global athletic brands in Greater China. Pou Sheng derives most its sales from the People's Republic of China, where it ended the year with nearly 4,300 retail outlets and 2,700 sub-distributors. The business reported gross profit increased 13.0 percent to $580.6 million compared with 2013 due to stronger demand and less discounting.

Dongguan labor unrest remains a threat
Yue Yuen's consolidated gross profit increased by 7.7 percent to $1.78 billion, or 22.1 percent of revenue, up 40 basis points from 2013. The company said gains in productivity at its manufacturing operations more than offset a $90 million payment it made to an employee benefit fund in April, 2014 to settle a strike by about 45,000 workers at its factories in Dongguan, China. The strike prompted Adidas to shift some production to other plants.
While Yue Yuen characterized the payment as non-recurring, 2,000 and 4,000 worker stuck the plant again for a few days earlier this month to protest changes the company made to offset rising costs. Yue Yuen said workers returned to the job a few days later, but noted it will continue shifting shoe production to Vietnam, which increased its share of the company's footwear production to 39 percent from 34 percent in 2013.
Selling, distribution and administrative expenses increased 8.0 percent compared to 2013 as increased personnel costs drove up manufacturing costs 7.0 percent and store expansion drove up costs at Pou Sheng 8.8 percent.
As expected, Yue Yuen swung to an "non-recurring operating loss" of $99.5 million for the period due largely the $90 million payment to employee benefit funds and other one-off expenses. Excluding those items, Yue Yuen said "recurring operating profit" attributable to shareholders was stable at $430.5 million in 2014, compared to $430.8 million in the same period last year. Total net profit attributable to shareholders amounted to $331.0 million in 2014, down 23.9 percent compared to $434.8 million in the same period last year.
Yue Yuen ended the year with cash and cash equivalents of $971.3 million and inventories valued at $1.32 billion, up 6.5 percent from a year earlier.
On March 10, Yue Yuen reported its net consolidated operating revenue of $1.30 billion for the two months ended Feb. 28, up $114.3 million, or 8.8 percent from the comparable period a year earlier.