The National Shoe Retailers Association (NSRA) announced Mark Denkler as president effective January 1, 2021, to replace retiring president Chuck Schuyler who, in mid-November, announced his retirement after 15 years.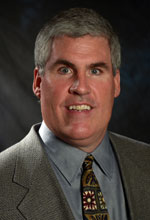 The NSRA was formed in New York in 1912 and is North America's largest footwear organization supporting independent footwear retailers in the United States and Canada.
Denkler began his career in the banking industry in Houston, TX. In 1994, he and his wife LaRonda assumed ownership of Vince Canning Shoes in Delray Beach, FL that had been started by his grandfather in 1952. They later purchased Tootsies Shoe Store in 2015. In 2016 he was honored as the NSRA Retailer of the Year.
First elected to NSRA's Board of Directors in 2004, Denkler took leadership roles on the Executive, Finance and Nominations for Directors and Officers, Benefits and Services, and the Informational Resources Committees. He was elected as Chairman of NSRA's Board of Directors in 2011-2013 and again in 2019-2020. Denkler is also active in the Delray Beach business community serving on various city advisory boards and is involved in the Chamber of Commerce, Rotary Club and the Delray Merchants & Business Association.
Photos courtesy NSRA