"Climbing is dangerous, and each individual should approach these peaks with caution"— Gerry Roach*
Travis Poulin
Colorado's fourteeners (mountains with an elevation of 14,000 feet and above) are no secret to locals and visitors alike. The climbs are sought after by thousands of hikers each year and with such popularity comes the likelihood of accidents. Colorado's high alpine havens claim lives every year, but 2017 has seen a concentrated number of fatalities in one area: the Elk Mountains in Pitkin County.
Pitkin County has seen eight deaths this year; five of which were on Capitol Peak, so the local search and rescue team and sheriff's office plan to launch an education program to better prepare hikers seeking to conquer Colorado's iconic summits.
Mountain Rescue Aspen (MRA) is hoping to have their first Peak Awareness program meeting by the end of the year. The new program is aimed to educate hikers and climbers about backcountry preparedness.
"The Elk Range is different from some of Colorado's other mountains," said MRA President Jeff Edelson. "The mountains have a lot of loose and different rock compared to other areas, are very remote in spots and have beautiful views – which make them highly sought after. We certainly hope this program will help educate people about recreating safely in the backcountry."
Edelson said the details of what the program will address are still being ironed out, but that it will aim to educate safe climbing and hiking and provide knowledge about backcountry survival. "Our driving force to create the program was the deaths on the peaks," said Edelson. "But we want to save lives through prevention in all backcountry terrain."
The Peak Awareness program will be modeled after MRA's highly successful Avalanche Awareness program, but geared toward those not necessarily traveling on snow.
In Colorado it is simple to buy all the gear necessary for such adventures, but knowledge and experience are sold separately.
Edelson said he is asked all the time what the causes of death are on Colorado peaks. "The best way I can put it is that usually half of the deaths are caused by lack of knowledge and preparation, such as not looking at the weather or improper clothing, while the other half are situations that couldn't be avoided. Stuff happens out there, and many victims had plenty of knowledge but couldn't avoid the situation."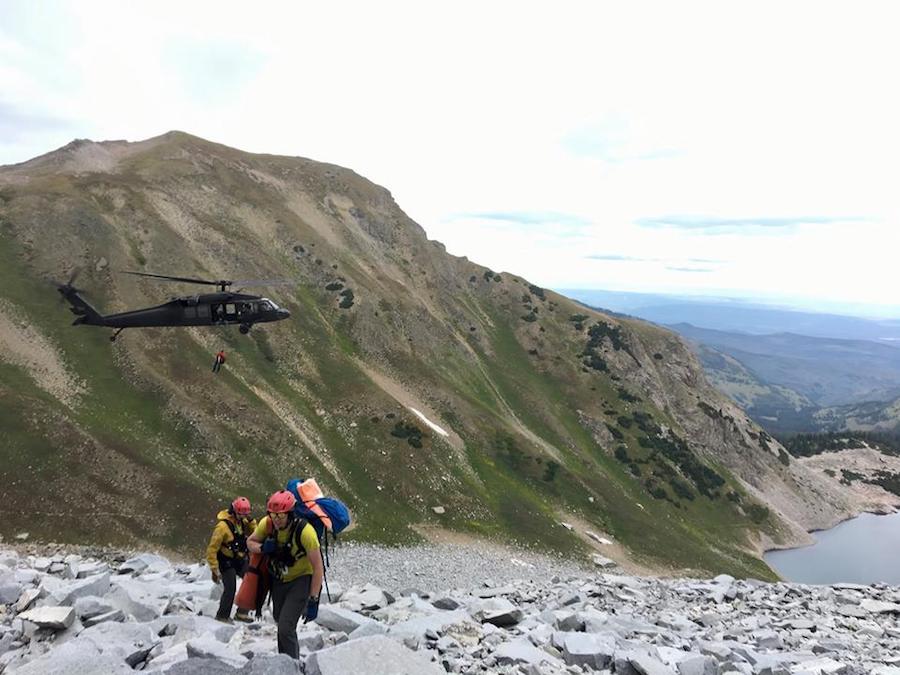 Edelson has been with MRA for 12 years and has seen his fair share of accidents caused by unpreparedness. He offered some simple tips that could be life saving to inexperienced backcountry explorers. "Research the area online or in a guidebook," he suggested. "There is plenty of literature that describes the best route to take and what to bring for the trip."
Edelson said many climbers stray from the standard route of a climb thinking there is an easier way up or down, but the suggested route of travel is the way to go. "We don't offer specific trails as the standard or easiest route; this information is described in guide books," he said. "But if there was a better way up or down – the literature would tell you, so just stick to the standard route in the books."
Just getting started? Make sure to study and choose your route in advance, check the weather, and pack these 10 essentials. Head out early and get off the mountain before afternoon lightning storms hit. This gear list does not include equipment for winter or technical ascents.
Topographic map, magnetic compass, off-grid communication device
Flashlight | Headlamp (extra batteries and bulb)
Extra clothing (gloves, hat/helmet, jacket, rain gear)
Sunglasses | Goggles
Dense, easy-to-carry, high-calorie foods  and water (use a bladder not bottles), water filtration system
Waterproof matches in waterproof container
Candle | Fire starter
Pocket knife
Space blanket or two large heavy duty trash bags
None of this is news to experienced hikers and climbers, but to some, obtaining the proper knowledge could mean the difference between life and death. MRA is just one of the many search and rescue teams in mountainous areas that are trying to greatly reduce the number of accidents per year, and educating yourself could prevent you from becoming a statistic.
In the Centennial State, hikers can purchase the Colorado Outdoor Recreation Search and Rescue (CORSAR) card, which covers the cost of search and rescue (but not medical care). Such rescue missions can accrue a bill that's thousands of dollars. This five-year card costs $12, and the leftover funds help to support the rescue team's training and equipment.
MRA hopes to release more information on the Peak Awareness program in the next few weeks.
*Before venturing out, read Colorado's Fourteeners: From Hikes to Climbs by Gerry Roach, and log on to 14ers.com for full trip reports, trail, and trailhead conditions. 
Photos courtesy MRA