For both freestyle 'pegger' bikes and 'skibobs,' risk management concerns persist.
Writer
Erin English
This Friday through Sunday (February 24-26), ski biking devotees are set to gather in Durango, CO for the 15th annual Purgatory SkiBike Festival. The event draws a healthy crowd of participants and ski bike manufacturers, but organizers always struggle with how to engage curious passersby.
"Purgatory requires you to have a ski bike license," said Melanie Kimball, VP of the American SkiBike Association. "If someone wants to try out a bike, they have to first pay for a lesson, which is [$98] … it makes it hard for bringing new people in."
Melanie and her husband Randy — who serves as President of the American SkiBike Association — are on a mission to improve ski bike accessibility at resorts nationwide, and having the ability to more easily demo bikes at events is just the tip of the iceberg. The Kimballs believe more uniformity is needed for ski biking rules and regulations.
Indeed, requirements at each ski area vary considerably. Some resorts require a ski area-specific lesson and license. Others will accept a license issued from a different resort, paired with a small service fee. Terrain parks are off-limits to ski bikers at some ski areas; at others they are fair game. A particular bone of contention for the couple is a requirement at many resorts that foot-skis be worn on chair lifts. Though riders of skibobs always wear foot-skis, freestyle bikers do not.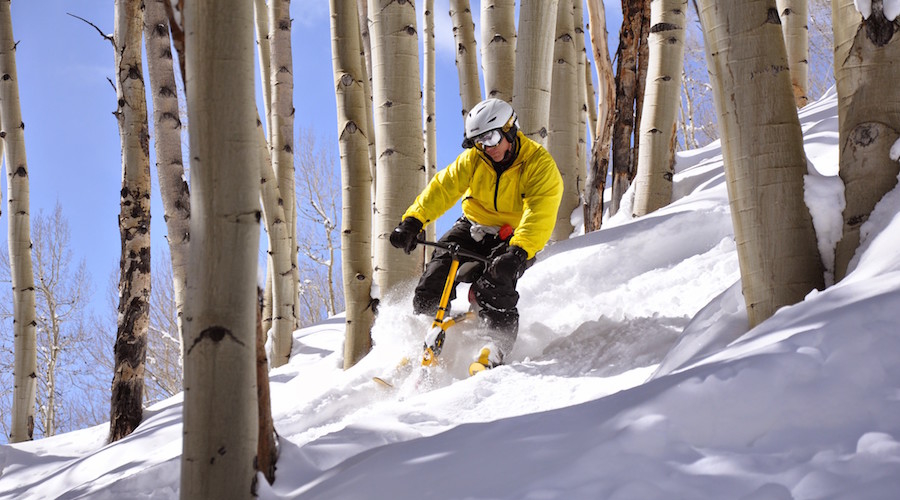 The Kimball's fight for acceptance is not an easy one. The twosome must contend with tramway laws as well as risk management policies at individual resorts.
Resorts' safety concerns are numerous, explained David Byrd, director of risk and regulatory affairs with the National Ski Areas Association.
"There remain important considerations from a risk management perspective, including the ability of guests unfamiliar with ski bikes to operate them safely on the mountain, concerns with the speed of the bikes and the ability of guests to stop them quickly," said Byrd. "Furthermore, some ski bikes may be easier to load and unload on lifts, and of course there are always going to be considerations about the ability to evacuate ski bikes in case of chairlift incident or inclement weather requiring an evacuation."
That said, the number of ski areas allowing ski bikes has grown. Twenty years ago, the only resort in Colorado to offer ski bikes was Granby Ranch (formerly Silver Creek). Now, every major ski area in the state allows them.
Rod Ratzlaff, founder of the American SkiBike Association, is no longer involved with day-to-day ski bike advocacy, but still keeps track of resorts that allow ski bikes on his website, ski-bike.org. From California to Maine, ski areas are slowly hopping on the ski bike bandwagon.
"There is a small amount of growth every year," Ratzlaff said. "Vail Resorts came on board in 2013; I saw that as a sign of progress. It's kind of like snowboards in the 80s and 90s; most resorts didn't allow them, and little by little, they opened their doors. Ski biking is coming right along as well. It's just a marvelous sport."
One of the most widely recognized ski bike manufacturers is Brenter, based out of Austria; a number of resorts feature the company's skibob bikes in their rental fleet. However, other brands, like 3Ski, SNOGO, Sledgehammer and Lenz Sport, are increasingly gaining traction.
"We are up this winter season by at least 25 percent," said Devin Lenz, owner of Lenz Sport.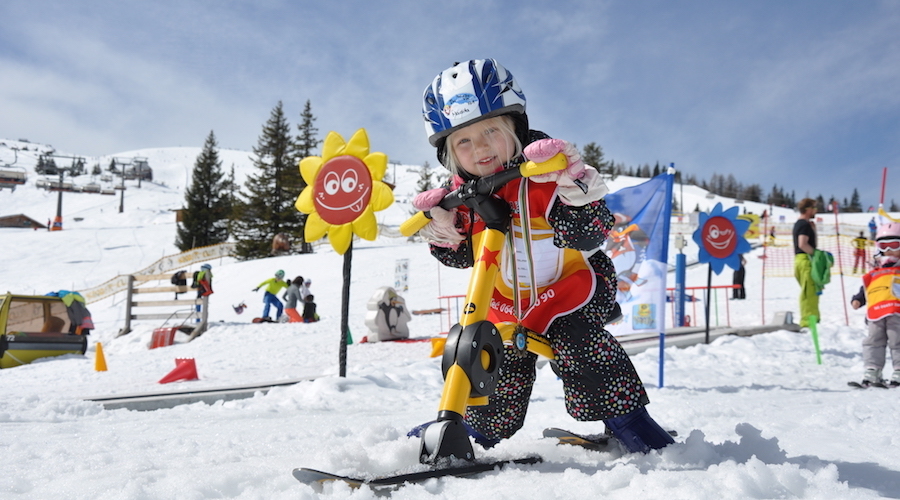 Ski biking's appeal runs the gamut, from toddlers getting familiar with the snow to young athletes looking for new thrills in a terrain park setting. Kimball said that "aging baby boomers" make up the largest demographic in the sport, and a significant percentage of users ride because of a physical disability. Many ski bikers — of all ages — wax poetic about tree skiing on a ski bike. Finding many years ago that he could run trees on a skibob with a great amount of control, Ratzlaff never returned to traditional alpine skiing.
"With a skibob in particular, you should be able to learn the basics and comfortably ride moderate blue terrain in one day," he said. "That's something no one else can say about their snow sliding device."
Lead photo courtesy Sledgehammer, additional photos courtesy Snowbike.com